Visit to the Local Bird Store!
---
Well, a few weeks ago I went to the local bird specialty store (well, not so local - I refuse to go to the one I worked at for how they treated me and the birds) and got lots of snapshots! :grin:
We have 2 Queen of Bavaria, or Golden, conures - the one on the left is a juvenile (which is why there's so much green) and the right is the adult!
An Amazon... I can't remember the type! But GORGEOUS!
Next is a baby African Cape Parrot I've been oogling for months now - I want him so bad!
A Galah aka Rose Breasted Cockatoo
Dusky Pionus baby... absolutely adorable, but a little shy
We have a Canenday or Blue Throat Macaw baby - they're a little smaller than a Blue and Gold and really rare - about $3-4,000!
Another one of my dream birds - a baby Hawk Headed Parrot! They're such GORGEOUS birds - their temperament is like a mix between an Amazon and a Cockatoo... very needy, clingy, and cuddly, but very one person, loud, and attitude!
Not a bird for the inexperienced!
Lastly, the coup de etat... a HYACINTH! :grin: I came up and said 'Hi!' and he went "...HIIIIIII!" and waved!
Then we snuggled for a little bit and I said "good bird!" and be BOWED! Such a smart boy!
Join Date: Sep 2009
Location: Toronto, Ontario. Canada
Posts: 182
Thanks: 37
Thanked 44 Times in 15 Posts
Rep Power:
11
Wow what beautiful birds. I would love to go there. Is that the store you work at? Do they have alot of neat toys and cages for the birds?
No - the store I work at won't let me back in because someone called animal care and control for their neglect of the birds after I left (4 inch high piles of poop, no water, etc) and they blame me :hammer: Whatever, I hate that place. I just miss my babies
I worked with and raised those birds for all their lives, and some of them are over a year old and still there...
This is the other store in the area, about 40 minutes from my house. They have TONS of cages and toys, hold weekly sales, etc. It's a great store - just a little pricey because it's in Boca Raton aka Richy Rich area
Join Date: Nov 2009
Location: Canada ON.
Age: 24
Posts: 339
Thanks: 0
Thanked 0 Times in 0 Posts
Rep Power:
11
They are all beautiful!
You should take them all home..
---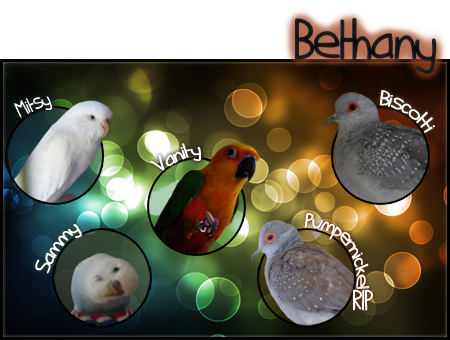 Thanks Becca!
People Use Duct Tape To Fix Everything.. Jesus Used Nails.
Join Date: Oct 2009
Location: New Zealand
Posts: 509
Thanks: 0
Thanked 2 Times in 2 Posts
Rep Power:
12
Jenny, thats awful! I had no idea!
They are stunning birds! all of them are my dream parrots!
especially that HYACINTH!
NZ doesn't really have any petshops dedicated to birds. Well, not near me, anyway.
I would be in heaven at that store!
---
Ella's flock
Join Date: Dec 2010
Location: UK
Posts: 17,661
Thanks: 1,593
Thanked 2,007 Times in 1,575 Posts
Rep Power:
100
that store has so many rare birds! I'd love it XD
that's awful though what happened
---
- Alexandrine parakeets Kona, Peaches, George (missing), Holly (RIP), &
Orange winged Amazon parrot Paulie