My moms birds
---
His name is Buddy
Theres a video to on youtube under Juliafan23 of him talking =p
Sweetheart
---
A Cherry Head Conure
There will be a vid on youtube under juliafan23 of him talking
---
Last edited by Pandapaws; 03-05-2010 at

12:14 AM

.
Awwww, pudgy Quaker!
What a cutie! I adore cherry headed conures - Mitered and Cherries are one of my all time favorites, right under blue crowns and Queen of Bavaria conures
I love the big conures!
Join Date: Nov 2009
Location: Canada ON.
Age: 24
Posts: 339
Thanks: 0
Thanked 0 Times in 0 Posts
Rep Power:
11
Woww, they are both beautiful! But I really love the cherry headed conure!!

Um, I don't want to be the one to point all these things out, but I hope the conures cage has been cleaned.. it looks pretty dirty :/
---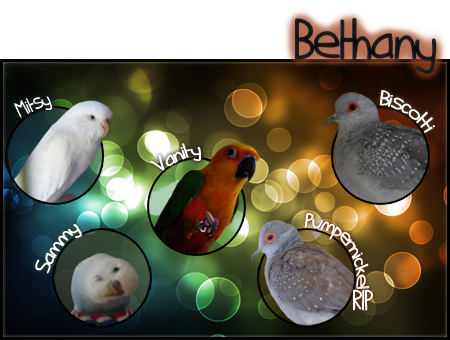 Thanks Becca!
People Use Duct Tape To Fix Everything.. Jesus Used Nails.
Join Date: Oct 2009
Location: New Zealand
Posts: 509
Thanks: 0
Thanked 2 Times in 2 Posts
Rep Power:
12
What gorgeous birds! Cherry heads are so stunning with their striking reds and greens! And you gotta love the quaker!

I am jea-lous!
---
Ella's flock