Join Date: Jul 2013
Posts: 17
Thanks: 5
Thanked 4 Times in 3 Posts
Rep Power:
0
Eating his veggies!
---
I decided to try out fresh veggies today with my Jenday, as the breeder only fed him cooked ones. I want him to be able to eat both, as more variety the better!
Anyways, today I offered some cucumber slices, carrots (sliced and chopped), and snap peas (I think they're called that). He went crazy! He loves loves carrot. That I now know. I'm super happy about this because hopefully the other fids will follow by example. They'll touch carrot, but won't eat it!
He also liked snapping open the peas and eating the little pods. He didnt touch much of the outer layer, but the other fids will teach him as this is something that they DO eat.
As for the cucumbers, well he tried them, but then shaked his head and wiped his beak and didnt try eating it again. Instead he decided it was much more fun to fling both the cucumbers and carrots at me! The little bug!
Well, at least he's eating some fresh stuff. I can't wait to see what else he will eat. If he happens to be a "super taster" then it will be so good for the whole flock. They'll all eat everything!
Anyways, here's a pic of his little snack. Chomping on a carrot stick.
On a side note, I will be returning home from Michigan on Saturday. I can't wait to begin washing that used cage I bought for him and setting it up.
Ill post pics of that as well.
| | |
| --- | --- |
| The Following 2 Users Say Thank You to zShkodra For This Useful Post: | |
Join Date: Mar 2011
Location: UK
Posts: 2,115
Thanks: 275
Thanked 407 Times in 256 Posts
Rep Power:
25
aw that is great! I am so glad for you that he is eating healthily. I love the pic
---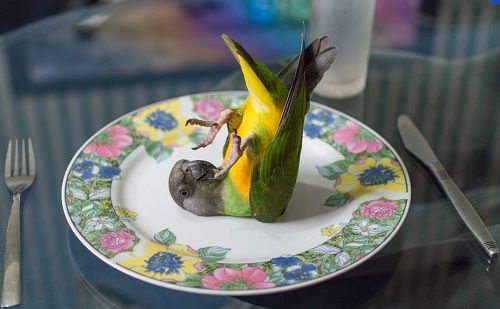 Join Date: Dec 2010
Location: UK
Posts: 17,661
Thanks: 1,593
Thanked 2,007 Times in 1,575 Posts
Rep Power:
100
Getting a bird to eat healthy food is very rewarding, well done! I will however note that you are best to feed veggies raw so you don't destroy any of the precious nutrients. By all means, cook them for meals and things for him but when serving them up it's best to leave them how they are
Join Date: Dec 2010
Location: Ohio, USA
Posts: 5,750
Thanks: 734
Thanked 474 Times in 379 Posts
Rep Power:
43
Exactly what Daisy said.
---
DIGBY
4-year-old male Congo African Grey
Join Date: Nov 2011
Location: Edmonton
Posts: 3,259
Thanks: 22
Thanked 362 Times in 298 Posts
Rep Power:
25
Join Date: Jun 2013
Location: Germany
Posts: 1,647
Thanks: 1,255
Thanked 933 Times in 718 Posts
Rep Power:
14
Carrots for the parrots!
These are kind of pictures I love, I'm happy for you!