Cody's First Outing
---
It is beautiful outside and since I have the weekend off I wanted to get Cody in his new harness and leash and get his grey but outside , putting the harness on was a little hard but between me and hubby we got it on him and he loved being outside , we had a few people stop and ask about him on our walk around the apartment complex then we found a nice area to sit with him in the grass , all in all it was a perfect day
theese pics are on our balcony and no thats not bird poop on the aluminum siding lol I found out it's dirt and I didn't notice it untill after we took the pics . so heres the pics
---
Join Date: Mar 2011
Location: UK
Posts: 2,115
Thanks: 275
Thanked 407 Times in 256 Posts
Rep Power:
24
aww that's so sweet, beautiful view from your balcony, Cody must have enjoyed his outing.
---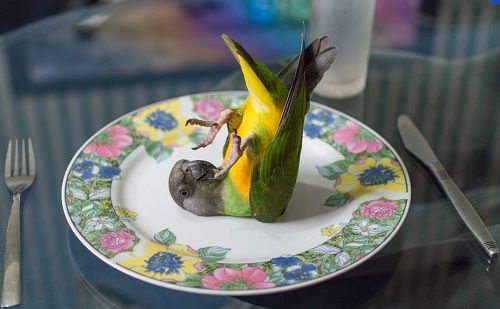 Join Date: Nov 2010
Location: cape town south africa
Age: 24
Posts: 2,386
Thanks: 24
Thanked 85 Times in 69 Posts
Rep Power:
24
how cute
,i was thinking about getting solo one?
---
Join Date: Dec 2010
Location: Ohio, USA
Posts: 5,750
Thanks: 734
Thanked 474 Times in 379 Posts
Rep Power:
43
How sweet is that! Cody is gorgeous. It looks like he had a great day. Me and my birds are outside as well. We've been having gorgeous weather.




---
DIGBY
4-year-old male Congo African Grey
Join Date: Dec 2010
Location: UK
Posts: 17,637
Thanks: 1,593
Thanked 2,007 Times in 1,575 Posts
Rep Power:
100
awesome pics, I bet he really loved it
---
- Alexandrine parakeets Holly, George, Koda &
- Crimson rosella Kasumi
Orange winged Amazon parrot Paulie
Join Date: Nov 2009
Location: Indiana, USA
Posts: 3,142
Thanks: 0
Thanked 2 Times in 2 Posts
Rep Power:
40
Makes me really want an aviator harness to try on Ashlynn, but I should have done it while she was still weaning. It may be too late now.

I had given up after Stanley and Roni didn't like what I got for them when they were babies, and then I also was worried because we have hawks here, but I think Ashlynn might really have liked it if I had tried with her.

I guess I was also thinking the hawk wouldn't bother her as much, but perhaps it would bother her even MORE since she is larger. They sure do make quick work of the rabbits and the various wild birds around here.
---

Thanks Shivani for the awesome siggy!
X2
Stanley (bourkes), Roni (senegal), Elisa (lineolated parakeet) and Doug (pacific parrotlet), Daisy (maximilian pionus), Shira (green cheek conure), Ashlynn, (grey), Taylor (princess of wales parakeet), Joelle (quaker), Benny (cockatiel)
just keep yopur eyes on the sky when you have her outside , we have seen some Falcons from time to time so I'am always looking up , we seen one that day but I just backed up by the trees and waiting until the Falcon was out of site the I took Cody by the pool ,I should have put him in one as soon as we got him he could have wore it inside just to get use to it believe me it was no fun getting him in that harness because he hates anything going over his head , it took me and hubby to get it on him , he will get use to it in time , our new baby quaker will have one on the very next day we get her , I have 2 quaker flight suits one for her and one for Opey
---
Join Date: Feb 2011
Location: Minnesota
Posts: 493
Thanks: 117
Thanked 35 Times in 21 Posts
Rep Power:
10
That first pic is so beautiful!
---
Comet