Welcome Geraldine!
---
We welcomed a beautiful new Alexandrine to our flock recently. Geraldine is 6 years old and comes from Macaw & Cockatoo Rescue of New Mexico. She is a very special, intelligent parrot. We had hopes that she and ELF (our first Alexandrine) might become buddies, but weren't sure because ELF has always been afraid of other birds. I'll let the photos and video tell the story. These two keep me very busy making foot toys, and keeping their supply of wood and toys coming constantly. They seriously play and eat all day long! LOL
Geraldine on a road trip with the rescue:
Geraldine her first day home: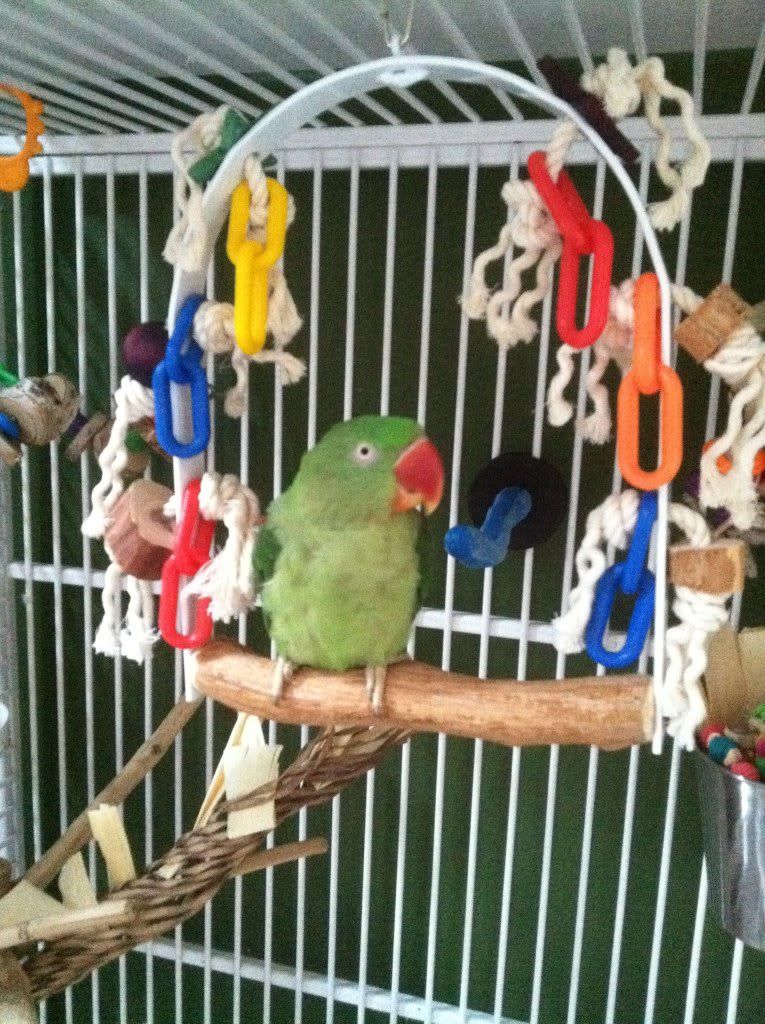 Here's a photo of ELF playing by himself: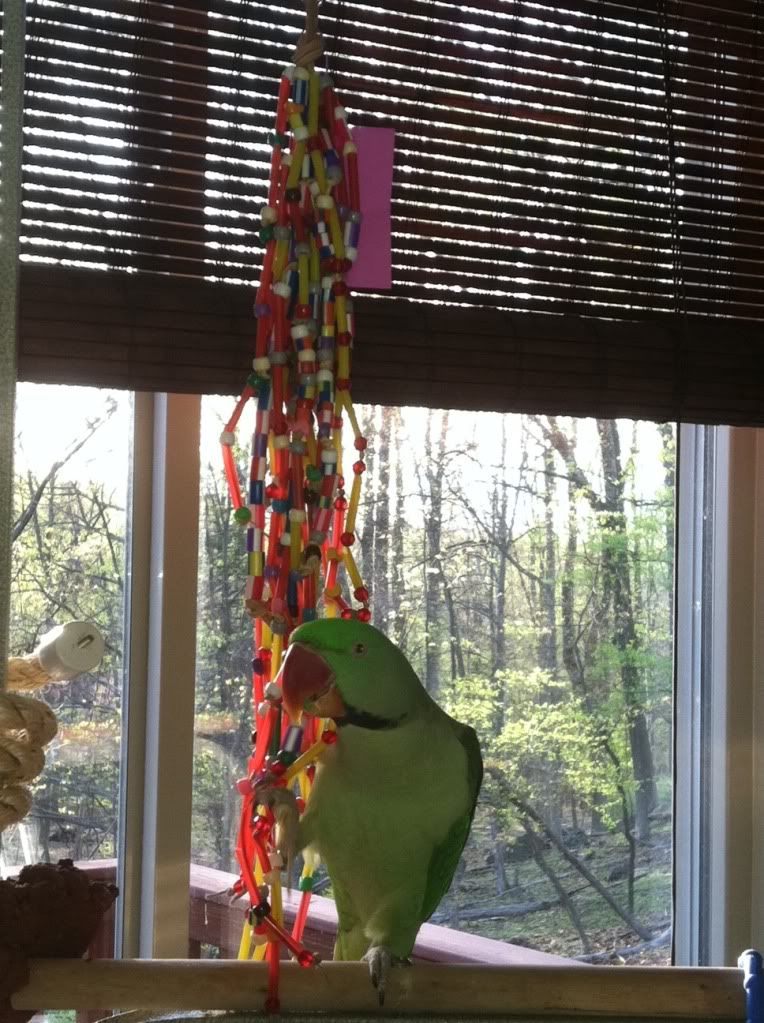 Geraldine making herself at home LOL: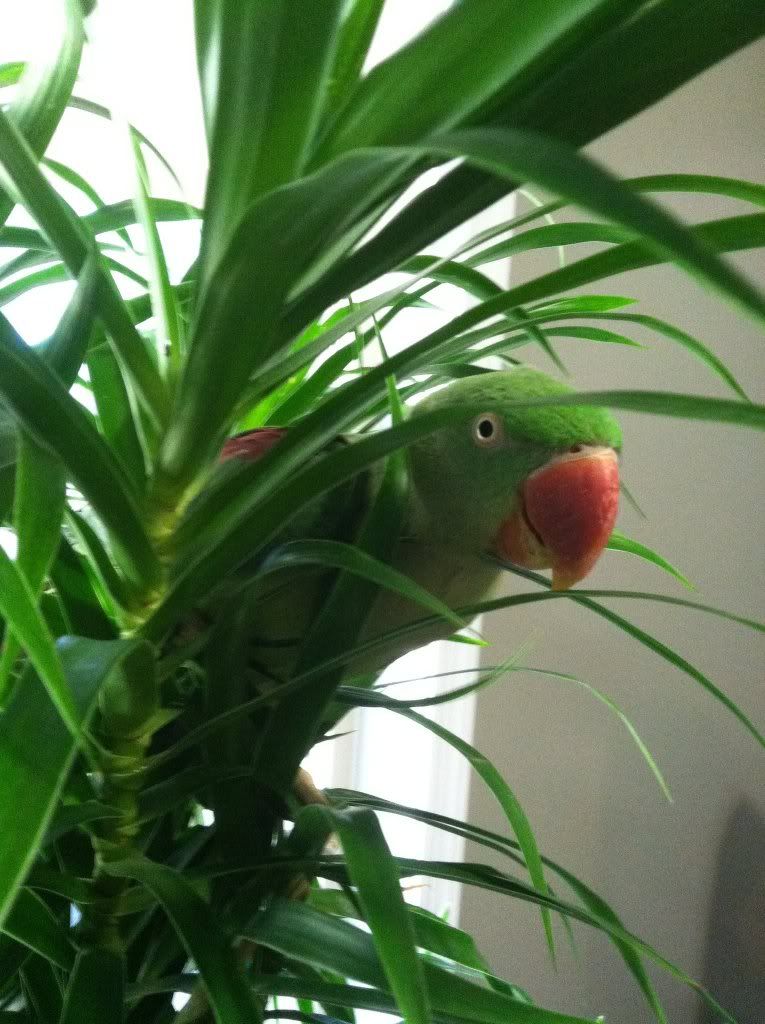 Geraldine and ELF meet for the first time:
Here you can see how enthusiastic she is playing:
YouTube - ‪Geraldine and Paper‬‏
And here is video of ELF & Geraldine sharing a favorite toy today:
YouTube - ‪Fun with a Jillian's Bird Toy‬‏
ELF was our only bird without a buddy, and it's so magical to watch these two and see him so happy. He was a very happy birdie before, but we see that Geraldine and he can enrich one another's life like a human cannot. We were incredibly happy and surprised that ELF immediately recognized Geraldine as his own kind, and took to her immediately, despite disliking interacting with the rest of our flock.
Join Date: May 2010
Location: Arnold, MO
Age: 75
Posts: 1,997
Thanks: 0
Thanked 0 Times in 0 Posts
Rep Power:
31
Geraldine and ELF are stunning, beautiful birds! And, thanks to you, they will have a wonderful life together!

Thanks for sharing! They are beautiful!
---
JoAnne, Libby (2/10),Angelina (12/07), and Charley (11/10)
Also owned by Essie,Minnie & Oscar
Join Date: Oct 2009
Location: Outer Sydney Australia
Age: 68
Posts: 887
Thanks: 135
Thanked 235 Times in 170 Posts
Rep Power:
37
Their first meeting looks to have gone extremely well. You can tell they are completely relaxed in each others company as they are not pinning their eyes. It is so easy to tell with Alex's when they are upset as the pupil of their eye nearly completely disappears.

Elf is obviously only a youngster as he is just getting his neck ring. He will be a stunner when it comes in fully.

It is the female Alex that rules the roost in their household. She is the one who instigates breeding readiness. They are one of main loves of my life. They are just such great birds. I love my babies.
Thanks Jo Anne & Kate! Kate, you are right that they do enjoy one another very much. They're still getting to know one another better, and play and eat nicely together. I have no wishes to breed, and they are housed separately, but spend their time together outside of their cages throughout the day. ELF is definitely younger, he's 2 1/2 and overdue for his next molt. We see a few pink feathers on the back...can't wait for the rest to come in. They are absolutely delightful parrots!
Awww, beautiful girl! Great new addition and thanks for taking in a rescue
Join Date: Nov 2010
Location: cape town south africa
Age: 24
Posts: 2,386
Thanks: 24
Thanked 85 Times in 69 Posts
Rep Power:
24
as i already said on parrotchatter congrats on a beautiful bird
---
Join Date: Nov 2009
Location: Indiana, USA
Posts: 3,142
Thanks: 0
Thanked 2 Times in 2 Posts
Rep Power:
40
Sounds like everyone benefitted here. Congratulations.
---

Thanks Shivani for the awesome siggy!
X2
Stanley (bourkes), Roni (senegal), Elisa (lineolated parakeet) and Doug (pacific parrotlet), Daisy (maximilian pionus), Shira (green cheek conure), Ashlynn, (grey), Taylor (princess of wales parakeet), Joelle (quaker), Benny (cockatiel)
Join Date: Dec 2010
Location: UK
Posts: 17,661
Thanks: 1,593
Thanked 2,007 Times in 1,575 Posts
Rep Power:
100
Congratulations and thanks for adopting
you have some beautiful birds!
---
- Alexandrine parakeets Kona, Peaches, George (missing), Holly (RIP), &
Orange winged Amazon parrot Paulie
Join Date: Dec 2010
Location: Ohio, USA
Posts: 5,750
Thanks: 734
Thanked 474 Times in 379 Posts
Rep Power:
43
How beautiful! It's great you took on a rescue bird. I'll need to do that sometime.




---
DIGBY
4-year-old male Congo African Grey
Join Date: Dec 2010
Location: Denver
Posts: 1,048
Thanks: 0
Thanked 12 Times in 9 Posts
Rep Power:
16
What beautiful birds. It looks like the start of a nice long life together.
---
Join Date: Feb 2011
Location: welland,ON
Age: 29
Posts: 993
Thanks: 33
Thanked 44 Times in 34 Posts
Rep Power:
15
your new edition is gorgeous im glad there getting on so well
---
H
Thank you, Everyone! I'm a big supporter of rescue bird's here in the U.S., knowing how many rescue birds need families. I highly recommend this rescue for adoption too!
http://www.abqparrots.org
congrats and thanks for adopting. She's lovely
---