Join Date: Jul 2012
Location: Michigan
Posts: 153
Thanks: 0
Thanked 19 Times in 15 Posts
Rep Power:
8
Stress Marks
---
I'am sitting here trying to figure out why Brandi still has stress marks on her tail ? she eats good , she eats her pellets, veggies a little bit of seed mix and some of Kathies mixed nuts and veggies from mysafe bird store plus I have been putting flax seed in her veggies just a small amount from Avi Flax Gold the only thing I can think of is me getting her wings clipped may have stressed her out , I really don't think it's her diet so thats all I can come up with , I plan on asking the vet the next time she goes for a nail clip I'am not clipping her wings any more
any suggestions or ideas anyone ?
and she has had them since she was 8 weeks old when we adopted her from the breeder I thought they would be gone by now

Join Date: May 2012
Location: Texas
Age: 26
Posts: 306
Thanks: 0
Thanked 13 Times in 9 Posts
Rep Power:
10
Stress marks can be caused by a new home, cage changes, cage movements, new friends, diet..etc.
It can take some parrots many many months to settle in. How long have you had her?
Unfortunately it is usually very difficult to pinpoint where stress marks are coming from. What does help with stress (and also gives some good vitamins) is Brewer's Yeast. Get the powdered kind and sprinkle a little over anything she'll eat. Don't overdo it or she may not eat the food because of the change in taste. What I did for Krissi was spray a piece of millet lightly with water, sprinkle Brewer's Yeast over it, let it dry, and then give it to her. That helped a lot.
Best of luck to you and Brandi.
---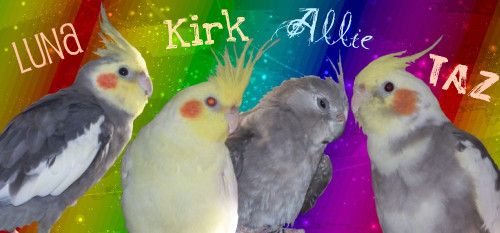 Join Date: Dec 2010
Location: UK
Posts: 17,637
Thanks: 1,593
Thanked 2,007 Times in 1,575 Posts
Rep Power:
100
I've been quite lucky to say none of my babies have had stress marks up until now, I moved Dexter and Pickles into a new cage and Dexter has one on her tail but since then no more. If she's had them since you got her I would probably say it was the move that did it
---
- Alexandrine parakeets Holly, George, Koda &
- Crimson rosella Kasumi
Orange winged Amazon parrot Paulie
Join Date: Oct 2012
Posts: 3
Thanks: 0
Thanked 0 Times in 0 Posts
Rep Power:
0
Join Date: Oct 2012
Posts: 85
Thanks: 0
Thanked 0 Times in 0 Posts
Rep Power:
8
she might be like that for awhile new home getting clipped it could be any of those things so dont stress about it hard if she doesnt get better have her checked out but give her 6 months to settle into her new home
---
Umbrella cockatoo lover
Join Date: Oct 2012
Location: Michigan
Posts: 40
Thanks: 0
Thanked 0 Times in 0 Posts
Rep Power:
0
I'm not sure what a stress mark is either. Pic??
Join Date: Jul 2012
Location: Michigan
Posts: 153
Thanks: 0
Thanked 19 Times in 15 Posts
Rep Power:
8
Join Date: Dec 2010
Location: UK
Posts: 17,637
Thanks: 1,593
Thanked 2,007 Times in 1,575 Posts
Rep Power:
100
Stress bars/marks are unusual lines usually cutting through the feather. They don't necessarily have to be a problem, it can literally just be due to some change or something they don't like and have to be molted out
---
- Alexandrine parakeets Holly, George, Koda &
- Crimson rosella Kasumi
Orange winged Amazon parrot Paulie
Join Date: Jul 2012
Location: Michigan
Posts: 153
Thanks: 0
Thanked 19 Times in 15 Posts
Rep Power:
8