RIP Sunny
---
Tonight, I lost a best friend, Sunny. She was my only friend when I had no friends. She brought joy to me. I would love her and she would love back.



Life is so precious... I refuse to believe animals don't have souls. What a terrible thing to think.



I will miss you, my beautiful baby.

RIP Sunshine 2001?-2012. Flying with Shadow and Dexie.
Join Date: Dec 2010
Location: UK
Posts: 17,637
Thanks: 1,593
Thanked 2,007 Times in 1,575 Posts
Rep Power:
100
I am so so sorry for your loss
---
- Alexandrine parakeets Holly, George, Koda &
- Crimson rosella Kasumi
Orange winged Amazon parrot Paulie
Thank you... I appreciate it.
OMG... I am so sorry.. Was she egg bound?
Join Date: Feb 2011
Location: Oshawa, Ontario
Age: 27
Posts: 914
Thanks: 2
Thanked 1 Time in 1 Post
Rep Power:
15
So sorry to hear of your loss
---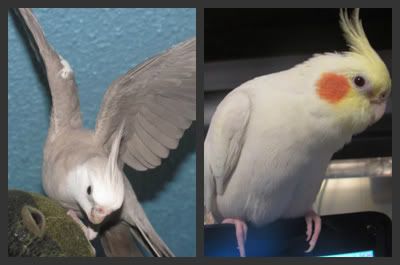 My Tiels
Cupid-Male Whiteface Cinnamon
Aero- Female Cinnamon Lutino
i am so sorry
---
Join Date: Aug 2012
Location: England
Age: 22
Posts: 358
Thanks: 0
Thanked 7 Times in 7 Posts
Rep Power:
8
I totally understand how you feel
When I lost Kawaii, I felt as though a part of me had been torn away. It was as though a family member had died. I still really miss her, and still cry about her. Even though it has been nearly a year since she was killed. She really was a special bird. A perfect bird.
You'll never truly get over Sunny, but you will eventually remember her for the happy times you shared together. You WILL be able to think of her and smile, and just be thankful that she could be a part of your life, and that you were able to give her love and care. I'm sure she's watching over you right now. I hate how people say animals don't have souls, too. Imagine a world without animals. What kind of Heaven would that be? Look up the rainbow bridge, it's a great poem about pet loss.My heart goes out to you
and I sympathise for your loss. She must have been one special bird