Join Date: Oct 2013
Location: South Australia
Posts: 2
Thanks: 0
Thanked 4 Times in 1 Post
Rep Power:
0
Birdy breakfast inspectors
---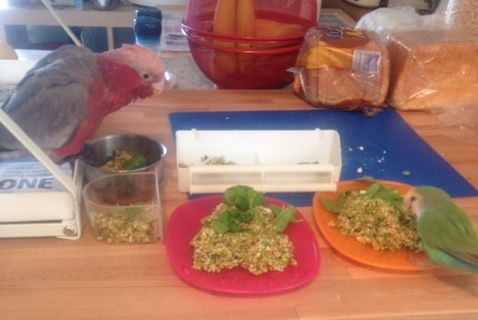 I always have help ( mmmm.... Perhaps they aren't really helpful )
when I'm preparing the veggie breakfast for the birds. My lovebird Huey has to taste from all plates and bowls just to be sure that he steals the yummy bits. I even have my new baby galah Echo involved now... He/she has a bit of a taste/play with the food. My sun conure Jack decided this morning that he would prefer to eat from the one and only all seed pot which is on the play stand so he wasn't in the photo. I always put seed and or pellet in their veggie chop cos my birds are still only young and still learning that veggie/fruit is food too.
I feed my budgie flock off small plastic plates which I put at the bottom of their patio aviary every morning and night and it is so wonderful watching every one of them eating together and they eat every bit of it.
---
God loved the birds and invented trees. Man loved the birds and invented cages
Jacques Deval, Afin de vivre bel et bien
Join Date: Sep 2013
Location: SF Bay area California
Posts: 686
Thanks: 843
Thanked 420 Times in 280 Posts
Rep Power:
8
How fun! My birds look forward to lunchtime. Dishes with fresh fruit and veggies surprising how much they eat. My birds look very healthy so that pleases me. Thanks for sharing.
---
owned by linnies:
Levi,
Skyler
Karma, and
Bindi
| | |
| --- | --- |
| The Following User Says Thank You to gemini1 For This Useful Post: | |
Join Date: Sep 2013
Location: North Carolina
Posts: 237
Thanks: 48
Thanked 139 Times in 111 Posts
Rep Power:
7
So cute! I love Echo and Huey. I know what you mean about your "little helpers" not being all that helpful. My two linnies like to "help" with the chopped veggies and fruits, too. They had much rather eat the blueberries straight from the container than to wait until I wash, chop and put them in their food cup. Of course, their MO is to jump into the blueberry container and take a bite out of as many berries as possible before I can scoot them out.
---
M-Nature and her feathered flock:
Lucy Linnie from Tribe of the Lineola
Vivian Linnie from Birds4Alice
JJ the Australian Red Rump (adopted)
Goldie the Australian Red Rump (adopted)
RIP
Lilly Peepers
Join Date: Jun 2013
Location: Germany
Posts: 1,647
Thanks: 1,255
Thanked 933 Times in 718 Posts
Rep Power:
13
This looks like a healthy and funny bird breakfast, love the picture!
Join Date: Dec 2010
Location: UK
Posts: 17,637
Thanks: 1,593
Thanked 2,007 Times in 1,575 Posts
Rep Power:
99
How adorable