Join Date: Jan 2014
Posts: 5
Thanks: 0
Thanked 0 Times in 0 Posts
Rep Power:
0
Re: feeding routines
---
Hi

I would like to know how often you give your birds fresh food a day and how long do you leave it in the cage for at a moderate room temp of mid twenties

I am petrified that the food will get mouldy if left longer than 3 hours in the cage, but it seems like they do not have enough time to eat it if left for that time in the cage. It feels like all i do all the time is making new food and trhow it out again.

What is your feeding routines like. What type of food do you give when.
Thanks for helping.

Birdy
Join Date: Dec 2013
Location: Bundaberg - Australia
Age: 76
Posts: 355
Thanks: 172
Thanked 221 Times in 137 Posts
Rep Power:
9
Along with seed and pellets, I feed my lot a veggie mixture each day, which I pre-prepare and freeze in ice cube trays. I usually make sufficient for about seven to ten days and thaw out just enough each day for their daily needs.
The mix usually consists of fresh chopped up red capsicum, celery, broccoli, frozen peas and corn, grated carrot, and sometimes cooked brown rice.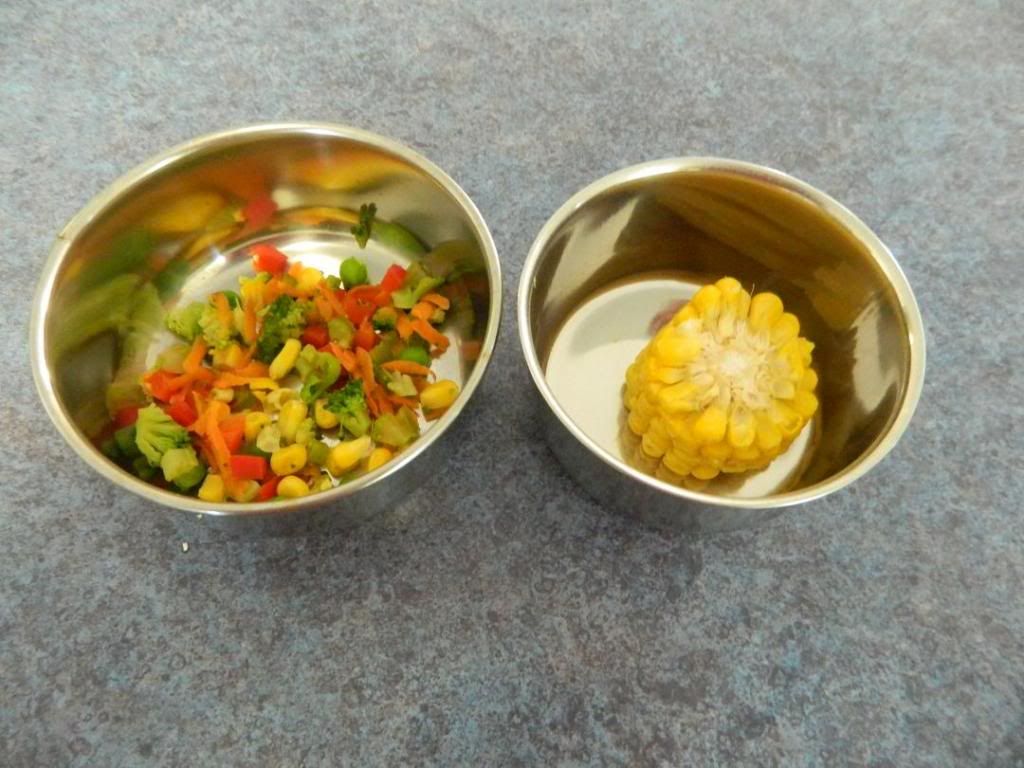 I feed them this in the morning for breakfast, and remove it from their cages by lunch time.
I hope this helps.
Cheers,
John.
Join Date: Dec 2010
Location: UK
Posts: 17,637
Thanks: 1,593
Thanked 2,007 Times in 1,575 Posts
Rep Power:
99
My aviary birds, as they are aviary birds, have their seed mixes available at all times. I use a 'wild bird' type of feeder, where the food drops down when they eat. I only use these because the main bulk of my flock are budgies and if I filled something with seeds they would only see the top thus leaving husks and no bird would dig around to find the other seeds! Fresh food I feed in the morning though, with companion birds and aviary birds. Although the budgies do have seed available at all time, they do enjoy a plate of fresh greens! With the other birds in separate aviaries they are fed the same way I would feed a companion bird. Fresh food in the morning and seed/nuts etc. in the afternoon. Birds are most hungry in the morning so if they're provided with fresh food and nothing else they will most likely gobble it up. Also, John's food bowl is a great example of how much you should be feeding. The best thing to do is know your own bird. Put say a table spoon of fresh food in a bowl. If the bird eats all of it then add a bit more. Find your balance
You shouldn't have to be throwing loads away! And depending on your species, if they are fairly small, the ice cube tray method is brilliant
---
- Alexandrine parakeets Holly, George, Koda &
- Crimson rosella Kasumi
Orange winged Amazon parrot Paulie
Join Date: Dec 2013
Location: New Jersey, USA
Posts: 462
Thanks: 133
Thanked 222 Times in 170 Posts
Rep Power:
7
I feed them gloop (cooked whole grains and legumes with cooked chopped veggies) and raw produce (one fruit, one veggie, one leafy green or cruciform) in the morning when the sun is rising and leave it there all day long until the sun begins to set when the plates are taken out and replaced with a small, measured portion of a seed mix with or without nuts, depending on the species. Now, in the middle of the summer, when it's real hot, I take it out at mid-afternoon, right after they wake up from their nap and eat a bit -but not because I am afraid is bad for them but because the smell of the spices I use in the gloop becomes a bit strong in the heat and I like the birdroom to smell fresh at all times.

Food does not rot and become toxic in a matter of a few hours. If it did, humanity would have been wiped out thousands of years ago because refrigeration was not used until recently. Grains ferment, greens wilt and fruit ripens when it's very hot and after a goodly number of hours but they are not toxic in any way. As a matter of fact, some birds love eating the half-rotten fruit that fell to the ground preferring it over the one on the tree and I can attest to this personally. Bacteria causes fruit to ripen but not all bacteria is harmful and, as a matter of fact, there is more beneficial bacteria than harmful. And fermentation is not bad, quite the contrary (have you heard of kamboucha?) It's quite beneficial to health. Lots of stuff we consume is fermented (yogurt, wine, cheese, sour cream, pickles, olives, soy sauce, kefir, beer, yeast, salami, pepperoni, vinegar, chocolate, coffee, vanilla, tabasco, etc).

So don't worry about it, put the food out and leave it there.
Join Date: Dec 2013
Location: Bundaberg - Australia
Age: 76
Posts: 355
Thanks: 172
Thanked 221 Times in 137 Posts
Rep Power:
9
I neglected to say in my previous post that I often sprout my own seeds and add about a teaspoon of sprouts to the mix in the photo above when I do.

I also offer both the Cockatiel and my Princess Parrot sprouts along with numerous other treats in the afternoon when they are having their out of cage playtime...they love the sprouts.

Cheers,

John.
Join Date: Jun 2013
Location: Germany
Posts: 1,647
Thanks: 1,255
Thanked 933 Times in 718 Posts
Rep Power:
13
Join Date: Jan 2014
Posts: 5
Thanks: 0
Thanked 0 Times in 0 Posts
Rep Power:
0
Thank you guys for all your input. It is much appreciated.

Birdy
Join Date: Dec 2013
Posts: 18
Thanks: 0
Thanked 9 Times in 6 Posts
Rep Power:
0
I only feed what the bird requires in terms of amount and quality. Morning feeding is weighed out high quality pellet. Evening feeding involves, veggies, small amount of fruit, some grain and small amount of pellet. I impliment food management and weigh bird daily to ensure bird isnt under or over weight.
Bird gets training treats before evening meal which consist of broken up pieces of pellet.
Bird will eat more when doing lots of flight training....i.e. burning up more calories, and that is compensated for in terms of food amounts given.
Food shouldnt be left in cage with bird for any more than 15 minutes IMO. It cannot spoil in that time frame and bird would have consumed enough till next feeding time.

Wayne