what am i doing wrong?
---
ok i have three tiels and i have tried giving them several different things fruits veggies and they will not try anything. i am also getting a CAG sat i have emailed the owner several times about what his favorite fruits and veggies are and have not gotten a reply my guess is he has never had fruits or veggies. how can i get my birds to eat or at least try some of the things i give them? i fix my tiels something apple, egg, carrot, etc... and they will not even try it.
---
Try removing all food from the cage at bedtime... feed 1st thing in the am with whatever you are trying to get them t o eat... mix a little of the new food with a tsp or so of seeds and sprinkle a few seeds on the top... give only that for the 1st 2-3 hours then remove and give regular food.... they have to dig thru the new food to eat the seeds and are hungriest 1st thing in the morn.
My CAG had never had veggies until I got him, but he dove right in. They normally don't have a problem with adjusting to getting the veggies. As for your tiels I would try what ParrotletsRock suggested.
---
::
x2:
x14
x5
Join Date: Feb 2011
Location: Oshawa, Ontario
Age: 27
Posts: 914
Thanks: 2
Thanked 1 Time in 1 Post
Rep Power:
15
Try preparing things different ways, like hanging greens in the cage or chopping veggies up small, sprinkle some seed on top, etc Aero wouldnt try veggies until I started hand feeding her small pieces and then from there she started eating them on her own. They can be picky sometimes lol
I like this page that has tips for introducing new foods,
http://www.cockatielcottage.net/recipes.html
---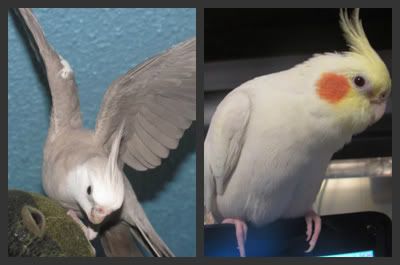 My Tiels
Cupid-Male Whiteface Cinnamon
Aero- Female Cinnamon Lutino
Join Date: Dec 2010
Location: UK
Posts: 17,637
Thanks: 1,593
Thanked 2,007 Times in 1,575 Posts
Rep Power:
99
With the grey it will be easy! Just hand feed them, clip them to the cage and put them in foraging toys
eat in front of them too, it's how the conures try new stuff haha!
As for the cockatiels I think the best method is putting it all out on a plate and mixing it up, but do chop it very fine!
---
- Alexandrine parakeets Holly, George, Koda &
- Crimson rosella Kasumi
Orange winged Amazon parrot Paulie
Join Date: Sep 2011
Location: south coast UK
Posts: 2,789
Thanks: 68
Thanked 107 Times in 93 Posts
Rep Power:
24
My tiels only eat carrot, apple peel or anything green.
---
x2
x3
Please like me on Facebook
Kamelina-Kreations
Kamelinajewelery.wix.com/kamelina-kreations
Join Date: Nov 2010
Location: cape town south africa
Age: 23
Posts: 2,386
Thanks: 24
Thanked 85 Times in 69 Posts
Rep Power:
23
my tiel wont even look at new food
with your birds
---