Join Date: Apr 2012
Location: Ontario, Canada
Posts: 537
Thanks: 0
Thanked 1 Time in 1 Post
Rep Power:
10
Big mistake
---
Ok so I was out of millet for Phoenix so I decided to give him some bird seeds as a treat and he went crazy for it, so I left it in his treat bowl in his cage for a while then took it out last night and just now I put it back in just as a treat and he went nuts for it again and he was digging in as if he's been starving
but I know he's been eating his pellets, I think right now he thinks that's his meal
so I took it out for good. it took me forever getting him on pellets and now I may have gotten him off pellets on seeds ughh Has anyone ever done this?
Thanks guys
---
Join Date: Mar 2011
Location: Somewhere in Canada
Posts: 2,644
Thanks: 51
Thanked 104 Times in 64 Posts
Rep Power:
39
seed is not bad for birds. thats a big misconception. variety is best. good variety is seed, pellets, fruit and veggies. you can sprout the seed for extra nutrition. since you give pellets, do not give other protein rich foods such as egg, beans, etc because over time they can develop kidney problems. gout can be caused from diets high in protein.
seeds not a bad food. i would offer both seeds and pellets, he gets the best of both. just like seed only diets, pellet-only diets are just as bad. variety is the best diet plan. so its ok for him to have seed daily too with his pellets
---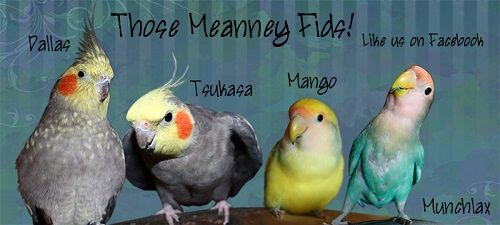 Those Meanney Fids FB Page:
http://www.facebook.com/pages/Those-...284656?fref=ts
Bird Information Photo Gallery:
http://s1282.photobucket.com/user/Me...?sort=3&page=1
All posts and photos of mine posted here are copyrighted by Casey Meanney. They are not to be reposted elsewhere without my permission.
Join Date: Apr 2012
Location: Ontario, Canada
Posts: 537
Thanks: 0
Thanked 1 Time in 1 Post
Rep Power:
10
He won't eat both tho lol right now he's eating his pellets but when he went nuts for the seeds I thought he was starving himself for them but if given both he'll stick to the seeds he likes em more. The only reason I got him on pellets is cuz all the research I've done said that seeds were really bad and when I took him to the vet she explained it like so "seeds is like mcdonalds it's good as a treat but if you eat it everyday down the line it'll cause serious health problems" so I got him onto pellets. And ever since he's been eating those seeds the last two days his poops been looking different every time so I decided to take the seeds away to see if his poop starts to look more regular.
---
Join Date: Sep 2011
Location: south coast UK
Posts: 2,789
Thanks: 68
Thanked 107 Times in 93 Posts
Rep Power:
24
You could keep seeds just for training him as treats.
sounds like he'd do anything for 'em!
---
x2
x3
Please like me on Facebook
Kamelina-Kreations
Kamelinajewelery.wix.com/kamelina-kreations
i do seed and pellet mix i put the seeds and pellets together no more is added till they eat all including the pellets. they get a certain amount of each and they always eat everything they are feed breakfast , lunch and diner i do offer other food veggies and fruits but my tiels don't always eat that but dusty tries everything he loves spaghetti
---
Join Date: Apr 2012
Location: Ontario, Canada
Posts: 537
Thanks: 0
Thanked 1 Time in 1 Post
Rep Power:
10
O I give nutriberries and sunflower seeds as training he goes nuts for his nutriberries but i can totally use the seeds for that too i plan to continue using them as a treat but like once in a blue moon not everyday or hell think thats his new food
he's eating his pellets now so I feel much better but still anxious I wan his poops to look more regular with the seeds it's been diff colors each time and sometimes more watery then others and I just wana see his normal poop lol.
I love how he dunks his pellets in water before eating them hahaha I think he does it cuz he sees my dad dip his cookies in his tea every night hahaha
---