Join Date: Apr 2013
Location: Pakistan
Posts: 8
Thanks: 1
Thanked 1 Time in 1 Post
Rep Power:
0
Love bird won't eat fruits/ veggies
---
Hi Everybody,

I am new here. My name is Sarah. I have two love birds and a indian ringneck parrot. The love bird's names are pin pin and the indian ring neck is om nom.

I have a question to ask regarding my love birds. They do not eat fruits or vegetables. I tried everything but they just won't eat it. I also tried hand feeding them but they won't eat em. Can anyone tell me how to make them eat fruits?
Thanks a lot for your help.

Sarah
Join Date: Mar 2011
Location: Somewhere in Canada
Posts: 2,644
Thanks: 51
Thanked 104 Times in 64 Posts
Rep Power:
39
persistence, keep trying
also, i would cut them up in different ways to see if maybe they like them bigger or smaller. i would cut some in chunks, some in little tidbits, some in strips, some all over the place, or even offer some whole.
also, hanging lettuce from the cage top might peak some interest, as well as wedging broccoli and carrots through the cage bars.
try offering in different kinds of bowls, plus different areas of the cage.
i find my birds prefer to eat their veggies in different ways more than others. so see what catches any interest and then just keep trying
in the morning, feed them the veggies for about a half hour before you give them their regular food. having them more hungry will make them more willing to try it.
---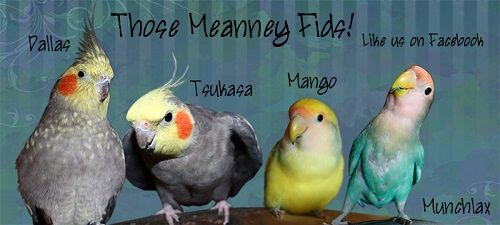 Those Meanney Fids FB Page:
http://www.facebook.com/pages/Those-...284656?fref=ts
Bird Information Photo Gallery:
http://s1282.photobucket.com/user/Me...?sort=3&page=1
All posts and photos of mine posted here are copyrighted by Casey Meanney. They are not to be reposted elsewhere without my permission.
| | |
| --- | --- |
| The Following 2 Users Say Thank You to MeanneyFids For This Useful Post: | |
Join Date: Dec 2010
Location: UK
Posts: 17,637
Thanks: 1,593
Thanked 2,007 Times in 1,575 Posts
Rep Power:
100
Casey's post was very good! I feed all fresh foods in the morning and it works great, especially now it's the breeding season, they're stuffing food away like no tomorrow!
---
- Alexandrine parakeets Holly, George, Koda &
- Crimson rosella Kasumi
Orange winged Amazon parrot Paulie
Join Date: Apr 2013
Location: Pakistan
Posts: 8
Thanks: 1
Thanked 1 Time in 1 Post
Rep Power:
0
Thanks a lot guys for your help. I apreciate it
I will try giving them veggies in the morning and in different sizes.
Join Date: Dec 2010
Location: Ohio, USA
Posts: 5,750
Thanks: 734
Thanked 474 Times in 379 Posts
Rep Power:
43
It really, really takes patience and persistence. The others have given great advice, and
I wish you luck trying to get them to eat fresh foods!




---
DIGBY
4-year-old male Congo African Grey
Join Date: Apr 2013
Location: Pakistan
Posts: 8
Thanks: 1
Thanked 1 Time in 1 Post
Rep Power:
0