Join Date: Dec 2013
Posts: 5
Thanks: 9
Thanked 4 Times in 1 Post
Rep Power:
0
Adopted African Grey
---
I adopted a new African Grey, he is 4 years old by the name Kramer. He has a tremendous vocabulary and is quite funny. My problem is he does not trust the hands. He will not step up for me and I have been working with him for 6 weeks, He screams and tries to bite (not hard) but enough to know that he means business, but it becomes a run away. The only times that I have had success is when he flies from the cage and lands on the floor. He screams but he steps right up. I then walk around with him and make him step up over and over (screaming each time). I am not really sure why he is so scared of the hand, and he will not even go near a stick. He is also frighten of my husband and son.

Yes I am hand feeding and that is not a problem, and i can now touch his foot not that he's happy about it.

I know it will take time, but I want to know if anyone has any other ideas.
Join Date: Nov 2011
Location: Edmonton
Posts: 3,259
Thanks: 22
Thanked 362 Times in 298 Posts
Rep Power:
25
Have you tried clicker training? I think if you used a clicker and treats to get him to associate your hand with positive things, that would work quite well! Grey's are very intelligent (as I'm sure you know
) and so he should love that type of training. Anything to get their minds working!
Also, maybe try teaching him tricks. It would be a bonding experience for both of you and in working towards a certain goal he should start to trust you more.
Join Date: Mar 2011
Location: UK
Posts: 2,115
Thanks: 275
Thanked 407 Times in 256 Posts
Rep Power:
24
Sounds like he could be a wild caught grey. I have wild caught birds and hand fed ones too. The wild caught are always scared of hands. I can tame the wild caught birds down but they're never going to be not afraid of hands.
---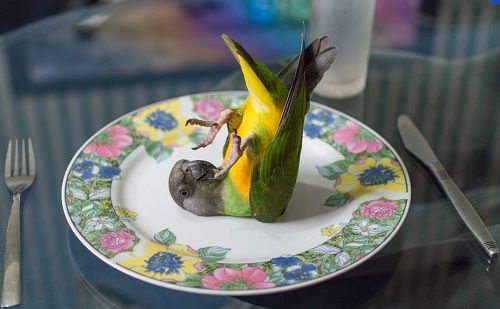 Join Date: Dec 2013
Location: Bundaberg - Australia
Age: 77
Posts: 355
Thanks: 172
Thanked 221 Times in 137 Posts
Rep Power:
10
Join Date: Dec 2013
Posts: 5
Thanks: 9
Thanked 4 Times in 1 Post
Rep Power:
0
Thank you, I have read your links and will try some of the methods mentioned. I don't think he was wild caught because he has a band on his leg. I believe he was just moved around the past couple of months and is weary (scared) of anyone.

I will let everyone know of his progress.
Join Date: Dec 2013
Location: New Jersey, USA
Posts: 462
Thanks: 133
Thanked 222 Times in 170 Posts
Rep Power:
8
None of my grays ever liked hands very much. All of them did step up but none liked to be touched on their bodies. I would start target training but don't overdo it and don't flood him (the making him step up over and over while walking around with him is called 'laddering', a practice that is no longer considered good -it's a form of flooding). If he screams or shows that he doesn't want to do what you are asking in any way, stop immediately. You need to build trust first of all and this means respecting his wishes always. Insisting or taking advantage of a situation where he feels vulnerable (like when he is on the floor) would only create distrust and resentment (these birds are highly intelligent and not easily fooled) and then, instead of starting from square one, you would have to end up starting from a negative point. And that is much, much harder because you not only have to establish a positive relationship, you need to eliminate the consequences of the negative before you even start on the positive.
Join Date: Apr 2014
Posts: 69
Thanks: 71
Thanked 28 Times in 21 Posts
Rep Power:
6
Also have you tried the stick to just get him out of the cage. I recently within the past 3 months adopted a 19 year old grey and she was doing the same thing. Since i have been bitten many times and was not wanting that i use a perch to just get her out of her cage. Put her on a stand and then from there i could ask her to step up and would take her back to her cage on my hand, No stick needed.
Join Date: Dec 2013
Posts: 5
Thanks: 9
Thanked 4 Times in 1 Post
Rep Power:
0
Update on my now 5 year old adapted African Grey (Kramer), She is very much in love with my husband and my son, but still attacks me. She steps up for my husband and son. She just doesn't like women even thou I'm the total care taker. I have tried all the methods, just hoping time will change her mind.
16 yo
---
we rescued a 16 YO African grey 6 months ago and he is not fond of hands either (he was handfed). He is good about taking food and treats very gently from our hands and will step up but is prone to biting if a hand moves too quickly for him or is anywhere near his territory.

From my experience most greys do not like to be pet for the most part. Budweiser LOVES head scratches though (kind of around his nape). He will stand on my shoulder and get his head scratched for hours but if I try to touch his toes, back, or breast, FORGET ABOUT IT!

If he is letting you touch him at all after just six weeks, that is a good sign. It took me 4 months to have him let me scratch his head and another 2 to have his step up. Just be patient and keep doing what youre doing!
| | |
| --- | --- |
| The Following User Says Thank You to cowgirlchan For This Useful Post: | |