Join Date: Jun 2011
Location: Taichung, Taiwan
Posts: 21
Thanks: 0
Thanked 0 Times in 0 Posts
Rep Power:
0
Learning to Fly
---
Crayola flew for the first time today! ...And proceeded to crash into a window
Sometimes when it's on my finger, it'll flap its wings really hard (trying to fly?) to no avail, but then sometimes, away it goes, just whoosh, then crash.. into the refrigerator.
What can I do to help it and most importantly, keep it from getting hurt? At this point I have no idea when it will get the urge to fly, because it happens very sporadically. Usually, it's only a one or two foot flight to its cage..
I don't plan on clipping its wings, but I don't really know too much about the whole clipping or no clipping debate.. I do have a huge indoor space that it will be able to fly around in so I'm not too worried..
Right now, my main concern is what to do at this stage?
It is soo nerve wracking when they take their first flights... my baby budgies just about gave me a heart attack more than once while learning to fly... when I was at the breeders looking to buy my gcc she opened the cage to the rainbow lorikeets to show the babies to me... then we left the cage open while we looked at other birds... she did not realize they could fly...next thing we knew once came flying past us in the dining room and smashed head first into the patio doors... it seemed dazed a little but ok and was put back where it belonged after a few minutes... she turned to me and said... thats why I clip them as soon as they learn to fly... hope your bird learns to fly and you both survive it unscathed!
Join Date: Mar 2011
Location: UK
Posts: 2,115
Thanks: 275
Thanked 407 Times in 256 Posts
Rep Power:
25
The first couple of flight maybe a little clumsy and sometimes it'll fly in things. Your best bet is to make the room as safe as possible then let your bird out for a practice flight.

I would continue to let it learn to fly, he/she will soon learn not to fly into anything after a couple of pratice. Let it learn at a slow pace for its wing muscles to gradually build up. Once wings muscles are strong enough there won't be anymore flying into objects.

I do find that only a nervous birds fly into objects, so make sure your bird is nice and calm before let it out to learn to fly. Good luck!
---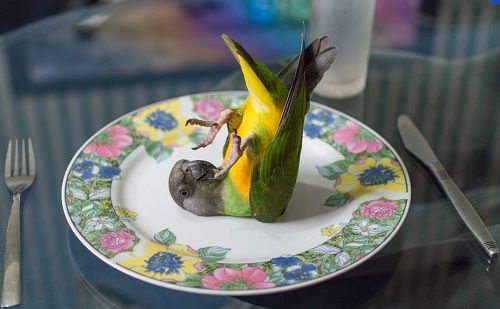 Join Date: Oct 2009
Location: Kitchener, Ontario
Age: 32
Posts: 212
Thanks: 0
Thanked 0 Times in 0 Posts
Rep Power:
12
When we first let jack grow out his wings, I took him to each window and pressed his little beak up to them and tapped on the glass and told him their was a solid surface. i also placed large black cut outs of birds in the window. Within a month I was able to take them down. He only flew into the window twice (this was before I showed him it was solid and put the black things up, and he never did again
---
Mommy to:
Jack the Ripper ----> Pacific Parrotlet
Kiwi ------> Green Cheek Conure
Scooter -----> Senegal
Join Date: Dec 2010
Location: UK
Posts: 17,661
Thanks: 1,593
Thanked 2,007 Times in 1,575 Posts
Rep Power:
100
They should be fine in time, just let them get used to their wings. Put big black tape crosses over windows and mirrors (believe me it works!) just for some time until they realise that they cannot get through them.
If you are extremely worried then clipping may be a good idea, but personally I'd rather let them learn first and see how they go
---
- Alexandrine parakeets Kona, Peaches, George (missing), Holly (RIP), &
Orange winged Amazon parrot Paulie
Join Date: Aug 2011
Location: USA
Posts: 4
Thanks: 0
Thanked 0 Times in 0 Posts
Rep Power:
0
The basic flies and first flies are the real action for the parrots because it is the beginning and there seems many lacking from the parrot side and there is need of motivation that your parrot needs from you. And it is possible when you will take your parrot in open air freely and build confidence with your parrot.