Join Date: Dec 2011
Posts: 10
Thanks: 0
Thanked 0 Times in 0 Posts
Rep Power:
0
My Jardine's Parrot is talking already at 4 months old!!!!!?????
---
I've had my Jardine's parrot for only a week now!!! And he is 4 months old and talking!! Is this normal?? I heard that they usually if ever start to talk when they mature more, like 14 months to a year. How could he be talking so early?? And when I've only had him for a week!! He is saying hello and Good morning and maybe some other things, not sure. But those 2 words, I hear most clearly. And I have been saying that to him a lot but how could he pick it up so fast? And he is also making kissing sounds.
Join Date: Jul 2011
Location: Minnesota
Posts: 2,434
Thanks: 0
Thanked 0 Times in 0 Posts
Rep Power:
24
Awesome! I'm sure every bird picks up things faster or slower, so it's not bad.
---
Kona-Green Quaker
Fred (so far)-Blue Quaker
I'll miss you
, Scully-African Grey
Ruby-Chocolate Labrador
Mylee-Black Toy Poodle
16 fish in a freshwater 38 gallon aquarium
Join Date: Mar 2011
Location: UK
Posts: 2,115
Thanks: 275
Thanked 407 Times in 256 Posts
Rep Power:
25
You have a very clever Jardine parrot.
---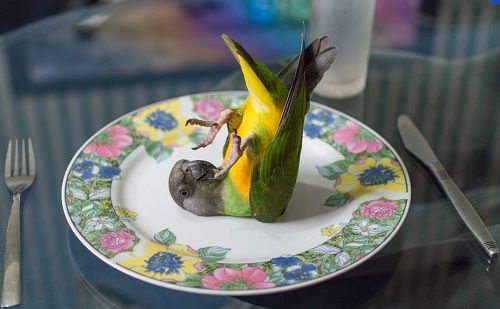 Join Date: Dec 2010
Location: UK
Posts: 17,661
Thanks: 1,593
Thanked 2,007 Times in 1,575 Posts
Rep Power:
100
Super clever baby is all
---
- Alexandrine parakeets Kona, Peaches, George (missing), Holly (RIP), &
Orange winged Amazon parrot Paulie