new addition
---
last week I got a baby Senegal, I brought my GCC to the pet store and let them meet first. they got along great! I brought the senegal home and my GCC attacked him! I now have there cages on separate sides of the room. When I got the little guy he was fully weaned and eating on his own, after being at my place he is back on hand feed. He completely stopped eating, could this be because of the stress and if so how long should I be hand feeding for? also when and how should I start introducing them to each-other again? I am kind of lost. I am sure it is a territorial thing for my GCC I just dont know how to get him over that, I am up for any suggestions. thank you!
Ashley

ohh and the Senegal still does not have a name :S lol but I am sure I can think of something good soon
Join Date: Nov 2010
Location: cape town south africa
Age: 24
Posts: 2,386
Thanks: 24
Thanked 85 Times in 69 Posts
Rep Power:
24
im sorry to hear your new baby has stoped eating , i would say have him on a morning and night feed but watch his crop to make sure it is never compleatly emty. then put warm mushed up pellets in a dish for him. i think it could probably have to do with stress so i wouldnt worry. give him some timeand if he is still not eating in a week take him to the vet. as for them not getting along i think you have the right idea about you gcc having territorial issues which im sure he will get over .
im sure some one with more experiance with baby birds will come on and reply soon. or try to pm jenny
---
Join Date: Sep 2011
Location: south coast UK
Posts: 2,789
Thanks: 68
Thanked 107 Times in 93 Posts
Rep Power:
24
Poor baby.
I Dont know enough about either bird or weaning to help.
I think probably not eating due to stress.
Is he more settled now?
---
x2
x3
Please like me on Facebook
Kamelina-Kreations
Kamelinajewelery.wix.com/kamelina-kreations
Join Date: Mar 2011
Location: UK
Posts: 2,115
Thanks: 275
Thanked 407 Times in 256 Posts
Rep Power:
25
The Green Cheek and the senegal may never get on. I have had my senegal now for about 8 months and the green cheeks still hate him - they're in the bird room together but the senegal just have to stay at distance from the conures.

I find that my senegal and green cheeks don't like to interact with any other species except their own kind. Both of them attacked my quaker and budgie - I have to separate the quaker and budgie in different room.
---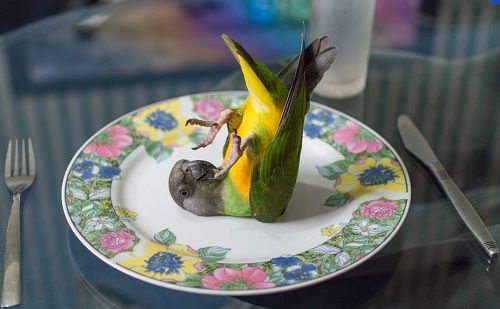 Join Date: Dec 2010
Location: UK
Posts: 17,661
Thanks: 1,593
Thanked 2,007 Times in 1,575 Posts
Rep Power:
100
I can't imagine them getting on but it could possibly happen. A lot of jealousy may happen too! Keep rewarding them on behaving good together
---
- Alexandrine parakeets Kona, Peaches, George (missing), Holly (RIP), &
Orange winged Amazon parrot Paulie