disappointed and confused :(
---
i am putting this in another thread because i need some advice or opinions. i am keep a training diary for Abigail but i have not gotten my training kit yet i did make some progress she has step up off her cage for me three times but yesterday seemed to be a huge set back. Abigail can climb down her cage to the floor which i have noticed she likes to do and she can climb back up her cage as well. yesterday she climbed down and i can't let her walk around the floor i have three kids and they don't look for a bird walking in the floor she would get hurt if i did leave her. anyways when i went to get her she puffed her feather up banged her beak on the floor and rocked side to side she bite me when i put my hand down to get her but she charged me to bite i knew she was up set so i was a fair was from her but she charged me and she also charged me trying to attack my foot. well i decided to try to use a stick to get her up on an she moved away from it she became more relax because she came to me to get away from the stick she stepped up then and i put her in her cage. i just don't understand what happen she has always step up from the floor before and she has never been this aggressive. opinions and advice greatly appreciated.
---
Join Date: Mar 2011
Location: Somewhere in Canada
Posts: 2,644
Thanks: 51
Thanked 104 Times in 64 Posts
Rep Power:
40
it is possible she is hormonal. its breeding season right now for many parrots, its possible she could be hormonal and is just protecting her territory. i would work on stepping up with a perch instead of your hands for now
---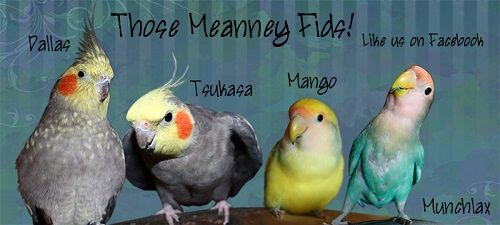 Those Meanney Fids FB Page:
http://www.facebook.com/pages/Those-...284656?fref=ts
Bird Information Photo Gallery:
http://s1282.photobucket.com/user/Me...?sort=3&page=1
All posts and photos of mine posted here are copyrighted by Casey Meanney. They are not to be reposted elsewhere without my permission.
Join Date: Feb 2011
Location: Minnesota
Posts: 493
Thanks: 117
Thanked 35 Times in 21 Posts
Rep Power:
11
My pionus can all be like that. We think all 3 of them were abused at some time in their past. Why would anyone do that?
Any way....... We never take them off of their cage with our hand. They will step up onto the rope perch. And if they want to bite that, it's ok. Once they are away from their cage, MOST of the time, they will step up. But we always approach them slowly and literally ask them. So I will walk up slowly and say quietly, "Do you want to step up?" If they do they will lift a foot. If they don't they will stick their beak out at me, etc. If they do that I just say "ok" and I go and get the rope perch. It has really, really worked great for us! Give it a try. And talk quietly to the bird a lot - both in it's cage and out. If you ever need to talk to someone about it, feel free to pm me any time.
---
Comet
It could also be that she didn't want to come off the floor, so she tried to scare you. It worked, so it clicked in her head 'if I puff and charge, she does what I want!' and so tried to bully you. I would avoid letting her on the floor for a while, until she steps up regularly and readily on a stick for you, her, and your kids safety




Join Date: Sep 2011
Location: south coast UK
Posts: 2,789
Thanks: 68
Thanked 107 Times in 93 Posts
Rep Power:
24
Shes a little wotsit!
Bob hates feet. He attacks my feet at every opportunity.
He?s bitten my knees as well!
I agree with Jenny and Sally.
Use a perch. Stand your ground.
I know, I be been bitten badly and its hard.
When Bob continued bad behaviour I chucked a towel on him and picked him up.
He only has to see the towel now and he'll bite it and not me
I hope she improves.
Look at it this way, would you let your kids behaved like that?
Throwing a tantrum?
---
x2
x3
Please like me on Facebook
Kamelina-Kreations
Kamelinajewelery.wix.com/kamelina-kreations
If she was my bird this is what I would do, If she got aggressive I would wrap her in a towel, then sit down some where with her in my lap and just talk to her for a while. It won't hurt her and she needs to learn to respect you or she'll keep bullying you. Just my method though. however you decide togo about it, keep us updated
Quote:
Originally Posted by
PersnicketyParrot
View Post
Lisa,
What species is Abigail and how old is she? How long have you had her, and what's her history prior to joining your family?
Abigail is a congo african grey she is 11 years old and she has been with me about three weeks. she was with the man i got her from for 7 years she was very loving with him the mans wife had nothing to do with her so she choose men as her favorite. Abigail has never been dna sexed but the man i got her from said two different vets said she was a he but looking at the tail markings and what i can tell of under her wings she looks female. the man got a new job so he could not spend time and let her out like she should get. i just started her training today she done fairly well. as far as Abigail history beyond the man i got her from i do not know. i know she has not had the proper training everything that is new she freaks out toys, perches, anything new. i have kids and she has never been around them only them running around does not stop her from climbing down her cage and walking around in the floor. my husband has nothing to do with her in hopes that she will understand i do everything for her.
---