Join Date: Mar 2012
Posts: 5
Thanks: 0
Thanked 0 Times in 0 Posts
Rep Power:
0
Troubled Rescue 'Too
---
My friend adopted a Cockatoo, we were told it was a female. Her name is Bango (or Bongo). Bango was super friendly when he got her, very vocal but not a screamer, she talks a lot and says Pretty Bird, Nice to meet you (offers her hand to shake), etc. Hello, Hi, Look at the Bird, lots of other phrases and words we can't really understand but we know she's talking. If company came over, she would talk and show off, puffing up her crest and head-banging, hanging upside-down, hopping... if the company left the room she would scream but not in a fearful way, just looking for attention.

It's been 6 months or so, and she's gotten a bit different. Bango is still a talker and acts sweet, can be handled most of the time and steps-up when asked. She gets lots of attention and has a great diet. She's the only bird in the house. She screams very loudly and very frequently, unless you're standing at her cage and talking to her. Even if you're in the same room, if you aren't looking at and talking to her, she screams. She has a nice big manzanita tree perch in the living room so she can be in with her family. She will offer to step-up and if you dont let her, the next time you approach her, she bites! She will fly off her perch onto your shoulder or lap and if you try to get her to step-up onto your hand she will bite, if you try to keep her off your head she will bite. If someone else tries to get her, she bites. She's not defending her person, she loves everyone. She is acting like she's a spoiled brat and we have no idea how to get her to stop screaming and biting. Any help?
---
Welcome Home new rescue boy "Beemer"!
3/23/12
Join Date: Mar 2011
Location: Somewhere in Canada
Posts: 2,644
Thanks: 51
Thanked 104 Times in 64 Posts
Rep Power:
40
it very well could be hormones, its breeding season at this time, and some birds are acting out right now... how much sleep does she get a night? you can try covering her cage at night for 12-14 hours so it may knock her hormones down if this is the problem. has there been any recent change in routine or something added to her environment at all?
---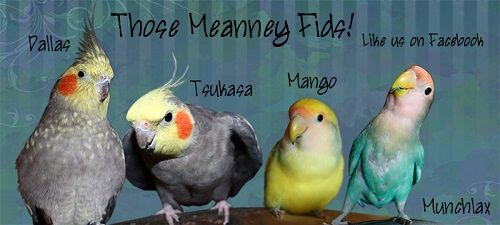 Those Meanney Fids FB Page:
http://www.facebook.com/pages/Those-...284656?fref=ts
Bird Information Photo Gallery:
http://s1282.photobucket.com/user/Me...?sort=3&page=1
All posts and photos of mine posted here are copyrighted by Casey Meanney. They are not to be reposted elsewhere without my permission.
Join Date: Mar 2012
Posts: 5
Thanks: 0
Thanked 0 Times in 0 Posts
Rep Power:
0
Her owner has moved twice in the last 6 months... she seems happy and normal otherwise, just the screaming for attention and the occasional biting... and there's no covering her cage, she shreds whatever you cover her cage with!
---
Welcome Home new rescue boy "Beemer"!
3/23/12
Join Date: Dec 2010
Location: UK
Posts: 17,661
Thanks: 1,593
Thanked 2,007 Times in 1,575 Posts
Rep Power:
100
It could be hormones! How old is she?

A lot of cockatoos get very angry if you don't give them your attention haha. She sounds like a wonderful bird though!
---
- Alexandrine parakeets Kona, Peaches, George (missing), Holly (RIP), &
Orange winged Amazon parrot Paulie
I agree it is coming up to breeding season, how old is she now?

Also when she screams for attention are you giving her the attention? As this re-enforces the behavious, likewise how do you react when she bites?
Join Date: Sep 2011
Location: south coast UK
Posts: 2,789
Thanks: 68
Thanked 107 Times in 93 Posts
Rep Power:
24
Oh, Too bites are awful!
They can be very demanding and yes I'd say spoiled brat.
I think Jenny used to have a Too and have a set time for going mad and shouting and having a good yell.
maybe this would help?
Also ignoring and leaving the room when shouting occurs and returning when the bird quiets down for a minute.
Biting is definatly not to be tolerated.
I would suggest a strong pair of gloves and a thick towel.
When the 'Too leaves the perch and will not be removed, try getting it to step up onto a perch and returning it to it's tree.
If this doesn't work then gently but firmly towel the bird and remove it back to the tree.
The bird needs to learn its place in the flock.
make sure there is lots of praise and reward for a well behaved bird and ignoring of bad behaviour.
I had a 'too, she was wonderful and cuddly, but also unpredictable and could be viscious. noisy very very noisy!
good luck to your friend
---
x2
x3
Please like me on Facebook
Kamelina-Kreations
Kamelinajewelery.wix.com/kamelina-kreations
Join Date: Oct 2009
Location: Outer Sydney Australia
Age: 68
Posts: 887
Thanks: 135
Thanked 235 Times in 170 Posts
Rep Power:
37
Definitely a combination of problems have developed. 2 moves in 6 months is unsettling enough and birds don't particularly like change. Combine that with hormones. Even my very placid and friendly Charlie (she is a Sulphur Crested) got a a bit nippy late last year (our breeding season), something she has never done before, I was the only person she did not try to bite. But she is my baby and I am her mum, I hand raised her and she is 12 this September. And she screamed at the same time about 6 times which she has never done before.

The bird also has no other birds around her (my Charlie has, I have 5 Sulphurs all of whom are very quiet). So she is a bit lonely for her own kind. Plus it appears your friends bird has been a bit spoilt. Getting heaps of attention from everyone. Probably that comes from the fact also that she talks, so visitors pay her heaps of attention. Hence when she is not getting constant attention and she is the only bird she does the only thing she can to get more, she screams. Kate is right, when she yells ignore her. Don't go running over to stop her screaming. When she behaves then give her attention. Give her a routine time and period when she is allowed out and only bring her out at that time and put her back when the time is over. Birds love routine.

And please stop her from getting on shoulders or heads. She is becoming the flock leader and not the humans. If she is higher than the person she is thinking she is dominant. I never let any of my toos on my shoulder or head, it is always only on my lower arm. When they are out they are never higher than my eyes. I find a thick towel is the best. I show my birds and when moving from their home cage to the show cage I wrap them in a towel to take them to the show cage. The show cages are too big and awkward to move to them and then back to the car for transport to the show. Even though they are tame and would probably not leave my arm I just like the security of having them in a towel to move them around as many of my birds are outside under a big awning. So when she flies to the head or shoulder get someone with a towel to remove her back to her cage preferably and not to the stand where she can just fly straight back to you. You really need to treat them as if they were a naughty toddler. And yes reward her when she is good and behaves herself. They are extremely intelligent and will learn really easily with reward training.