flightsuits?
---
Hey all, I'm going to be taking Duke to a vet to see if there's a problem with his wings, he is fully feathered now, but still cannot fly, he flaps them, but cant get height at all. He just goes to the ground.

But I wanted to know, Duke has never seen a flight suit before in his life, and I wanted to start training him for one, so that he can come outside with me. Anyone have a flightsuit trained bird they taught themselves? Is this just about an impossible task to train him as an adult bird? Also, I live in Canada, so does someone know a good place that would send them to me? Either a dealer of them in the states or here.

If I find a good one, I'll probably get one for Luna as well, the new little baby.
---
A bird doesn't sing because it has an answer, it sings because it has a song.
- Lou Holtz
Join Date: Apr 2011
Location: Alberta,Canada
Age: 24
Posts: 2,188
Thanks: 81
Thanked 87 Times in 72 Posts
Rep Power:
24
My GCC ice is trained for a flight suit
I worked with her for months on it, when I first got it, I left it on the counter near her cage, an every 3 days I moved closer and closer to her cage. then I left it on her cage for about 2 weeks. I let her check it out, but no biting or chewing on it.
The next part is tricky, on the instructions it says gently place your bird in the flight suit, easily pull the wings through....
Ya no. There is no easy way to get this, atleast in my experience. One day after the full introduction to the suit. Your just going to have to try to get her in it. My GCC fought the suit like it was a cat or something, but with perseverance and putting her in the suit once a week, and giving plenty of treats afterwards, she has become much better at tolerating the suit
Anymore questions just ask me
---
Icicis- Green cheek conure
Shaylee- Bichon Frise
Join Date: Dec 2010
Location: UK
Posts: 17,637
Thanks: 1,593
Thanked 2,007 Times in 1,575 Posts
Rep Power:
100
I have never used one so I can't help, but good luck!
---
- Alexandrine parakeets Holly, George, Koda &
- Crimson rosella Kasumi
Orange winged Amazon parrot Paulie
well on Dusty i use an aviator harness i taught him to wear it. i would get him out to begin with and make sure he was all right with me touching him under his wings and lifting them up after that i had him on the table and used his favorite treat i would lay the harness on him when he did not mess with it or act scared i would click and give him a treat then remove the harness i would wait a few seconds then do it again. after a while he could care less about it then i start working getting him in it each time i was able to get it on him i would give him a treat and when i finally got it completely on him i gave him a treat told him it was ok and took him outside each time he had the harness on here is two pics one is his first time out with his harness the other he went to a beach cook out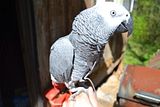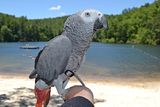 ---
Join Date: May 2012
Location: Texas
Age: 26
Posts: 306
Thanks: 0
Thanked 13 Times in 9 Posts
Rep Power:
10
Allie tolerated her flight suit from day 1, no real problems after putting it on. It really depends on the bird; but it is not an impossible task on an adult bird.
---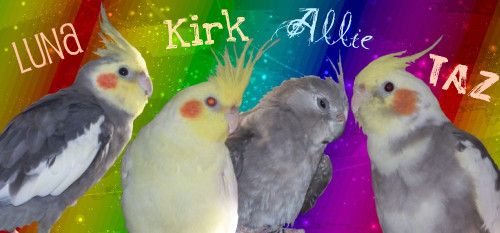 Join Date: Mar 2011
Location: UK
Posts: 2,115
Thanks: 275
Thanked 407 Times in 256 Posts
Rep Power:
24
Some birds will never learn to fly properly if their wings are clipped too early when they were chicks. Possibly your Duke could have been clipped too early before he had chance to learn to fly?
I have a adult senegal, he has never had on a harness, but when the time come when I want to put him on a harness I know he'll have no problem accepting a harness. He doesn't mind being held, being touched on any part of his body- I can do just about anything with him because he is such a mellow bird
.
---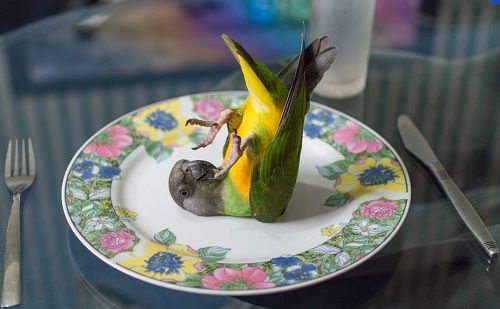 Ok because there is a lot of sites saying its cruel to try and shove them in one once they are adults, they'll never get used to it... yada yada yada. Tippa I wonder about that, but his right wing, is the one that has issues, when he tries to fly, you can see it causing him issues. Also he banks to one side with that wing as well. I dunno, maybe I should go and just get a check up to see if he had an old injury or something to it.. I have a harness similar to the one Dusty uses, but Duke HATTTESSSS that one, and rips it off him every time, thats why I was going to go with a fabric one that he cant pull off.
---
A bird doesn't sing because it has an answer, it sings because it has a song.
- Lou Holtz