Join Date: Aug 2012
Location: Houston, Texas
Posts: 143
Thanks: 18
Thanked 14 Times in 11 Posts
Rep Power:
8
Update on Steven the Senegal
---
Well not too long ago I posted a thread about my grandmother's Senegal Steven and how he wasn't very Tame. Well she had been doing the first step towards tameing him a long time ago so I moved her onto the second step, Feeding him treats through the open door and he readily accepted them. Lol turns out he doesn't like his cage door open so I told her to leave it open for a couple of hours each day (supervised of course
) and tonight he did this.
stevin.jpg
Join Date: Sep 2011
Location: south coast UK
Posts: 2,789
Thanks: 68
Thanked 107 Times in 93 Posts
Rep Power:
24
Congratulations!
That smile says it all!
---
x2
x3
Please like me on Facebook
Kamelina-Kreations
Kamelinajewelery.wix.com/kamelina-kreations
Join Date: Dec 2010
Location: UK
Posts: 17,637
Thanks: 1,593
Thanked 2,007 Times in 1,575 Posts
Rep Power:
100
Wow! He may have realised that people aren't so bad after all, and make great perches
congrats!
---
- Alexandrine parakeets Holly, George, Koda &
- Crimson rosella Kasumi
Orange winged Amazon parrot Paulie
Join Date: Jul 2011
Location: Minnesota
Posts: 2,434
Thanks: 0
Thanked 0 Times in 0 Posts
Rep Power:
24
That is awesome! He will soon grow trust.
---
Kona-Green Quaker
Fred (so far)-Blue Quaker
I'll miss you
, Scully-African Grey
Ruby-Chocolate Labrador
Mylee-Black Toy Poodle
16 fish in a freshwater 38 gallon aquarium
Join Date: Mar 2011
Location: UK
Posts: 2,115
Thanks: 275
Thanked 407 Times in 256 Posts
Rep Power:
24
Way to go with the magnificent senegal!
---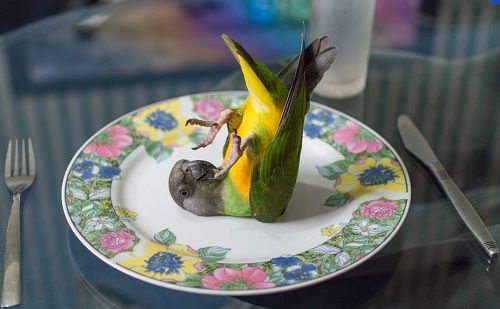 Join Date: Aug 2012
Location: England
Age: 22
Posts: 358
Thanks: 0
Thanked 7 Times in 7 Posts
Rep Power:
8
that's magnificent! He'll come around