Join Date: Nov 2009
Location: Indiana, USA
Posts: 3,142
Thanks: 0
Thanked 2 Times in 2 Posts
Rep Power:
40
advice requested
---
Folks,
I'd like to ask your advice regarding my ten or so week old splendid/scarlet chested grass parakeet.
He was the only bird in his clutch and was hand fed and was very, very tame when he came home. He would come out of the cage when we opened the door to get to us, and would step up any time a finger was presented.
Something has frightened him, and within the last two days he has become frightened of nearly everything. Once he is on my hands, he doesn't really want to get off usually. He still seems to enjoy interacting and doesn't seem to want to go back inside his cage. He doesn't jump off and go play with his things when I put him inside the cage. He just sits there and looks at me like he doesn't want to be left in there.
If he gets on the floor, he often runs in terror. If I can get in front of him and get him to watch me and say, "Step up", while slowly approaching him with my finger, he will often stay where he is and step up, but at other times he just runs as if he is totally terrified, and sometimes, for his safety, I have had to just grab him.
If it is safe to do so, I will lay down on the floor and tap my fingers on the ground before moving toward him, and this will work - sometimes.
He still will play on me like he is very happy and relaxed to be there. He will "sing" at the top of his lungs while he is playing around on me. He also "preens" me.
I don't know if he got frightened because he fell behind the couch and we had to get him out, if my nine-year-old did something to frighten him that I didn't see or if she frightened him just by being herself, if something else happened that I don't know about, or if this is just a normal stage for a scarlet chested to go through. I am pretty sure he has had a great fright, I just have no idea what it was.
I try to be very careful now when I want to present my finger to him even when he is playing on me. I say, "Step up", before I even start to bring the finger toward him. He looks for the finger. As soon as he sees it, I stop moving it and say it again. This usually works. He ususally doesn't get scared then.
I have also gone back to the step up practices from hand-to-hand you do when you are first teaching that. As long as he realizes what we are doing, he is not afraid.
Do any of you have other suggestions? He was soooooooooo loving and trusting until two days ago. I am devastated that something has occurred in my home that has scared him.
He is helping me type right now. He is actually on my hands while I am typing, and, of course, that is fast finger movement, but he is just pecking at my fingers and it isn't bothering him at all.
I notice he is especially terrified of any hand-held perch. He is also afraid of the new play gym every time he first arrives there, but once he realizes where he is, he stays there and plays.
He just fell off my hands onto the keyboard, and that scared him silly, I thought he was going to hurt himself, but I was able to get him off.
I would welcome any suggestions. I feel horrible that I let this happen.
It seems like he is afraid of nearly everything.
i have no idea why he'd become so fearful, i know in dog and cat development they go through a fear period where they are very afraid and susceptible to develloping new fears but i have no idea if that relates to parrots.
i would maybe say just to keep doing what your doing and try to establish routines so he knows what to expect, maybe even try clicker training to develop your communication levels with him. it helped when my senegal suddenly was afraid of hands for about a couple weeks but shes back to her old self of loving them now
---
Join Date: Nov 2009
Location: Indiana, USA
Posts: 3,142
Thanks: 0
Thanked 2 Times in 2 Posts
Rep Power:
40
I was thinking it sounds similar to phobic reactions the books say senegals will go through, too, but you never read about that with grass keets. What am I talking about? You never read much of anything about grass keets.

I was answering a question someone asked earlier, comparing the splendid to my bourkes, and when I did I remembered that the bourkes also went through a stage in which he became more fearful. I'm trying to remember if it was a similar age. He reacted differently in that he didn't fly off, he just acted like he was going to bite. He'd come right after you like he was going to bite, but he can't hurt, no matter how hard he tries. Additionally, if you just put your hand in front of him and said, "Step up", he was so well trained that he'd step up instead of biting.

Either way, this does sound like the phobic reactions pois go through, only their own brand of it.

Thanks so much for your post.
Join Date: Nov 2009
Location: Canada ON.
Age: 24
Posts: 339
Thanks: 0
Thanked 0 Times in 0 Posts
Rep Power:
11
I agree it might be a fear stage.. but I've never heard anything like about grass keets on that topic. Try to take it slow, so that he does not develope any fears..
I hope this doesn't last too long!
---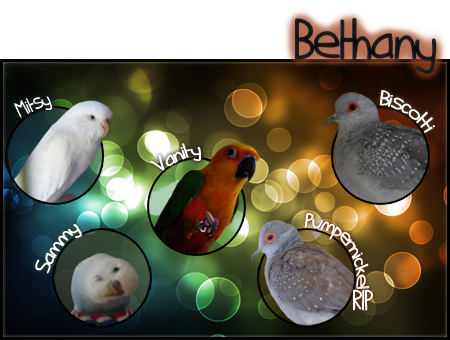 Thanks Becca!
People Use Duct Tape To Fix Everything.. Jesus Used Nails.
Good point I forgot about the fear stage in pois, thankfully my Senegal was past that point when I got her! Good luck with your little one
---
Hmm... best advice I can give is just go slow, make soothing noises (ooooh, aaaah, no 'sh' 'ka' or hard sounds) and don't change anything around in his cage until he's no longer afraid (moving things might make things worse, since it will be unexpected when he goes back in it)... I've never worked with an overly phobic bird, so I'm not too sure, Nanay!




Join Date: Nov 2009
Location: Indiana, USA
Posts: 3,142
Thanks: 0
Thanked 2 Times in 2 Posts
Rep Power:
40
Thanks for all of these answers. The more I think about this and work with him, the more I think it is just a phobic age and or stage, especially since I remember Stanley going through a similar stage, even if his way of showing it was different.
Starting some training does sound good, Jamie. I am not up on clicker training with birds, though I've done it with dogs and llamas, but when Stanley started his "aggression", which I do believe was linked with fear, I started training him using his favorite food and a method similar to what I'd done with dogs and llamas. Not only did he learn the tricks very quickly and seem to enjoy them, but his fear bluff-biting subsided very quickly. I haven't done more with that with him because the behaviors stopped and he is my daughter's bird, so I figured as long as he was happy and calm I should let her do any further trick training if she wanted to.
Isaac really wants to remain friendly. You can see it in his little face. He is just terrified. You are all correct that moving slowly is helping. Also, I can't remember who said it, but giving him signals he can depend upon is also working. This seems to be very important. Now, when he is starting to run around and get really fearful, I will say his name and say, "I want you to step up. I won't move toward him. I will just get down at his level and keep telling him I am going to have him step up. He will stop running around and look at me and look at where he wants to go. Eventually, he will seem to kind of give in, and settle down, then I move my hand toward him and he steps up so I can put him some place safer.
Jenny,
I have never heard that certain sounds would be more frightening to birds. I will keep this in mind. Do you have a list of the most frightening sounds we can make? I am sure you are correct that certain sounds would mean different things to parrots than they mean to us. I want to avoid those sounds with Isaac, and there are times I'd like to really use those sounds at Roni!
I am also going to keep change at a minimum for now. Perhaps the only thing that triggered this was that we changed out the toys and a couple of perches in the cage and brought Elisa home. We do change toys fairly regularly, but this was Isaac's first big toy exchange.
Roni also had a fear reaction that started the very same day Isaac's did, so something scared them both. However, I expect these things with Roni and had done a lot of ground work with her when she was younger to get ready for this stage. Isaac doesn't have all of those good memories with me to fall back on. He is sooooooooooooo much younger than Roni is.
Again, thanks to all.
It's not so much that certain sounds make them scared, but harder sounds and sounds that seem like hissing tend to set them on edge a bit, since those are the noises they make when they are upset or angry. Hissing means anger or extreme fear, hard sharp sounds usually mean fear, anger, or pain. I hope that helps, Nanay!




Join Date: Oct 2009
Location: Ottawa Ontario
Posts: 502
Thanks: 0
Thanked 0 Times in 0 Posts
Rep Power:
12
It sounds like he is trying very hard not to be afraid. Just keep things as quiet as you can and no changes. I found a routine worked really well with my two. They know what to expect and when. I also sing and hum to them most of the time, the same songs over and over even if I'm not in the room. I also go often to the cage and talk to them softly and offer kisses. It's amazing how they respond and pay attention. Also telling him softly that he's okay seems to help and calm.
Good luck. Sounds like you're doing all the right things.
Join Date: Nov 2009
Location: Indiana, USA
Posts: 3,142
Thanks: 0
Thanked 2 Times in 2 Posts
Rep Power:
40
He's doing well with going poo when I hold him over a towel and suggest it. That means to me that he is teachable. I'm going to try to start some training for treats tomorrow. That helped Stanley in the past.
Join Date: Nov 2009
Location: Indiana, USA
Posts: 3,142
Thanks: 0
Thanked 2 Times in 2 Posts
Rep Power:
40
Isaac likes soaked walnut pieces, so I'm now using them to help with his training. I tried to start him with the towel game that I use with the senegal. It didn't go over well, but I'll try again later. I also tried putting my hand palm-side down as Jenny suggested in some earlier posts, and that worked well. He will now climb voluntarily onto my hand when it is like that in order to get a treat. I'm giving him time to play beside me and decide for himself when he wants to play on me. I got this idea from some of Ron's posts about Twitter.

He is comfortable enough to "sing" at the top of his lungs sometimes now when he is playing beside or on me, so he is coming back around from whatever scared him or just working through this normal developmental stage. I don't suppose I'll ever know for sure which this was, and perhaps it was both.

He still panics sometimes, and is still prone to fleeing, especially when he is on the floor. Birds who are naturally comfortable on the floor just don't react the same as birds who are naturally uncomfortable on the floor. My senegal and my linnie are very compliant when they are on the floor because they want to be rescued. They are more afraid of being on the floor than being on me. Not so with the grass keets. They are comfortable with the floor and I am the scarey thing.

Isaac also had a time yesterday when he threw a fit. I don't know what else to call it. He was on my hand and suddenly he started screaming like he does when he and Stanley fight and started beaking my thumb like he was trying to get it to leave. My thumb can't leave my hand. I didn't have the foggiest idea how to react. If he had had any other type of beak, I think he would have hurt me, but he did not hurt me at all. I guess I don't know if he was playing, scared, or mad. Roni, the senegal, sometimes beats up my hand with her beak and makes a lot of noise, but when she does that she is not scared. She is just wound up. I stayed still and let him do whatever he wanted to do. Finally, when it didn't let up after a while, I had him practice several step ups from hand to hand, and then he stopped.

Anyone have any idea what that was and if I should do something differently in the future? After he was done, he was just done.

Thanks for reading and for any suggestions you may have.
That's really strange, Nanay! Only thing I can think of is exactly what you did - work him through it
Join Date: Nov 2009
Location: Indiana, USA
Posts: 3,142
Thanks: 0
Thanked 2 Times in 2 Posts
Rep Power:
40
Isaac, the splendid, still spooks at any little movement or noise. I've decided to only let him out of the cage when the others are in their cages because his flightiness spooks everyone else. They all fly off (or jump off and thud to the floor in the linnie's case), and then the bourkes and the linnie try to figure out why they are all so afraid. The bourkes and the linnie are very steady birds when Isaac is not making them nervous. It is a natural flock reaction for all of them to fly off when one is startled.

Isaac gets very little time out of his cage now because of this decision, but letting him out when they were out was making it impossible to enjoy any of them at any time. The bourkes is my nine year old daughter's bird, and the linnie is my son's bird. My children are very fond of their birds and the birds are very bonded to them, and I'm not willing to jeopardize those bonds.

It has been suggested that our bourkes is an unusual grass keet, and that most grass keets are very flighty birds. Perhaps Isaac will always be this flighty, and this is why many folks do not recommend grass keets as anything other than aviary birds. However, I know that others have grass keets on this site who seem as comfortable in the home as Stanley, so I am still thinking perhaps, if I could just figure out what I am doing wrong or not doing that would be right, Isaac could become less afraid.

Some of this could be a natural difference between splendids and bourkes. Bourkes are, after all, very well camouflaged in nature, especially when one considers that they are active at dawn and dusk. Well camouflaged birds tend to freeze when frightened. Brightly contrasting birds tend to fly off when frightened. Perhaps this alone can account for the differences among the two grass keets.

The folks at the bird store have suggested that perhaps I should let Isaac remain flighted for a while until he develops some confidence. I have never had flighted birds in my home. I am afraid I can not keep him safe. He already takes off at the slightest thing. Right now I will just keep him confined to one room when I have him out until I figure out how to make the necessary adjustments to keep him safe. I think, if this works, I will perhaps try to set up some other rooms to be safe for him to fly, but I am just not sold on the idea of having a flighted bird in my home. I know many of you have all of your birds flighted, but I have not been comfortable with this. Any suggestions would be appreciated.
Join Date: Nov 2009
Location: Indiana, USA
Posts: 3,142
Thanks: 0
Thanked 2 Times in 2 Posts
Rep Power:
40
It didn't take long for me to realize that I wasn't going to be able to leave Isaac flighted in order to help ease his fears. Once he learned he could get some lift, he wouldn't stay on a hand at all. He flew about crazily and I could not retrieve him without restraining him around the back. He then got so he wouldn't even let me near him in his cage.
The up side is that once he could fly he got confident enough to start coming at me like he was going to bite me, which is also a fear reaction but a bolder one. I know that doesn't SOUND like an up side, but that is what Stanley did right before he worked through his "fear stage" and calmed back down.
I took Isaac to the bird store today and they clipped his wings. As soon as I brought him home and took him out of the carrier he returned to his old sweet, confident self. He has been eating beside me and then climbing all over me all evening. He is singing and also coming up for kisses.
Who knows
I guess he just outgrew the stage.
He still doesn't have any red. He is supposed to, but perhaps he is going to be a late bloomer. Everyone still thinks he is a boy because he sings all the time and his blue is getting a bit brighter.