Join Date: Oct 2012
Location: Toronto, Ontario
Posts: 282
Thanks: 11
Thanked 45 Times in 30 Posts
Rep Power:
8
Freak out about nail polish?
---
Ok, I'm so confused I don't even know where to start.
I don't usually wear nail polish and today I put on a nice shade of screaming red. I have a party to go to tomorrow and thought I'd get spiffied up. I went to say goodnight to my babies and Sparkle freaked out! And when I say freaked out I mean it! She usually jumps up to the cage door and burries herself in my hands and just wants to be petted and kissed. She started flying around the cage like a possesed bird, climbing, flying and just spazzing out. Then she flew out of the cage and wouldn't come near me! Tried to get her to step up and she just kept going nuts! Tried to show her and talk to er nicely that it's just me and all is good, played with my nails but to no avail. She looked at me and stared but I couldn't even get close to her. Tried covering my nails, still no way she was getting close. Finally had to turn lights off and get her back in the cage. Tried treats, talking, hand just outside the cage so she could observe... Still freaked. Wth is wrong with her? How can I fix it?
---
---
Last edited by AAYLLAA; 03-29-2013 at

12:10 AM

.
She's scared, remove the polish.. My birds are the same unless I use paler colors.
Join Date: Dec 2010
Location: UK
Posts: 17,637
Thanks: 1,593
Thanked 2,007 Times in 1,575 Posts
Rep Power:
100
Mine won't come near me when I've done my nails
take it off and it will be like nothing happened
---
- Alexandrine parakeets Holly, George, Koda &
- Crimson rosella Kasumi
Orange winged Amazon parrot Paulie
Join Date: Apr 2011
Location: Alberta,Canada
Age: 24
Posts: 2,188
Thanks: 81
Thanked 87 Times in 72 Posts
Rep Power:
24
Yup same with me.. Anything but pastel blue and ice freaks out!!
---
Icicis- Green cheek conure
Shaylee- Bichon Frise
Join Date: Dec 2010
Location: Ohio, USA
Posts: 5,750
Thanks: 734
Thanked 474 Times in 379 Posts
Rep Power:
43
I painted my nails once and Apple hated it. Would not come near me at all, ran away in
what seemed to be complete fear of my hands. So I just don't paint my nails.




---
DIGBY
4-year-old male Congo African Grey
I can use paler colors or pinks and purply even sparkles... And mine don't mind French tips... Which I love!
I wish Goober would just be scared... She goes mad and attacks my hands!
Join Date: Mar 2011
Location: UK
Posts: 2,115
Thanks: 275
Thanked 407 Times in 256 Posts
Rep Power:
24
I don't wear nail varnish--it's not my thing. I'm wondering if it's anything to do with your hands being looked more like a predator bird claws, e.g a eagle's claws? When I see women with dark colored nails I often think they could scratch my eyes out with those claws
.
To fix it I'd say start all over again, remove the nail polish and start the friendship again like from the beginning when you both met. In the past I have forced some of my birds to get used to things quick and it has never worked. I know now it's me that needed to learn not to do what the bird doesn't like and not the bird that need learn from me.
---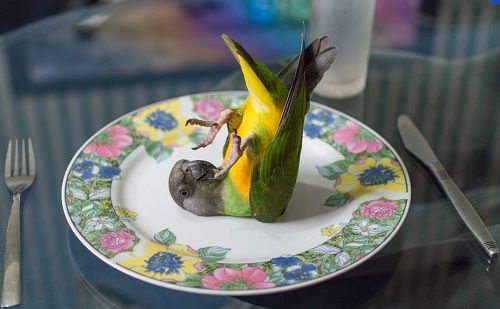 ---
Last edited by tippa; 03-30-2013 at

12:00 AM

. Reason: My bad Engalish