Join Date: Aug 2009
Location: Florida, USA
Posts: 290
Thanks: 0
Thanked 12 Times in 8 Posts
Rep Power:
11
Parrots fighting and interacting
---
If you have multiple parrots who you let play together, how do they interact? Do they fight? If so, how do you break up the squabbles?
---
Best Regards from
Nick and the flock:
Lily & Linden - Lineolated Parakeets
| Oscar & Maya - Parrotlets
| Harpo - Quaker
Join Date: Nov 2009
Location: Canada ON.
Age: 24
Posts: 339
Thanks: 0
Thanked 0 Times in 0 Posts
Rep Power:
11
I have two budgies, both female. Which generally means they bicker a
lot!
For a while I couldn't have them in the same cage, because they would fight & scare eachother off. Then I got a bigger cage & they could get away, but they still don't get along at all
I'm getting yet another bigger cage so they will be able to totally avoid eachother if they choose.
I usually try to break up the squabble, but sometimes thats a little hard.
---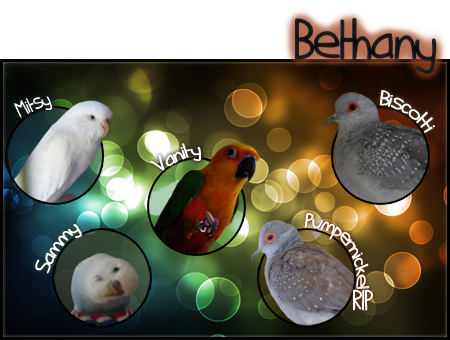 Thanks Becca!
People Use Duct Tape To Fix Everything.. Jesus Used Nails.
Join Date: Oct 2009
Location: New Zealand
Posts: 509
Thanks: 0
Thanked 2 Times in 2 Posts
Rep Power:
12
Well, I have a maroon bellied conure and a budgie, and they are probably
too
well bonded.
The first time I introduced my little deformed budgie, Bentley, Ziggy decided he needed to be cared for and took on the job of being his mother.
She loves to kiss and preen him whenever they're out together, and I've never had issues.
The thing is, Ziggy may be getting a little too well bonded, and although it doesn't affect her friendship with me (I'm still her favourite) but I'm kinda worried what will happen if either of them passed away.
But for the time being, well, those two are just best buddies!
I will post some pics and videos once I have uploaded the recent ones. Or you can just check out my threads
---
Ella's flock
Join Date: Nov 2009
Location: Indiana, USA
Posts: 3,142
Thanks: 0
Thanked 2 Times in 2 Posts
Rep Power:
40
My three small birds, a bourkes parakeet, a splendid parakeet, and a linnie, play together well and can be housed together or separately. The grasskeets sometimes bicker. They scream at one another and beak fence, but have never gone so far as to actually bite anything other than the end of a tail feather. The linnie doesn't actually stand her ground and beak fence if the boys are after her and she doesn't like it. She will retreat, but protest loudly.
The bourkes is not good about sharing food in general, so I have more than one bowl with favored food items. None of them gripes about sharing vegetables, lol.
They share most of their toys. The bourkes will not share vine balls, his designing toy. The linnie will not share her sleepy hut, but that is no problem because the grasskeets don't want to go inside it, anyway, but she had to scream at them at first to assure herself they would not try to go inside.
She is ok if they want to sit on top of it. The splendid has no toys he protects as his own exclusive property, but does enjoy teasing the others about their favorite toys just for the shear joy of irritating his friends. They are all especially good at sharing any of their hanging toys. They actually seem to enjoy playing with these together.
The bourkes and the linnie will preen one another, so I think they get along well. The two grasskeets bicker more often than the linnie bickers with either grasskeet, but never to the point where I feel one is in danger. Sometimes, when I want to sleep, I will tell them to knock it off. They always do, which is more than I can say for my sons when they were little and bickering. In fact, now that I think about it, those three birds, two males and a female, have pretty much the same relationship with one another that my kids have.
The more I think of it, the more the comparison works, lol.
The senegal, who outweighs all the other birds by nearly triple the weight, is NOT allowed physical contact. African poicephalus, and I believe most african species, do not flock with birds of other species in the wild. They have been known to kill birds they do not get on with, even birds of the same species and the opposite sex. Roni loves to talk to the other birds through the cage bars or across the room when everyone is out. I have to watch her around their cages, because she has no respect for their space and will climb on them if allowed, and I believe she would hurt them through the bars if she could reach them. She does talk to them, in bird chirps and in her few human words. She also engages in parallel play with them, and this seems to me to be a two way thing. The little birds are more often likely to follow her lead in types of parallel activities to engage in.
As for breaking up squabbles, usually "knock it off" works. If it does not, I have on occasion simply made them step up and then set them down away from the thing they were bickering about. They argue over toys and food if they are going to argue. If food is the culprit, reminding them that they have multiple offerings of the same food seems to satisfy them.
Oh jeeze, where to begin? We have 7 birds in the house - the Pionus, Angel, just ignores everyone and does her own thing. The linnies aren't aggressive with the other birds, but like to explore the parrotlet cage and cause problems. The parrotlets hate everyone and chase the linnies off whenever the come to the cage... they'll even try and attack Goober!
They also bicker a lot - Midge, the female, bosses Soleil around and gets really jealous if we even talk to him and she bullies him... but they're also really bonded and snuggle and preen a lot
The tiel, Moose, does his own thing... And Goober, my macaw, will boss around the other birds, but doesn't get jealous if I talk to them
So overall, everyone gets along pretty well! The parrotlets are both the most aggressive and loudest in the house!
Join Date: Oct 2009
Location: New South Wales, Australia
Posts: 799
Thanks: 0
Thanked 87 Times in 52 Posts
Rep Power:
27
I have my Cinnamon Green Cheek Conure and my Indian Ringneck Keiba out together during the day, pretty much every day - they get along like a house on fire. At first, there was a few squabbles, but now they're more like "okay, let's be friends!" and have been ever since. They play together, eat together, follow each other and etc.

One of my Budgies Reiko, will climb into my Cockatiels cage and hang out with them, they have never touched him or tried to attack him, they will ignore him or if he goes and sits close to them, they won't move away or anything. The good thing is at least they're not seeing him as a threat, and that he's not there to hassle them (not that he has intentions to - just wants to make friends) they really couldn't care if he's in the cage or not. I let him go into their cage whenever he wants while they're out - their cage is open for them to go in and out as the please, so he'll duck in there usually when there's no Cockatiels in there or if there's a few.

Keiba can be out with my 7 baby Indian Ringnecks; he tries to be a dad/mum to them most of the time. He follows them around like he owns them. I also have had the 7 babies out with my Cockatiels and they've gotten along surprisingly really, really well, but the Cockatiels aren't worried or don't seem worried, they've not attacked any of the babies at any time they have been out with the Cockatiels.. but then again, Cockatiels seem to be really laid back when it comes to other species of birds, they either like them or don't, but I've found my Cockatiels like most of my birds and being out with most of them, just not my Quaker, GCC or Sierra. (other Budgie)
Join Date: Oct 2009
Location: Ottawa Ontario
Posts: 502
Thanks: 0
Thanked 0 Times in 0 Posts
Rep Power:
12
I only have two and they're both linnies. Millie is older, she will be 2 in March, and Niblet is a baby, just 7 months and both are hormonal so there is daily beak duels and Niblet decides several times a day to chase Millie and bite her tail. On the other hand they love each other to death and the little squabbles often lead to ... well other things
I separate them if I think the battles are too rough or if Millie decides to bite me too.
She has decided that the kitchen table is her territory even though Niblet chases her all over the place
at times so she bites anyone who dares put a hand on the table.
Join Date: Oct 2009
Location: Scotland
Posts: 91
Thanks: 0
Thanked 3 Times in 2 Posts
Rep Power:
11
Our cockatiels do their own thing - they were raised together, and have always shared a cage, but have never bonded closer than a flock bond. They can share a person, but not a shoulder. They share toys, but don't play together, and if they have treats, they always want the one the other has. Other than that, they mostly ignore each other, and love us, lol.

The budgies get on well together. Widget is our "emo" budgie, lol. He'll go off away from the others and sing to himself or the cage, with his head all poofed up, lol. He doesn't let Misfit boss him around, and his biggest love is Akio. Akio can't fly, but there's always one of the others with him. 'Kio is a flirt. He mostly loves Gizmo, but sometimes he loves Misfit, and he always comes back to Widget at some point, lol. Misfit is the smallest and bossiest, lol. Everyone does what she says, except Widget. And Gizmo does what she's told, and tries to order 'Kio around - at which point he goes to flirt with someone else, lol.

We have them all out together. Generally the budgies have their space - the top of the palygym or the boing - and the 'tiels have everywhere else. Misfit sometimes tries to join in with the 'tiels, but they tend to run away from her, and if any of the budgies get too close, the 'tiels will open their beaks wide at them (but not actually hiss) just to warn them not to come too close, which the budgies ignore, and the cockatiels run away, lol.
---
Feathers and Forage
- New Post - 08/02/10 - Cat balls and Corn Cobs