how to recall train?
---
i really want to recall train Bjorn. i'm hoping that that's not too ambitious - have you ever heard of a cockatiel who can do recall?
and if so, how do i go about it? what's good to start with? he's only little so his concentration is limited
his new wing feathers are just growing in after his clip, and i would like to start training him now.
also, treat-wise what do you use? he's a healthy bird and won't touch much - i'm thinking i might use broccoli?
thankyou!
---
Ollie Finn
Bjorn Casper
Ivy Gwyn
Join Date: Dec 2010
Location: UK
Posts: 17,637
Thanks: 1,593
Thanked 2,007 Times in 1,575 Posts
Rep Power:
100
It is only a short blog post, but here's how I started recently recall training with my Alexandrine parakeet, Kona
http://daisysflock.blogspot.co.uk/20...-parakeet.html
It may or may not help you, but it at least gives you an idea as to how I started
As a reward, I think millet spray would be your best bet
| | |
| --- | --- |
| The Following 2 Users Say Thank You to catalinadee For This Useful Post: | |
thanks
that's an awesome story about Kona - he's so lucky to have you as his owner.
i'm going to start a bit differently with Bjorn, i think, since he's tame...
i got him flying to me yesterday about half a meter. but as soon as there's something to chew or a distraction, he ignores me
---
Ollie Finn
Bjorn Casper
Ivy Gwyn
Join Date: Mar 2011
Location: UK
Posts: 2,115
Thanks: 275
Thanked 407 Times in 256 Posts
Rep Power:
24
I am lucky with my conures. All I have to do is call them and they all come flying over. haha
With my quaker he is obsessed with his food bowl. If I pick up his bowl he would be flying to me to get at the bowl.
With the senegal he just needs a bit of treat to entice him to fly to me, he has also learnt to go back to his perch on command
You should do target training first before attempting recall practice. Target training teaches the bird to accept commands and with that it will make other training easier.
---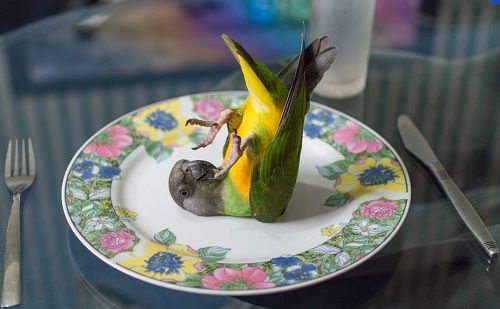 ---
Last edited by tippa; 06-13-2013 at

11:01 AM

.
| | |
| --- | --- |
| The Following User Says Thank You to tippa For This Useful Post: | |