Talk Parrots Has a New Owner
---
Hi everyone. Today is a bittersweet day for me as I announce that I have transferred ownership of the forums to a company called Vertical Scope Inc. As you all have probably noticed, Iíve been MIA quite a lot over the past year or so. Since I graduated college and began working full-time, the priorities in my life have shifted and unfortunately I do not have the time to dedicate to the forums as I once had.
So while I am sad to be saying goodbye, there is some good news in all of this.
First of all, I will be sticking around as admin at least temporarily to help make the transition easier for the members, the staff, and the new owner. Second, the new owners have a lot of experience in running pet-related forums so I know the forums will be in good and capable hands.
With that being said, let me introduce you to
Yung
. He will be the new admin here and working with our moderators on a daily basis. We anticipate he will take on a technical role similar to my role over the years but he will be on hand to handle whatever inquiries you have related to the site.
He wants to make this transition as easy for all of us as possible and has told me it will not be his way or the highway. The staff has been encouraged to stay on, so if they choose to do so, you will not be seeing outsiders running around taking over the forums. Aside from having a new admin, things should carry on as they always have. All the things we love about the forums should remain intact.
The best part of all of this is that there will now be a dedicated team of technicians who will monitor and ensure that our site will remain running smoothly 24/7. We can never predict tech related problems, but at the very least, there will now be people to respond to them in a timely manner.
So with that, I want to thank all our members and staff past and present for the support and memories you provided me over the years. I started all my forums as a small hobby years ago, and as a whole they have exploded with growth I never dreamed of achieving! That is all thanks to your passion and dedication. The real-life friendships that I see on Facebook and Twitter as a result of these forums still amaze me.
I believe there is a bright future for all of our forums and I look forward to watching them all grow even after Iím no longer an admin.
As always, if you have any questions or concerns, please let us know!
Thanks,
---
Dave
Hello everyone,

Just wanted to drop in and say hello. I hope over time, I'll get to meet most of you and/or interact with you. Right now, our main concern is to make everything here business as usual and have this transition be as smooth as possible!
Join Date: Apr 2011
Location: Alberta,Canada
Age: 24
Posts: 2,188
Thanks: 81
Thanked 87 Times in 72 Posts
Rep Power:
25
HI!
I got scared thinking Talk parrots was ending!
Sad to see you go Dave
Wonderful forum you created!
---
Icicis- Green cheek conure
Shaylee- Bichon Frise
---
Last edited by Lovebirdlover; 11-15-2012 at

01:41 PM

.
Join Date: Oct 2012
Location: Toronto, Ontario
Posts: 282
Thanks: 11
Thanked 45 Times in 30 Posts
Rep Power:
8
Gave me a proper scare too! We will miss you Dave!
---
Join Date: Feb 2011
Location: Oshawa, Ontario
Age: 28
Posts: 914
Thanks: 2
Thanked 1 Time in 1 Post
Rep Power:
16
Thanks for all your hard work and dedication to the forums over the years Dave
And Yung, welcome to the forum
---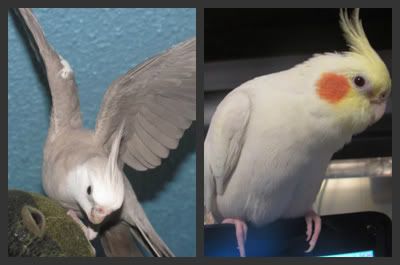 My Tiels
Cupid-Male Whiteface Cinnamon
Aero- Female Cinnamon Lutino
Don't worry. The forums are staying open and will be in capable hands.
Sent from my SGH-T959V using Tapatalk 2
---
Dave
Join Date: Oct 2009
Location: Outer Sydney Australia
Age: 68
Posts: 887
Thanks: 135
Thanked 235 Times in 170 Posts
Rep Power:
37
Good Luck Dave.

Welcome Yung.
Join Date: Dec 2010
Location: UK
Posts: 17,661
Thanks: 1,593
Thanked 2,007 Times in 1,575 Posts
Rep Power:
100
Good luck Dave. Still glad you're sticking around! And welcome Yung, happy to be working with you
---
- Alexandrine parakeets Kona, Peaches, George (missing), Holly (RIP), &
Orange winged Amazon parrot Paulie
Join Date: Feb 2011
Location: welland,ON
Age: 29
Posts: 993
Thanks: 33
Thanked 44 Times in 34 Posts
Rep Power:
15
Awww well I started on the talk budgies site in '07 I think it was and you've helped so many people by starting these forums Dave. Sad to see you go
but Welcome Yung glad to have you!
---
H
Join Date: Mar 2012
Location: North West, UK
Age: 34
Posts: 1,077
Thanks: 450
Thanked 311 Times in 215 Posts
Rep Power:
13
Good luck to both of you guys!
I haven't been around long enough to notice any real tec' issues (although lately I can't upload my files even when they comply with all the requirements? I'm having to link them
) but it's good to know the place is in good hands and I hope it gets as active as TB and TC
---
Some of the gang:
Hobby Breeding: lineolated parakeets
Join Date: Jul 2012
Location: Michigan
Posts: 153
Thanks: 0
Thanked 19 Times in 15 Posts
Rep Power:
8
Good luck to you Dave.

Welcome to the froum Yung.
Join Date: Dec 2010
Location: Ohio, USA
Posts: 5,750
Thanks: 734
Thanked 474 Times in 379 Posts
Rep Power:
43
Welcome.
---
DIGBY
4-year-old male Congo African Grey
Hi everyone,
Thank you again for your welcomes. We made it through the weekend.
Posting Rules

You may not post new threads

You may post replies

You may not post attachments

You may not edit your posts

---

HTML code is Off

---