Join Date: Dec 2016
Posts: 2
Thanks: 0
Thanked 0 Times in 0 Posts
Rep Power:
0
7 Week old IRN - feeding
---
Hi forum friends, first time poster here, so apologies if I have put this query in the wrong area or, use incorrect terminology
Background:
I purchased a 7 week old blue IRN a few days ago. Previous owner had a large cage where both parents were housed. The IRN was fed by the parents prior to purchase. Subsequent to the purchase I went and bought Vetafarm HRN hand rearing formula. I have been following the instructions on how to mix, and am using a small syringe to feed.
Problem: As the new bird has not been fed by hand previously, it is feels a little unnatural. Most of the feed does go in (putting syringe on the left side of the mouth to avoid any food going down the wind pipe), however the bird does not appear to be that hungry, and only plays with seed and fruits and veg.
Question: As the bird is older, I am finding it difficult to determine if the crop is full. I have attached a picture of the bird. Is anyone able to highlight where I would find the crop? and what to look out for to identify if the birds crop is full?
https://youtu.be/-E1t5iCiOuE
Thanks in advance for your help.
Join Date: May 2015
Location: Ontario Canada
Posts: 5,697
Thanks: 1,422
Thanked 668 Times in 581 Posts
Rep Power:
18
Hello and welcome to the forum, is it possible to call the previous owner of the chick and ask any feeding advice from them? Check to see what other foods they offered the chick before it came to live with you.
The crop of a chick is the bulging area just under the throat, you can see the crop is full on the fuzzy featherless chick below.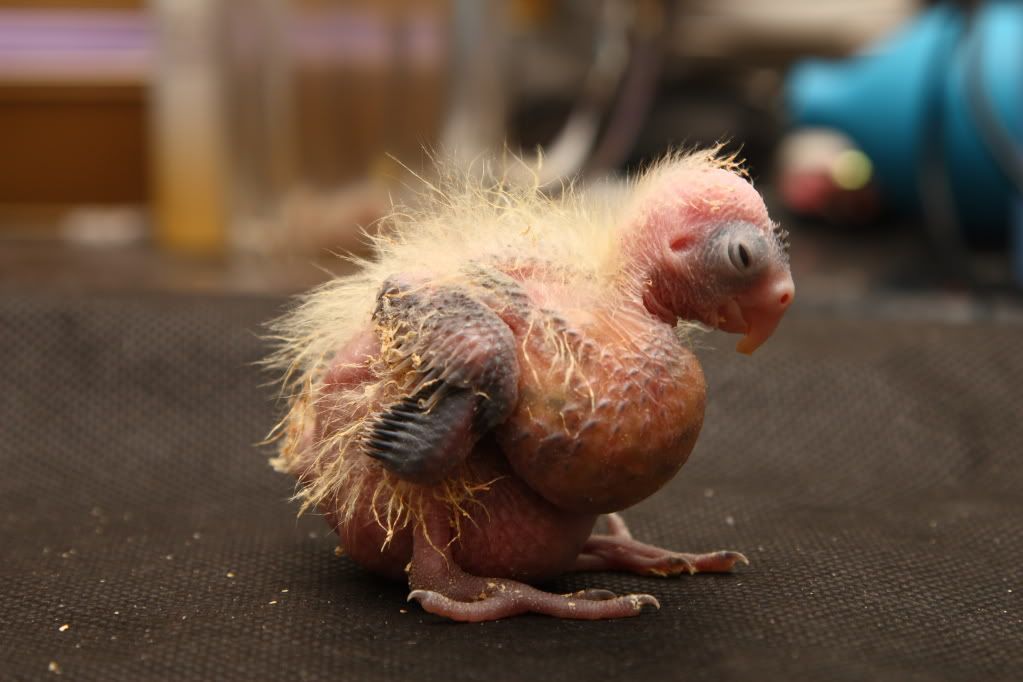 The crop is also full on this older chick.
Hand feeding seems to be a complicated procedure as I have read in the past, you need to have the formula a certain temperature and the bird has to be warm to make the food digest in the crop.
Have a look at this thread
below
as its similar in what you want to know, if you scroll down to post
#12
our member Kate gives tons of helpful advice about what to do and look for when dealing with hand feeding a chick who might be weaning.
https://www.talkparrots.com/12-talk-p...weeks-old.html
Congratulations on your new fid it looks cute!
---
Last edited by Mr Peepers; 12-05-2016 at

05:50 PM

.
Join Date: Oct 2009
Location: Outer Sydney Australia
Age: 68
Posts: 887
Thanks: 135
Thanked 235 Times in 170 Posts
Rep Power:
38
You really should not have been sold a bird of that age that has been parent raised. At 7 weeks this bird is starting to wean but not completely weaned and is still reliant on its parents to help it. Trying to get a weaning bird to accept food from a syringe or spoon at this age is relatively impossible. The only way you could get food into a weaning bird is with a crop needle and even that would be extremely difficult and not something any novice should try. Even an experienced hand raiser would have difficulty getting a crop needle down a bird that age. I certainly would not like to try and I have been using a crop needle for over 20 years.

When hand raising a bird you really need to start doing at between 2 1/2 and 3 weeks and no older than 4 weeks. The older the chick is the more difficult it is to transfer it to hand feeding.

Your baby does appear to be trying to eat on his own and giving him seed, fruit and vegetables by hand may be the only way you can get this bird to eat. Make sure it has clean water and food in its cage all the time and keep on giving him seed by hand. Make sure he is drinking. Dehydration will kill sooner than starvation.

Sorry if I sound a bit harsh but I get very angry with people selling chicks that are unweaned to novices. They sound like they were first time breeders and really didn't know at what age baby Ringnecks wean and are fully independent. Even with my hand raised birds I will not sell a chick until it has been eating fully on its own for 2 weeks as even a fully independent bird can go backwards and stop eating through the stress of going from all it is used to. I would certainly never sell an unweaned bird to someone who has never hand raised before.
| | |
| --- | --- |
| The Following User Says Thank You to Kate For This Useful Post: | |
Join Date: Dec 2016
Posts: 2
Thanks: 0
Thanked 0 Times in 0 Posts
Rep Power:
0
Thanks Kate & Peppers, appreciate the insights, and definitely get your point Kate. I just want to make sure I am doing everything I can to assist with the birds eating. I did have some good news last night. The bird appeared to have trouble with the hardness of seeds and the intricacy of opening them. I tried providing pellets dipped in a bit of water. I found that this softened them enough so that it could more easily chew food. Good news, here in that the bird ate for a good 20 minutes, and was chirping away quite happily. I will continue to monitor and provide softer fruits and veges, while slowly moving towards harder seeds and dry pellets.
Join Date: Oct 2009
Location: Outer Sydney Australia
Age: 68
Posts: 887
Thanks: 135
Thanked 235 Times in 170 Posts
Rep Power:
38
That is good news Tim. I am glad he has eaten something.

People selling unweaned birds really make me angry. I have had so many phone calls over the years from people either wanting help with me finishing off a bird they got that was unweaned or wanting one of my hand raised birds because the one they had bought had died as it was unweaned and wasn't eating on its own, they saw it playing with the food and assumed it was eating. People tend to think that when a bird is fully feathered and flying that it will also be eating on its own. They don't seem to understand that a baby bird needs to fly before it can wean. It flies with its parents and they show it where to get food from and how to eat it. I have seen and heard of too many unscrupulous breeders here in Australia selling unweaned birds as all they could see was the dollar signs in front of their eyes, this is also the case sometimes with first time breeders either through ignorance or greed.

Good luck with your little baby.
Join Date: Dec 2010
Location: UK
Posts: 17,666
Thanks: 1,593
Thanked 2,010 Times in 1,578 Posts
Rep Power:
100
Kate got to it before I did but I was going to say the same thing (about unweaned birds). What makes it worse is that it's a parent raised baby
Try making mash/chop for him to pick at. It's a lot softer than trying to crack seeds and hopefully he will enjoy the texture of it. It will provide pretty of variety too!
---
- Alexandrine parakeets Kona, Peaches, George (missing), Holly (RIP), &
- Orange winged Amazon parrot Paulie
- Black capped lory Charlie
- Red fronted kakariki Bilbo