Join Date: Feb 2012
Location: Australia, Tasmania.
Posts: 60
Thanks: 15
Thanked 15 Times in 8 Posts
Rep Power:
9
Homemade toys and perch/stand
---
So lately my partner and I have been making a few things for the birds
especially now we have the lorikeet who LOVES to bounce, climb and jump around on things.
So here's some pictures of what we've made.
The stand thing we made, got the idea from my partner's family who made one for their tiel
they love it so much and even the galah can go on it!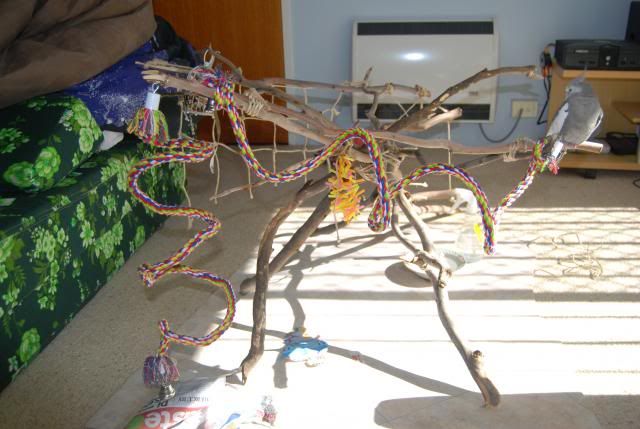 Climbing rope, only Yoshi (Lorikeet) really uses this though.
A swing
although none of them really use swings, I felt like making one with some of the left over branches.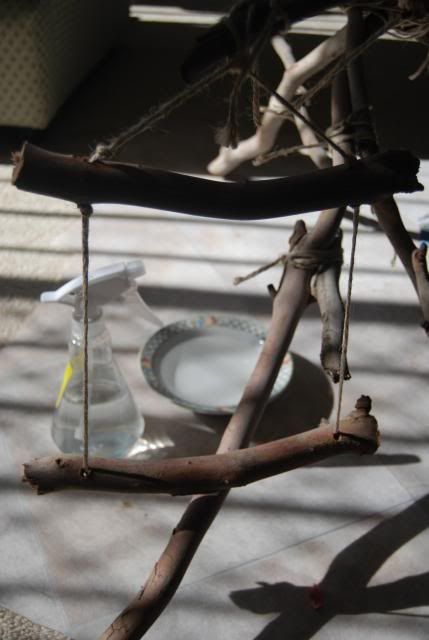 Just a simple but loved straw toy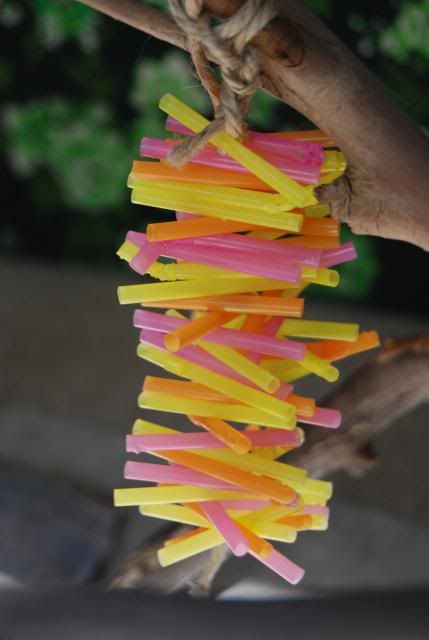 Just a cheap little ornament cage filled with paper for the birds to chew, but they have never chewed on the cage itself, and they're only on the perch/stand when we're watching them.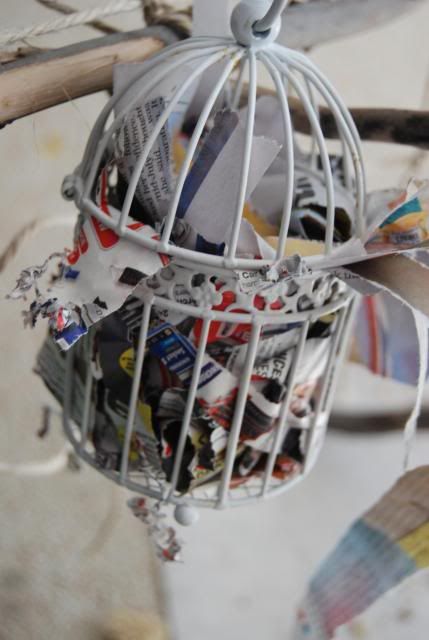 An outdoor swing on the washing line for Yoshi, he can't fly at the moment so we let him outside with us sometimes.
Made this today for Charlie
when he wants to go back to his cage he wanders around trying to get back into it, so we made him a ladder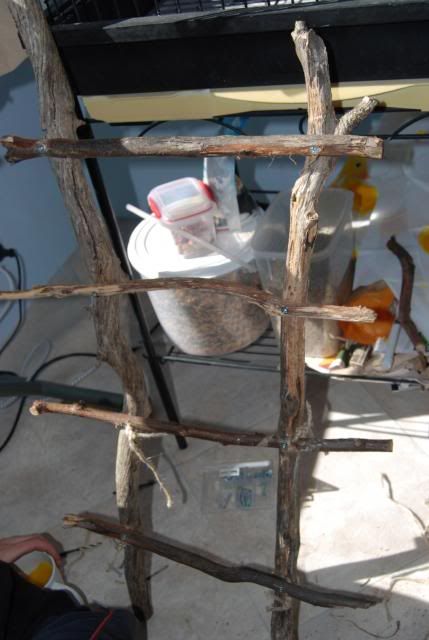 Join Date: Jun 2013
Location: NYC, USA
Posts: 1,058
Thanks: 1,411
Thanked 748 Times in 515 Posts
Rep Power:
12
Those look awesome!
---
Stitch
Pikachu
Thor
Loki
Blaze
Cinder
Sunday
Storm
Sky
Join Date: Jun 2013
Location: Germany
Posts: 1,647
Thanks: 1,255
Thanked 933 Times in 718 Posts
Rep Power:
13
Just beautiful, thanks for sharing!
Join Date: Dec 2010
Location: UK
Posts: 17,661
Thanks: 1,593
Thanked 2,007 Times in 1,575 Posts
Rep Power:
100
Those are really cool ideas!
Join Date: Sep 2013
Location: Netherlands/Holland
Age: 44
Posts: 51
Thanks: 33
Thanked 95 Times in 35 Posts
Rep Power:
7
Absolutely wonderful! thanks!
---
Comet
Scooter
Snowball
Join Date: Aug 2011
Posts: 145
Thanks: 117
Thanked 86 Times in 51 Posts
Rep Power:
9
Very fun and i love the white color parakeet beautiful.
Join Date: Oct 2011
Location: Massachusetts
Age: 24
Posts: 1,148
Thanks: 35
Thanked 319 Times in 180 Posts
Rep Power:
15
i love everything!!
---
Leon
Butch
Baby Bird
Pickles
Bowie
Bobby
Leo
Ace
Cheerio
for my other pets: cat, rabbit, 6 fish tanks, 2 fire belly newts, 2 african dwarf frogs, 22+ crayfish, fish