new cage for the parrotlets
---
I had a big double stack HQ breeder cage but decided to downsize some. The big cage was so hard to clean cause the doors were too small. Gonna sell it on Craigs list. I am now going to house the parrotlets together in a nice big kings cageHere is the new cage.
Way at the top in the middle are my yellow and green parrotlets
---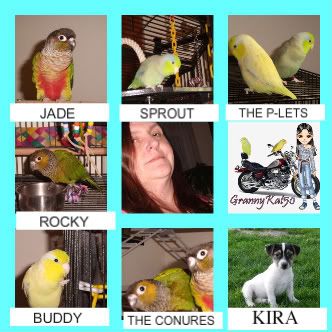 Join Date: Nov 2009
Location: Indiana, USA
Posts: 3,142
Thanks: 0
Thanked 2 Times in 2 Posts
Rep Power:
40
I think the King's cages are easy to clean. I think you will like it.
---

Thanks Shivani for the awesome siggy!
X2
Stanley (bourkes), Roni (senegal), Elisa (lineolated parakeet) and Doug (pacific parrotlet), Daisy (maximilian pionus), Shira (green cheek conure), Ashlynn, (grey), Taylor (princess of wales parakeet), Joelle (quaker), Benny (cockatiel)
We have the same cage! It's a great cage and I bet your plets are so happy!
Great cage! I have a King's cage for Goober that was about 6 years old when I got it and is still in wonderful shape
You'll love your King's cage and I'm sure your plets will too!
Wonderful cage! I have the same one and I love it!
THANKS EVERYONE. i JUST HOPE THAT THEY CAN LIVE TOGETHER WITHOUT KILLING EACH OTHER. THEY LOVE TO BE TOGETHER BUT THE DO ARGUE SOMETIMES.
---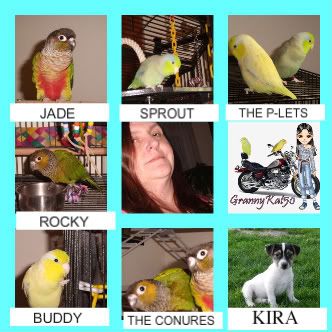 Join Date: Dec 2010
Location: Ohio, USA
Posts: 5,750
Thanks: 734
Thanked 474 Times in 379 Posts
Rep Power:
43
Nice cage. Hopefully there's no bickering!
I'm looking forward to getting a new flight cage as well.
---
DIGBY
4-year-old male Congo African Grey
Join Date: Dec 2010
Location: UK
Posts: 17,661
Thanks: 1,593
Thanked 2,007 Times in 1,575 Posts
Rep Power:
100
cool cage!
---
- Alexandrine parakeets Kona, Peaches, George (missing), Holly (RIP), &
Orange winged Amazon parrot Paulie