Celebrating 1 Year in Business!
---
I can't believe it's been a full year, because I've had so much fun. To celebrate, I'm having the biggest sale of the year with 30% OFF for one full week! Click the link below for the sales flyer.
http://archive.constantcontact.com/f...114684298.html
Join Date: Mar 2011
Location: Somewhere in Canada
Posts: 2,644
Thanks: 51
Thanked 104 Times in 64 Posts
Rep Power:
40
wow! really? its only been a year? you're so successful too! but thats because all our birds love your stuff!
---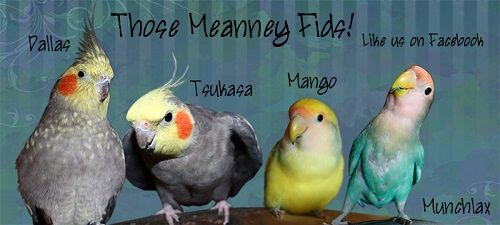 Those Meanney Fids FB Page:
http://www.facebook.com/pages/Those-...284656?fref=ts
Bird Information Photo Gallery:
http://s1282.photobucket.com/user/Me...?sort=3&page=1
All posts and photos of mine posted here are copyrighted by Casey Meanney. They are not to be reposted elsewhere without my permission.
Congrats
Join Date: Dec 2010
Location: UK
Posts: 17,661
Thanks: 1,593
Thanked 2,007 Times in 1,575 Posts
Rep Power:
100
That's awesome congratulations
---
- Alexandrine parakeets Kona, Peaches, George (missing), Holly (RIP), &
Orange winged Amazon parrot Paulie
Join Date: May 2010
Location: Arnold, MO
Age: 75
Posts: 1,997
Thanks: 0
Thanked 0 Times in 0 Posts
Rep Power:
31
Congrats, my friend! You've done a great job with your business AND your flock!
---
JoAnne, Libby (2/10),Angelina (12/07), and Charley (11/10)
Also owned by Essie,Minnie & Oscar
Congrats
---
Thank you DallyTsuka for siggy
Join Date: Aug 2011
Location: Edmonton, AB, Canada
Posts: 1,220
Thanks: 0
Thanked 0 Times in 0 Posts
Rep Power:
18
A whole year has gone by in a flash
on such a successful year
Just a small question, is it 25% off or 30%?
Quote:
Save 30%
Use Coupon Code "BirdToys" at Checkout to receive 25% Off All Bird Toys, Swings, Perches, Nets, Boings/Bungees, Snugglies, Huts, Tents, & Beds. *A few manufacturer exclusions apply and are listed when you enter the code.* Single coupons only, and sale items are exempt from this offer. *Do check out our sale section though, because we have some great prices on many items, to include many foods and treats!
---
Missing you always
Join Date: Sep 2011
Location: south coast UK
Posts: 2,789
Thanks: 68
Thanked 107 Times in 93 Posts
Rep Power:
24
Well done!
And in the current economic climate as well!
A fabulous achievement.
And you're a star with your charity work too!
---
x2
x3
Please like me on Facebook
Kamelina-Kreations
Kamelinajewelery.wix.com/kamelina-kreations