Join Date: Feb 2011
Location: Minnesota
Posts: 493
Thanks: 117
Thanked 35 Times in 21 Posts
Rep Power:
11
Toymakers, have you ever used......
---
1) coin wrappers for your bird toys? I found some at the Dollar Tree but they have printing on them so I'm not sure if they are safe or not. I use playing cards and those have writing on them.

2) those little pots to start plants/flowers in? I was looking at them at WalMart tonight. I was thinking it looked like a great thing for the fids to have to tear apart. But wanted to see what you all thought first.

Thanks for any help/advice you can give me!
---
Comet
i think the plant starters are ok they are just paper
---
Join Date: Mar 2011
Location: Somewhere in Canada
Posts: 2,644
Thanks: 51
Thanked 104 Times in 64 Posts
Rep Power:
40
the paper coin rolls are safe, i use them
most dyes are made from soy based inks, so theyre generally safe... its the glossy inks that you need to be really careful with
---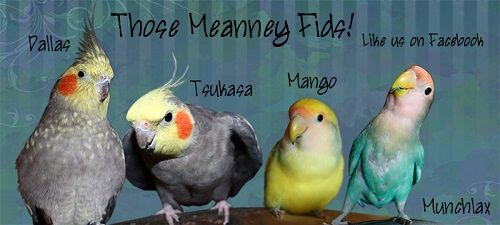 Those Meanney Fids FB Page:
http://www.facebook.com/pages/Those-...284656?fref=ts
Bird Information Photo Gallery:
http://s1282.photobucket.com/user/Me...?sort=3&page=1
All posts and photos of mine posted here are copyrighted by Casey Meanney. They are not to be reposted elsewhere without my permission.
Join Date: Dec 2010
Location: Ohio, USA
Posts: 5,750
Thanks: 734
Thanked 474 Times in 379 Posts
Rep Power:
43
Good job making sure those items are safe before using them. Better to be safe than sorry.




---
DIGBY
4-year-old male Congo African Grey
Join Date: Feb 2011
Location: Minnesota
Posts: 493
Thanks: 117
Thanked 35 Times in 21 Posts
Rep Power:
11
Thanks everyone - the plant things I was looking at must have been paper.
---
Comet
I think coco fiber is bird safe... they use it to line canary nests.
Join Date: Apr 2011
Location: Alberta,Canada
Age: 25
Posts: 2,188
Thanks: 81
Thanked 87 Times in 72 Posts
Rep Power:
25
i just picked up some coin rollers today.. they make great foraging toys
---
Icicis- Green cheek conure
Shaylee- Bichon Frise
Join Date: Apr 2011
Location: Western Iowa
Age: 53
Posts: 623
Thanks: 0
Thanked 0 Times in 0 Posts
Rep Power:
15
I work at a bank and when i thought of the coin wrappers for toys i called the company and they said most everyone uses a soy based ink that should be safe. I would check with the company though just in case.
---