Cage lighting?
---
Followup question: if your cage does not receive any sunlight, must you use supplemental lighting right over the cage?

Or can diet alone supplement things like vitamin D?

If lighting is mandatory if no sunlight is involved, what are some inexpensive options? I have two 55/65w compact fluorescent fixtures from my aquarium days that could easily be hung over a cage.

Or is there a decent 48" long (40w) normal fluorescent bulb that I could slap into a cheap shop light fixture?

(I've tried to research this before online, and get too wide a variety of answers from both sides of the fence)
Join Date: Dec 2010
Location: UK
Posts: 17,661
Thanks: 1,593
Thanked 2,007 Times in 1,575 Posts
Rep Power:
100
I'm really not sure. My indoor birds aren't in direct sunlight but I do have an enormous window. I really don't know. Many birds are kept indoors and if fed on a good diet I can't see them being bad from it. I think you could do it via diet, I know not many people on here use lights for their birds at all
---
- Alexandrine parakeets Kona, Peaches, George (missing), Holly (RIP), &
Orange winged Amazon parrot Paulie
I do know that lights can help but like daisy mentioned i think most of the vitamins can be obtained from thier diet
This is an interesting question. I know that like with us, vitamin D is very important to our FID's health. I also know, like us, the biggest source of the vitamin D is from the sun. Unfortunately, most windows block out the majority of UV rays that produce the vitamin D. It seems to make sense to me that they could get enough Vitamin D strictly from 100% diet alone, but I don't know if it can be done.

I originally purchased those Avian Sun lamp floor lamps. They extend up to 7 feet tall. But the boom will not go over the top of my cages without setting the lamp on a table next to the cage. So, I set up a dome fixture hanging above both cages and used a full spectrum UV 25 watt bulb in them. I think the bulbs are made by a company called Feather Bright. Both lights are set on a timer so they go on and off automatically every day.

I like the lights for other reasons too. One of my hobbies is photography in many forms. I just love taking pictures and with the lights, I get more natural coloring. I don't have to startle my birds since I don't need to use a flash.
---
I am Will (and These are my FIDs.)
Favorite quote - Katniss' father used to always say "You'll never starve as long as you find yourself." He was referring to the edible plant that grows in ponds for which she was named after.
Join Date: Apr 2011
Location: Western Iowa
Age: 53
Posts: 623
Thanks: 0
Thanked 0 Times in 0 Posts
Rep Power:
15
You know, this is a good question, i used to be on Talk parrotlets and everyone said you really needed some kind of light. But this is my experience and only my experience. I found when i used the light for the 8+ hours recomended my parrotlet and also my conure seemed to be more aggressive. Could be a hormonal thing responding to the light I don't know but I feel i am doing all I can for Cricket with a good diet, nice clean cage and lots of love. I put his cage by the window and he loves that. He supervises everything going on outside and greets me when i get home. In my opinion you don't need a expensive light. PS I have a feather bright i will sell you
---
Join Date: Feb 2011
Location: Oshawa, Ontario
Age: 28
Posts: 914
Thanks: 2
Thanked 1 Time in 1 Post
Rep Power:
16
---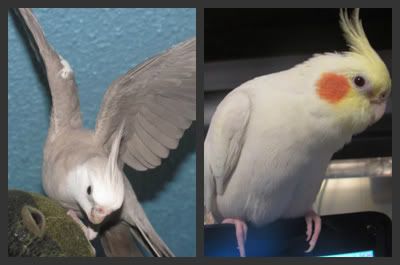 My Tiels
Cupid-Male Whiteface Cinnamon
Aero- Female Cinnamon Lutino
I have read that birds can see UVA rays so without the rays everything looks dull and grey to them. It can actully cause mental problems.
---
Plus 2 guinea pigs and a lot of chickens
That's a good post on the cockatiel's forum. This stood out the most to me:

"But pellets and Nutriberries are an excellent dietary source of vitamin D3. These manufactured processed foods are designed to be nutritionally complete, and will provide adequate D3 if your bird is willing to eat a sufficient quantity of them."

While my budgies don't care for pellets, they like the original nutriberries which have the vitamin coating sprayed on the whole thing.