Join Date: May 2012
Posts: 1
Thanks: 0
Thanked 0 Times in 0 Posts
Rep Power:
0
HELP! Meal Moths -- BAD!
---
Hi.

Long story short - I've struggled with these things for several months now. I ended up storing my bird's MAIN cage in the backyard which seemed to have fixed the problem for a few days but I'm now seeing them throughout the house again... I have literally tried EVERYTHING under the sun to get rid of these things including hiring an exterminator...

As of this moment there isn't a spec of food in the house other than the food in Albert's (my parrot's) cage.... I'm thinking at this point that even having that food out in the open is gonna keep them around but I'm hoping I am wrong here..... The last thing I want to do is let my bird go over these stupid moths but at this point the wife isn't leaving much choice here...

Do you have any words of wisdom?

• I've got the little pheromone traps all over the place
• Other than Albert's food there is nothing out in the open
• pantry is completely empty and washed down (nothing to put in ziplock bags because there's no food in the house
• I've searched every square inch of the house for any/all food I could have overlooked...

I ready somewhere there was something I could sprinkle at the bottom of Alert's cage that would kill the moths but at this point I'm not sure what to do..

Any suggestions beyond appreciated.

Tommy
817-734-1891
Join Date: Mar 2011
Location: Somewhere in Canada
Posts: 2,644
Thanks: 51
Thanked 104 Times in 64 Posts
Rep Power:
40
having had them myself, i put the birds food in the freezer
no moths in the birds food
also this worked for my fiance's mom, eucalyptus oil. dip a cotton ball in the oil and put it places where the moths usually are. out of birdy's reach though
---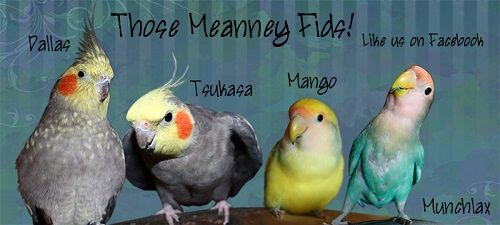 Those Meanney Fids FB Page:
http://www.facebook.com/pages/Those-...284656?fref=ts
Bird Information Photo Gallery:
http://s1282.photobucket.com/user/Me...?sort=3&page=1
All posts and photos of mine posted here are copyrighted by Casey Meanney. They are not to be reposted elsewhere without my permission.
Join Date: May 2010
Location: Arnold, MO
Age: 75
Posts: 1,997
Thanks: 0
Thanked 0 Times in 0 Posts
Rep Power:
31
I put my bird's food in the freezer also, haven't had any problems. I have a friend with 2 parrots and she has the moths too. She puts those traps all over the house and that helps. If she stops using the traps, the moths come back full force. Have you searched on line or asked your vet?

Good luck -- hope you get rid of the nasty things!
---
JoAnne, Libby (2/10),Angelina (12/07), and Charley (11/10)
Also owned by Essie,Minnie & Oscar
Join Date: Mar 2012
Location: California
Posts: 411
Thanks: 0
Thanked 0 Times in 0 Posts
Rep Power:
10
I know I can't help with this question but I would like to know how the moths came to be? Are they in the seed? I'm confused! I've never heard of this! Someone explain it to me..
I'm obviously new to this! It sounds terrible!
Yes they can come in feed or other food stuffs... and I hear they are murder to try to get rid of!
They are such a pain! We had them try to eat our bulk grass seed at work, and the chicken feed... Good luck! Freezing the food, probably the best idea.
---
A bird doesn't sing because it has an answer, it sings because it has a song.
- Lou Holtz
Join Date: Dec 2010
Location: UK
Posts: 17,661
Thanks: 1,593
Thanked 2,007 Times in 1,575 Posts
Rep Power:
100
I've never had them, good! I hope you get rid of them fast
---
- Alexandrine parakeets Kona, Peaches, George (missing), Holly (RIP), &
Orange winged Amazon parrot Paulie
Join Date: Sep 2011
Location: south coast UK
Posts: 2,789
Thanks: 68
Thanked 107 Times in 93 Posts
Rep Power:
24
Oh no!
my hubby would go mad if he got wind of this,
We get too many moths in as it is!
I hope you get rid of!
---
x2
x3
Please like me on Facebook
Kamelina-Kreations
Kamelinajewelery.wix.com/kamelina-kreations