Which cage? The age-old question!
---
Ok, really been studying cages for a GCC. Do I want a playtop or a flight cage? How big? How tall?
I know my 6 month old parrotlet is still clumsy, and falls when she gets crazy playing with all her toys all at once.
I was thinking of an HQ playtop 24w x 22xd x 30h with a stand. But, not all the sites tell you the interior measurements without the seed guard. So, is it really 24 inches long?
Deciding on which bird I wanted was less of a headache.
So, what do the conure owners have?
Join Date: Dec 2010
Location: UK
Posts: 17,661
Thanks: 1,593
Thanked 2,007 Times in 1,575 Posts
Rep Power:
100
Get a flight and load it with toys!
---
- Alexandrine parakeets Kona, Peaches, George (missing), Holly (RIP), &
Orange winged Amazon parrot Paulie
Join Date: Apr 2011
Location: Alberta,Canada
Age: 24
Posts: 2,188
Thanks: 81
Thanked 87 Times in 72 Posts
Rep Power:
25
Flight cages are awesome
I have a open top cage 25x17x45
Sent from my iPhone using Tapatalk
---
Icicis- Green cheek conure
Shaylee- Bichon Frise
Join Date: May 2012
Location: Texas
Age: 26
Posts: 306
Thanks: 0
Thanked 13 Times in 9 Posts
Rep Power:
11
I love flight cages. I've turned the top into a playground with mine..I put a big landing perch on top and then put toys everywhere for them
---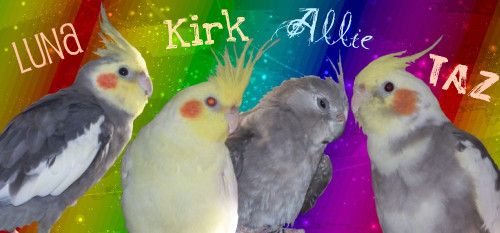 I have 3 HQ flight cages... they re 32 wide x21 deep x35 high not counting the stand... I have a GCC in one a parrotlet in the next and 5 budgies in the 3rd... i love these cages!!
Join Date: Jul 2011
Location: Minnesota
Posts: 2,434
Thanks: 0
Thanked 0 Times in 0 Posts
Rep Power:
24
I say flight. Then you can make the top a playset afterways by putting tons of stuff up there.
---
Kona-Green Quaker
Fred (so far)-Blue Quaker
I'll miss you
, Scully-African Grey
Ruby-Chocolate Labrador
Mylee-Black Toy Poodle
16 fish in a freshwater 38 gallon aquarium
I feel the same way as the others. I also have cages with playgyms on top and they are equally enjoyed by the parrots. You can find information and types of cages at my website. Hope this helps a little. Best of luck.
Mike