Thinking of switching cages
---
I have a few old cages however, I myself am having a feeling her current cage is to small for her. I do have a few old cages. heres some of the ones that I do have.
The first one is an old ferret cage which I can clean the bottom and disinfect.
This is ziva's cage, i can switch between the two
Here is a better view of the current cage that Honeybear is in
The cage on the left.
I did end up switching to the ferret cage. she's enjoying it as I type she loves walking upside down on the top of the cage and she'll hang with one foot and beak closed and bat her wings in a heart shape and chirp I call her bat bird while she does that.
Join Date: Apr 2011
Location: Alberta,Canada
Age: 25
Posts: 2,188
Thanks: 81
Thanked 87 Times in 72 Posts
Rep Power:
25
are you able to afford a larger cage?
the ferret cage is good for a temporary cage, but i would look into getting a much larger one. as you can see from honey bear, conures are crazy energetic birds that never sit still and need all the room they can get!

check your local classifieds! they often have good deals on cages!
---
Icicis- Green cheek conure
Shaylee- Bichon Frise
Join Date: May 2012
Location: Texas
Age: 26
Posts: 306
Thanks: 0
Thanked 13 Times in 9 Posts
Rep Power:
11
Those cages are probably the minimum for one cockatiel. Conures are much more energetic so they need a lot of room. I'm glad you've moved her to the bigger cage.
---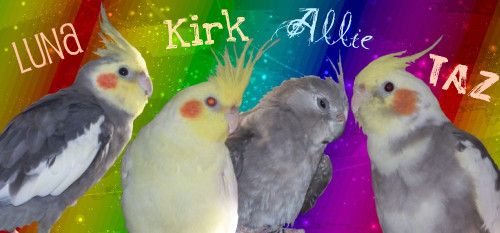 Join Date: Dec 2010
Location: UK
Posts: 17,661
Thanks: 1,593
Thanked 2,007 Times in 1,575 Posts
Rep Power:
100
Personally when it comes to conures, especially a larger conure such as yours, I would get a flight cage. All of the cages look very very small and unless the birds are out for hours at a time I don't feel they could be comfortable. How big is the ferret cage? It's a huge step up!
---
- Alexandrine parakeets Kona, Peaches, George (missing), Holly (RIP), &
Orange winged Amazon parrot Paulie