Join Date: Aug 2012
Location: Houston, Texas
Posts: 143
Thanks: 18
Thanked 14 Times in 11 Posts
Rep Power:
8
A Gym for the Fids
---
I've started looking into getting a play gym for Rio my lil parrotlet and my soon new addition. Who with in this week or so I should know the gender
. But due to limited funds I can't get them what I want!
My brother has offered to build me one but I'm wanting to have grape vine or a similar type of wood. Does anyone know where I can get the wood??
Join Date: Oct 2011
Location: Massachusetts
Age: 24
Posts: 1,148
Thanks: 35
Thanked 319 Times in 180 Posts
Rep Power:
15
this is a list of safe and bad wood:
http://www.mdvaden.com/bird_page.shtml
i get all my supplies outside in the woods. i found this nice hickory tree that i have trimmed and sanded all of the bumps off and will soon pressure wash it to clean it
top view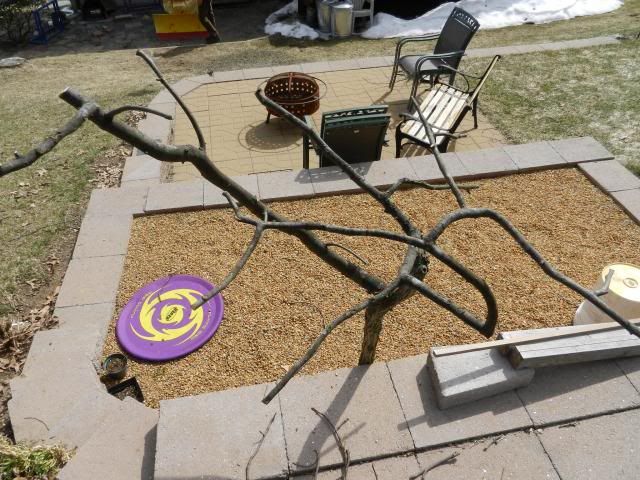 with added branches
look in the woods for safe trees that look like they can be turned into play gyms or branches that can be put together to make a play gym. have fun with it!
---
Leon
Butch
Baby Bird
Pickles
Bowie
Bobby
Leo
Ace
Cheerio
for my other pets: cat, rabbit, 6 fish tanks, 2 fire belly newts, 2 african dwarf frogs, 22+ crayfish, fish
Join Date: Dec 2010
Location: Ohio, USA
Posts: 5,750
Thanks: 734
Thanked 474 Times in 379 Posts
Rep Power:
43
Ariel,
Did you ever end up making/getting a gym?




---
DIGBY
4-year-old male Congo African Grey
Join Date: Aug 2012
Location: Houston, Texas
Posts: 143
Thanks: 18
Thanked 14 Times in 11 Posts
Rep Power:
8
I will be making one when I have some extra money