Join Date: Dec 2010
Location: UK
Posts: 17,661
Thanks: 1,593
Thanked 2,007 Times in 1,575 Posts
Rep Power:
100
My python is a little slow [pics]
---
So I've had Theodore now almost two months. I feed my snakes every Friday evening. He's had about three feedings with me and that was only if I lay the food down for him and left the room. Well the last two weeks he had decided that food wasn't an option. Now I was told how stubborn royal pythons (or ball pythons if you're American) were to get feeding, and strike feeding was something else with them. I was happy that he had eaten a couple but it just wasn't satisfying enough for me. So anyway, for about two weeks he had downright refused no matter what. He wasn't going to eat it and that was final. Last night he struck so fast that I didn't have time to think, and neither did he apparently
He constricted the the tweezers and not only took the fluff but he also got his tail too
Silly boy, a bit over enthusiastic but now he has struck I know he's going to start beefing up
Here he is with all 3 prey items
Here's a photo to show you his tail after he bit it
Here he is looking pleased with himself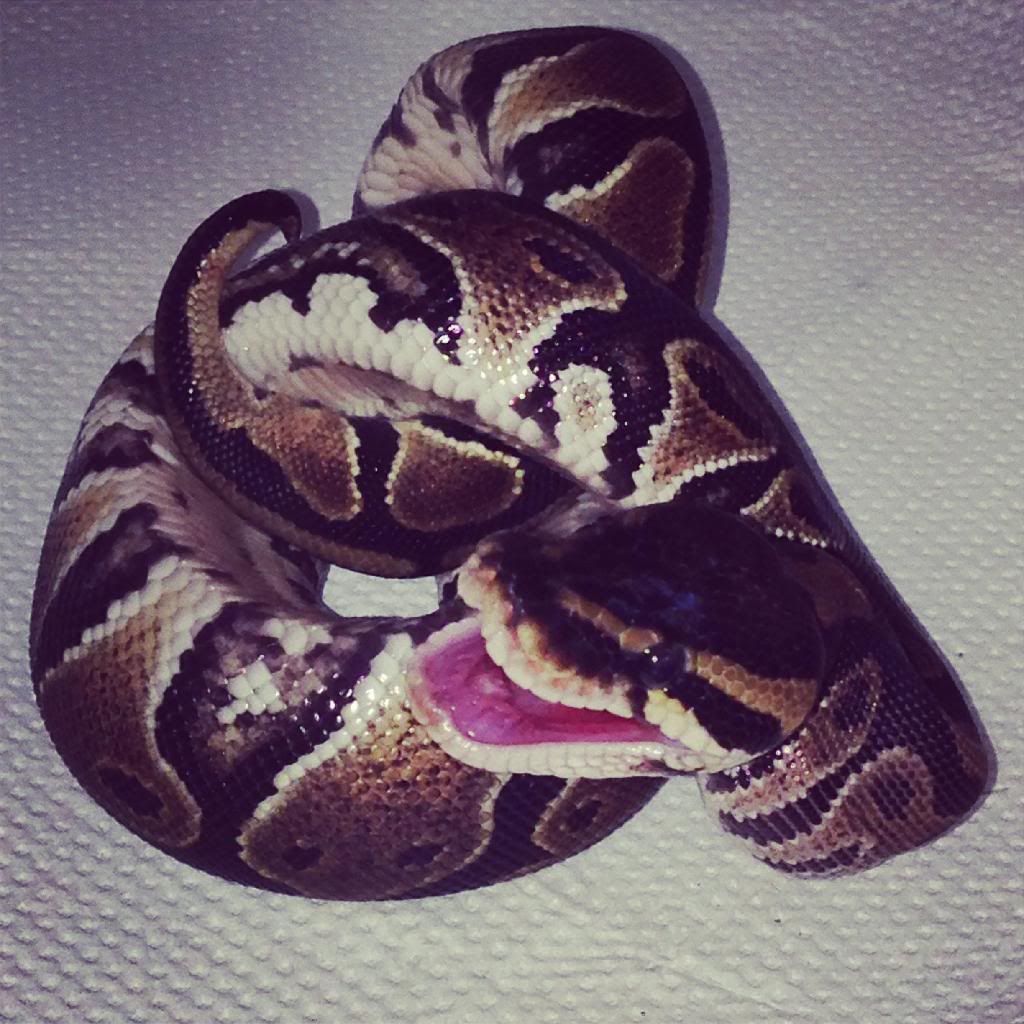 ---
- Alexandrine parakeets Kona, Peaches, George (missing), Holly (RIP), &
Orange winged Amazon parrot Paulie
Hahaha, love the last pic... He's LOLing at you and trying to convince you that he 'meant to do that' ...lol
| | |
| --- | --- |
| The Following 2 Users Say Thank You to ParrotletsRock For This Useful Post: | |
Join Date: Oct 2013
Posts: 103
Thanks: 94
Thanked 49 Times in 40 Posts
Rep Power:
7
LOL, the last one he's saying "thanksssss!"
---
-Eric
Turk
Dobby
Peeps
Shelby Cinnamon GCC
Jalapeņo
Mochi
Squirrel Yellow Sided GCC
| | |
| --- | --- |
| The Following User Says Thank You to etc1006 For This Useful Post: | |
Join Date: Dec 2010
Location: UK
Posts: 17,661
Thanks: 1,593
Thanked 2,007 Times in 1,575 Posts
Rep Power:
100
He's a cutie
---
- Alexandrine parakeets Kona, Peaches, George (missing), Holly (RIP), &
Orange winged Amazon parrot Paulie