Join Date: Dec 2010
Location: UK
Posts: 17,661
Thanks: 1,593
Thanked 2,007 Times in 1,575 Posts
Rep Power:
100
My dog nightmare [WARNING:GRAPHIC]
---
I have had the last 2-3 days from hell
First of all, on Wednesday Candy had gone outside to go to the toilet. When she came back in I noticed she suddenly had an enormous swelling on her left lip. I panicked and got an emergency vet appointment. They were uncertain as to what it could be, but said it could of possibly been an adder bite. They gave her some medication but didn't give her any jabs or anything else. That was at 9AM. By 1:30PM the swelling had almost completely gone. Jack came back from university and I asked him to stay with her as I needed to tend to the birds at my grandparents and sell a pair of my canaries. At 9PM, Jack sent me a photo asking for me to come home because of the state Candy was in. Her nose was absolutely enormous, her mouth swollen, her throat swelling. She looked so sad and pained!
Here is her nose at those 3 different times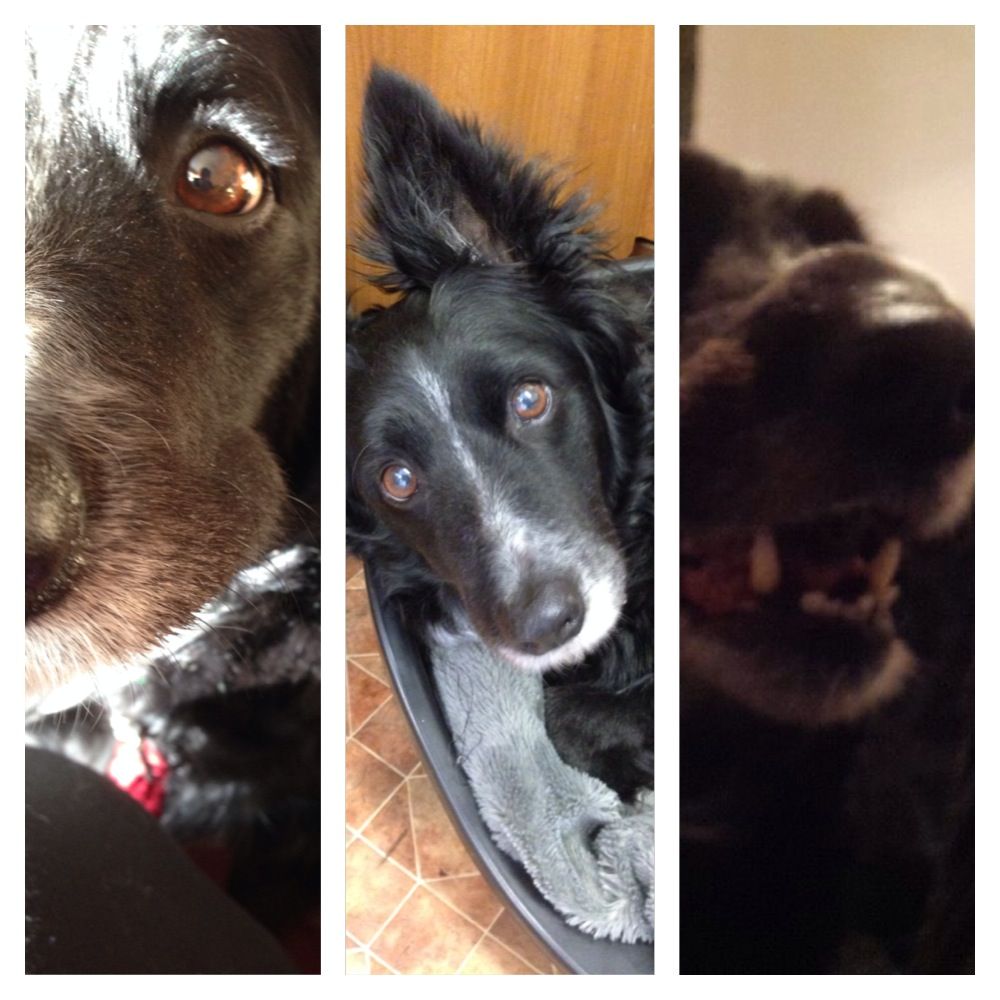 See how bad that last one is?
I called up the out of hours emergency service and said I needed to get in ASAP as I was told earlier in the day that should it stay the same or get worse that she would need emergency treatment. Guess what? They sent me to the wrong practice where I waited about 45 minutes to finally get that annoyed that I called the vet to say where on earth were they! Turns out they were at the one closest to my home. So another 20 minutes in the car which totals so far 85 minutes. When we got there, the vet said no different than what the other one did and gave her the jab which they said she didn't need earlier that day!!! As you can imagine, I'm furious! It cost SO much to get an out of hours consultation too, only for them to tell me something that could have been done in one less stressful session! I got more meds and she's going to be on those for 3 more days. She's had antihistamines, steroids and anti-inflammatory
Then yesterday, something else just HAD to happen, didn't it? I fed Bailey and went upstairs, usually by the time I come back down she has finished and is waiting to relieve herself outside. She had pooped in the kitchen, which is now unlike her since she's been house trained. The kitchen floor was covered in blood and the stool has plenty of blood around it. My colour drained and I went to call the emergency vet again but Jack told me to look it up first. Apparently it could be somewhat normal and I just need to book a general appointment. If it was just a one off then it is most likely fine, however I have not seen her poop since. Again another vets trip is in order either way. That's 3 vets trips in one week!
Here's a graphic photo, sorry guys
It has been running through my mind that she could have come into season, but surely, it wouldn't be around her poop like that?
Sigh, these animals!
---
- Alexandrine parakeets Kona, Peaches, George (missing), Holly (RIP), &
Orange winged Amazon parrot Paulie
Join Date: Jul 2013
Location: Australia
Posts: 145
Thanks: 34
Thanked 64 Times in 43 Posts
Rep Power:
7
poor Candy I hope she's doing better, none of our dogs have ever had poop like that when in season. Our dog was bitten by a snake over a year ago though and we had a long drive to the vets, she was pretty bad, we got her there just in time, it was so scary and we thought we were going to lose her.
Pets sure do have a way of keeping us on our toes
keep us updated on how she's doing.
---
FLY FREE
Thank you Tisena (TC) for the beautiful signature
Join Date: Mar 2014
Location: Maryland
Posts: 29
Thanks: 92
Thanked 16 Times in 6 Posts
Rep Power:
0
Daisy so sorry to hear about Candy. I do hope and pray she will be ok and get better real soon. I understand where your at because last year I had a stray cat I took in get bit by a snake. Not sure what kind of snake it was but the same thing happened. Almost instant swelling and the cat become totally unresponsive and lethargic within minutes. Took it to the emergency vet and they gave it IV fluids and some meds. Told me to take it home and keep it comfortable and wait and see. This cat remained unresponsive and totally out for 4 days. He didn't wake up or eat or drink. I kept taking him back to the vet for more IV fluids but that was about all they could do. They said they thought he was going into renal failure and would probably not make it. On the 5th day he woke up weak and wobbly but he ate and drank water and slowly made it back to normal. He does not go outside anymore. It sure scared me and I was sure I was going to lose this poor cat. I do hope your dog will be fine and get better soon. Something we have to do is watch our animals when they go out and see what they are getting into. Especially if we live in areas where the snakes are common. Please keep us posted. Thanks.
Join Date: Jun 2013
Location: Germany
Posts: 1,647
Thanks: 1,255
Thanked 933 Times in 718 Posts
Rep Power:
13
Daisy, I'm so sorry that your dogs are doing bad.
Janosch, Paulchen and I cross all fingers and claws that they will be well soon.