Join Date: Jan 2013
Location: Syracuse, NY
Posts: 921
Thanks: 12
Thanked 450 Times in 340 Posts
Rep Power:
10
Muffin broke her toe :(
---
I swear these birds are trying to bring me to an early grave... I noticed this today but I'm not sure if it happened today or within the last couple days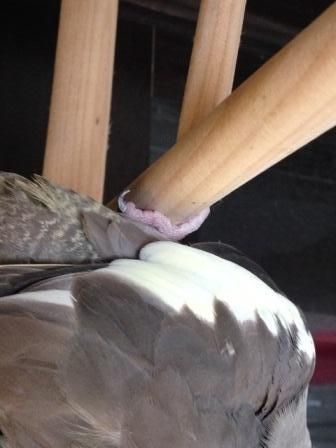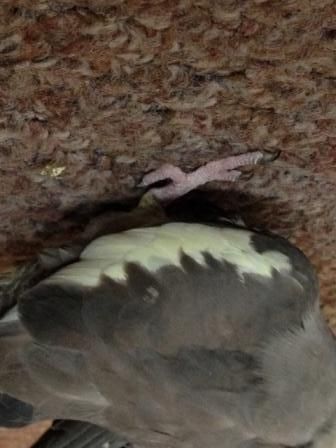 One of her back left toes is crooked and definitely broken. She jumped off of her flight cage today, like she usually does, and flopped on the carpet like always. When I noticed her walking on the floor, I saw the toe right away. She sort of landed on their wooden play gym, on the framed edge. But she's not acting like she is in pain, she is not limping, she didn't cry when it happened, it's not bleeding or swollen. Is there anything I can do?
Honestly, I'm not taking her to a vet because I don't have the funds after everything that has happened with Chewy, and she is acting completely normal. Any suggestions would be greatly appreciate. I am debating getting rid of this flight cage and downgrading to 2 separate cages because apparently it is a death sentence for my birds
Join Date: Dec 2013
Location: Bundaberg - Australia
Age: 77
Posts: 355
Thanks: 172
Thanked 221 Times in 137 Posts
Rep Power:
10
I'm so sorry to read your bad news Jill, it must be stressful for you. It must be time for some good news for a change.

I can't offer you any help or suggestions, but really hope that Muffin is not in to much pain.

Cheers,

John.
Join Date: Jun 2013
Location: Tampa Bay, Florida
Posts: 393
Thanks: 228
Thanked 269 Times in 201 Posts
Rep Power:
9
I'm so sorry Jill! I hope she's okay! I'm sure someone will have some wisdom for you. And I'm sure some one will appreciate getting the cage . it's a great cage, I wish I had the room for it!
---
And God said, "...let birds fly above the earth across the expanse of the sky." And God saw that it was good.
Join Date: Mar 2011
Location: UK
Posts: 2,115
Thanks: 275
Thanked 407 Times in 256 Posts
Rep Power:
25
If you can search for MeanneyFids(Casey)'s thread of her putting on a splint when her tiel had a broken toe, she did a very good job with the splinting. It might help if you can find that thread and copy what Casey did.

Hope everything turns out well for you and Muffin.
---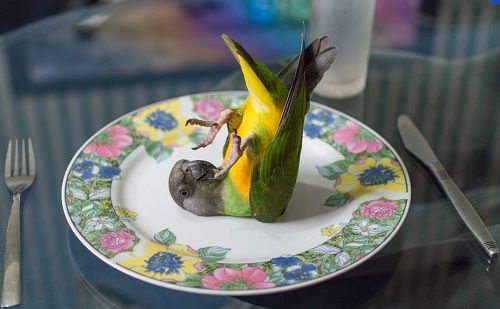 Join Date: Dec 2010
Location: UK
Posts: 17,661
Thanks: 1,593
Thanked 2,007 Times in 1,575 Posts
Rep Power:
100
I have found splinting to be ineffective myself due to my birds yanking them off! They will sit there for hours trying to make short work of it and the last thing you would want to do would be collar them until it is healed up. Toes seem to do well on their own. It may be a bit wonky, but won't affect her quality of life. My birds and myself have often broken toes and they have gone back to normal... or as normal as normal can be
One of mine on my left foot is bent sideways
Sorry your flock is causing so much grief at the moment. Something always has to following something else bad! Everything will be okay though
Good luck!
---
- Alexandrine parakeets Kona, Peaches, George (missing), Holly (RIP), &
Orange winged Amazon parrot Paulie
| | |
| --- | --- |
| The Following User Says Thank You to catalinadee For This Useful Post: | |
Join Date: Aug 2013
Location: California
Posts: 1,616
Thanks: 1,109
Thanked 903 Times in 591 Posts
Rep Power:
17
That would be so frustrating. I am sorry to hear that. I hope things get better soon.
---
"Until one has loved an animal, a part of one's soul remains unawakened." ~Anatole France
Owned by & slave to:
Oliver,
Gemma,
Cozette, & the English Budgie Crew
Join Date: Jan 2013
Location: Syracuse, NY
Posts: 921
Thanks: 12
Thanked 450 Times in 340 Posts
Rep Power:
10
Thanks everyone, she really is a trooper!! She is completely unaffected by it, which makes me think it didn't happen this morning, which also makes me feel horrible for not noticing it
but she is walking, climbing, and perching completely normally still. Poor girl. I got her a "get well" toy, here she is playing with it, along with Chip serenading his favorite bell toy
https://www.youtube.com/watch?v=9Oh6pnVPTvM
Hope you are better now
Muffin looks like she will be fine.
---
Comet
Scooter
Snowball
Join Date: Dec 2013
Location: New Jersey, USA
Posts: 462
Thanks: 133
Thanked 222 Times in 170 Posts
Rep Power:
8
Splinting does not work with birds toes or feet. It doesn't even work with wings when they are small species... Besides, if she is not favoring it, it means that it already knitted back - only it happened crooked. She'll be fine, don't worry about it. Her toe will be crooked but it won't impair her in any way.
Join Date: Dec 2010
Location: Ohio, USA
Posts: 5,750
Thanks: 734
Thanked 474 Times in 379 Posts
Rep Power:
43
Hope everything is okay!
---
DIGBY
4-year-old male Congo African Grey
Join Date: Jan 2013
Location: Syracuse, NY
Posts: 921
Thanks: 12
Thanked 450 Times in 340 Posts
Rep Power:
10
Thanks everyone! It hasn't phased her in the slightest, it hasn't swelled or changed in the past 2 days, so here is hoping it's just another "beauty mark" for her