Hey from the east coast
---
Hi all
My name is Erica, and as the title says I'm from the east coast, more specifically Virginia (with the hot summers and apparently as we saw this year...blizzards haha). I am just the average young gal, who happens to be a servant to two amazing faby's and as my loyal german shepherd and tabby cat. I love parrots, and have really learned alot in the past years about them through reading and a little experience. I was under the same name on the perch, so I might see some familar faces...or erm, screen names
I look forward to reading about everybody's beautiful birdies (I love love love pictures), and to learn some new stuff too.
My fabies are Joey, a 20-30 year old blue front amazon. My dad was told her was male when he bought him, though it was never confirmed. He's quite ornery and strongly dislikes me, though he has a very strong bond with my dad. He doesn't like strangers and does not like sharing his territory... Even still I love him to pieces and I think he enjoys it most when I read kids books to him. He seemed to settle down and not be so focussed on killing me, especially in the past year thanks to a little patience and alot of treats.
Then there is Gizmo, my now four year old (just turned 4 awhile back in May) and she is a gold capped conure. Quite the beauty, and quite the sweetheart. She's not too sure of strangers but if they give her a little bit of time and a treat she's quite content to go to them. She loves to just be on her play gym and try and get into trouble, or to preen people (especially me). I love her to pieces, and am so lucky to have such a gal in my life.
Join Date: Nov 2009
Location: Indiana, USA
Posts: 3,142
Thanks: 0
Thanked 2 Times in 2 Posts
Rep Power:
40
Welcome, and you will find everyone will love seeing your pictures.
---

Thanks Shivani for the awesome siggy!
X2
Stanley (bourkes), Roni (senegal), Elisa (lineolated parakeet) and Doug (pacific parrotlet), Daisy (maximilian pionus), Shira (green cheek conure), Ashlynn, (grey), Taylor (princess of wales parakeet), Joelle (quaker), Benny (cockatiel)
Join Date: Nov 2009
Location: Canada ON.
Age: 24
Posts: 339
Thanks: 0
Thanked 0 Times in 0 Posts
Rep Power:
11
Welcome
Oh, I really like gold capped conures - they are stunning!
---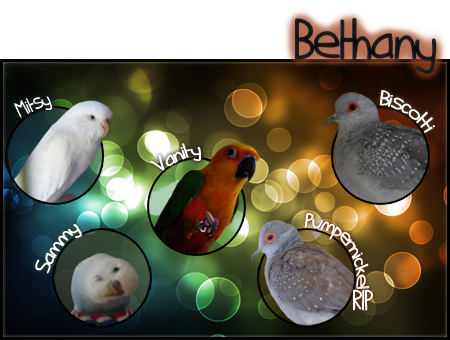 Thanks Becca!
People Use Duct Tape To Fix Everything.. Jesus Used Nails.
Welcome to the forum!! Gold caps are sweeties - the 3 I hand fed at the shop were trouble makers! Very territorial around other birds, for some reason, but very sweet with people!




Thanks guys
I do think gold caps are stunning... but I might be biased.
And you are right Jenny, they can be quite the trouble makers. Gizmo has never been around another parrot (We keep Joey downstairs, and Gizmo stays in my room mostly but I can take her anywhere upstairs) so I can't say if she'd be territorial with another parrot, but she can be quite the brat so I wouldn't be that suprised. Before I got her I never knew parrots could pout and throw tantrums.
Banned
Join Date: Oct 2009
Location: Newfoundland, Canada
Age: 27
Posts: 435
Thanks: 0
Thanked 0 Times in 0 Posts
Rep Power:
0