Another Michigander here
---
Hi All I'am a mother to 2 human sons , 1 hubby and 2 parrots , first is Opey my little green man and second is Squiggy my little girl she is a green cheek conure and we are looking forward to adopting a new baby cag next spring , nice to meet everyone
welcome.....that's the same line up as us... Green Quaker, Jendey Conure, and Congo.

Get ready for that congo is all I can say! ;-)
---
VelvetHead!!
My female CAG
thanks I'am ready lol , it might be sooner I was talking to another breeder today so we shall see
Opey and Squiggy sound interesting! Welcome to a real bird lovin forum!
Hey Deb Welcome to the forum. I recognize you from avian ave. I have 2 parrotlets and 2 conures. Its nice to see you here.
---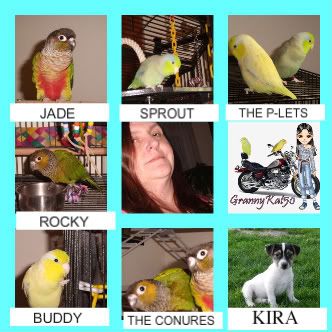 Join Date: May 2010
Location: Arnold, MO
Age: 75
Posts: 1,997
Thanks: 0
Thanked 0 Times in 0 Posts
Rep Power:
31
Hi - Welcome to the forum!
---
JoAnne, Libby (2/10),Angelina (12/07), and Charley (11/10)
Also owned by Essie,Minnie & Oscar