Join Date: Dec 2010
Location: Ohio, USA
Posts: 5,750
Thanks: 734
Thanked 474 Times in 379 Posts
Rep Power:
43
Hello
---
Hello everybody!
My name is Abby, I'm fifteen years old, and I'm absolutely in love with birds!!
Currently, I have three budgies (Lola, Jasper and Celia) and one cockatiel (Minnie). Unfortunately, a few weeks ago, I lost my first bird I ever owned, Rosco, so now I'm down to only four birds. In total, I've owned birds for about five years.
For the past year I have been contributing to two other bird related forums, one for cockatiels, one for budgies, but I have ventured further and I am now hoping to learn as much as I can about other birds, too. It's harder to do that on a forum meant for just one species.
Even though I am young, I feel I am very knowledgeable about birds. I spend a good majority of my time reading and researching all I can about all kinds of birds, their care, training and health. Bird keeping is rewarding and entertaining. It fascinates me like no other subject. It's a real hobby of mine, I love it, and I definitely want to spend the rest of my life doing it.
I hope that in this forum, I can befriend other bird lovers, learn a little bit, and help as many other people I can who are seeking information.
I hope to see you all around the forums!!
to the forum! I started with birds when I was really young (always had cockatiels, but we got into breeding them when I was 12-13, then we got a Moluccan and Umbrella cockatoo when I was 15) and still have a passion for them
I worked in a bird specialty store for 4 years or so. They are so much fun and are so rewarding to work with
Feel free to ask any and all questions you have about any species! We have many knowledgeable people here
Join Date: Nov 2009
Location: Indiana, USA
Posts: 3,142
Thanks: 0
Thanked 2 Times in 2 Posts
Rep Power:
40
Welcome to the forum. I look forward to your contributions. I have a ten year old daughter who stared with a bourkes parakeet, who is still probably out best bird. She also has a maximillian pionus, who is also a great bird.
---

Thanks Shivani for the awesome siggy!
X2
Stanley (bourkes), Roni (senegal), Elisa (lineolated parakeet) and Doug (pacific parrotlet), Daisy (maximilian pionus), Shira (green cheek conure), Ashlynn, (grey), Taylor (princess of wales parakeet), Joelle (quaker), Benny (cockatiel)
Join Date: Nov 2009
Location: Canada ON.
Age: 24
Posts: 339
Thanks: 0
Thanked 0 Times in 0 Posts
Rep Power:
11
Hey Abby!
Welcome to TP.
I'm a little younger than you, and I have four birds aswell (recently lost my male diamond dove, Pumpernickel.)
I have two budgies, a diamond dove, and a jenday conure
---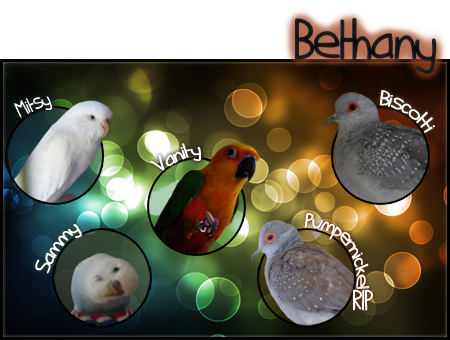 Thanks Becca!
People Use Duct Tape To Fix Everything.. Jesus Used Nails.
Join Date: Dec 2010
Location: Ohio, USA
Posts: 5,750
Thanks: 734
Thanked 474 Times in 379 Posts
Rep Power:
43
Thank you guys!! I'm looking forward to getting to know you guys and learning more. Your signatures are all full of beautiful birds!!
Here are some pictures of my own birds.
This is Minnie, my one year old female cockatiel.
This is Rosco. He, unfortunately, passed away a few weeks ago. He had been my first bird and probably the closest one to me. I miss him dearly.
This is Lola, my second bird.
This is Jasper.
And this is Celia.
Join Date: Dec 2010
Location: UK
Posts: 17,661
Thanks: 1,593
Thanked 2,007 Times in 1,575 Posts
Rep Power:
100
Hey welcome to the forum. I'm pretty new to it too and I'm only young too haha and have handled birds throughout my life. Most people tend to really judge me on my knowledge of birds due to my age and it can be pretty intimidating but oh well. I know a fair bit hehe. I started off with a male 'tiel who I loved to bits and then onto budgies, then lovebirds, then quails and then everything else haha. I fly and train birds of prey too which is pretty cool
if you ever need any advice or just want any info on species or whatever feel free to say hi I wont bite haha.
Thanks for sharing pics also haha!
Your birds are beautiful, Minnie looks like my Moose, but more of a cinnamon!!
to both Rosco and Pumpernickel. I'm sorry for both of your losses.
Join Date: Dec 2010
Location: Ohio, USA
Posts: 5,750
Thanks: 734
Thanked 474 Times in 379 Posts
Rep Power:
43
Thank you!!
And you're right, Minnie does resemble Moose.