Join Date: Dec 2013
Posts: 18
Thanks: 0
Thanked 9 Times in 6 Posts
Rep Power:
0
Hello from Oshawa Ontario
---
Just wanted to say hi and introduce myself.
I live in Oshawa, Ontario and became a parrot owner going on 3 years. My wife and I were looking for a bird for probably a year prior to aquiring Oscar, a re-homed Senegal parrot. Never had a bird before so I did lots of online research etc prior to ownership. Wanted a re-home for ethical/personal reasons.
Oscar came with some behavioural issues, namely biting/aggression, fear of most things, and extreme mood swings i.e. some days he seemed happy and wanted out of cage to interact and the next day he wanted nothing to do with anyone and would hiss and lash out if you opened his cage.
I researched online how to rectify the behavioural issues and all signs pointed to "training" as a means to the end. So using this info I started training Oscar. This was no small feat to begin with since he was absolutely terrified of the training perchs I made and likewise with chopstick I hoped to use to start in target training. This allowed me to research and implement desensitizing methods Once he figured out that the chopstick wasnt going to be used to kill him in any way he took to target training like a duck to water. This enabled me to desensitize him to other objects and the training perches were the first item on the agenda. Before this becomes a novel, I taught him about 4-5 basic tricks and progressed to flight training. He was previously clipped but had grown his fights back in but was unwilling to fly unless frightened. Flight training went very well to the point that he is now a confident flyer.
The purpose of all this training was to increase his tameness, fade away undesirable behaviours (biting, lunging, fearfullness etc) and build our bond. Training has done all of those and I am very proud of how far Oscar has come as he is now a very confident, much happier, vastly more tame, healthier bird then when I aquired him. In retrospect I think his agression was fear motivated because he never had the self confidence that training/flight allows a "normal" companion parrot. This is one of the reasons I am so against clipping as I have seen the difference in an unclipped flight trained bird.
All training is based on positive reinforcement (of which I am also a strong proponent) and I am continualling advancing new training scenarios and tricks.
I hope to help others out in terms of what I have learned and benefited from, as well as continue to learn as my journey in parrot ownership moves forward.

Wayne
Join Date: Jun 2013
Location: Germany
Posts: 1,647
Thanks: 1,255
Thanked 933 Times in 718 Posts
Rep Power:
13
Hi Wayne, welcome to our forum!
Thank you for adopting Oscar, we'd love to see pictures.
Join Date: Sep 2013
Location: North Carolina
Posts: 237
Thanks: 48
Thanked 139 Times in 111 Posts
Rep Power:
7
and welcome to our group! I am so impressed with all your accomplishments. And I thank you for adopting Oscar. So glad you have joined us and I know you will have a lot to share.
---
M-Nature and her feathered flock:
Lucy Linnie from Tribe of the Lineola
Vivian Linnie from Birds4Alice
JJ the Australian Red Rump (adopted)
Goldie the Australian Red Rump (adopted)
RIP
Lilly Peepers
Join Date: Mar 2011
Location: UK
Posts: 2,115
Thanks: 275
Thanked 407 Times in 256 Posts
Rep Power:
25
Hello and welcome to the forum. I also have a senegal. Your post has motivated me to start clicker training my senegal again to prevent any bad behavioural issues. Please do post more of your senegal's training progress, I would love to hear more about it
.
---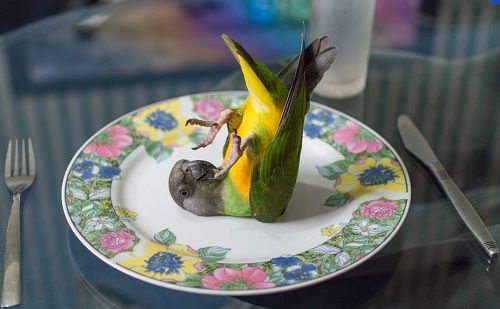 ---
Last edited by tippa; 12-04-2013 at

07:12 PM

.
Join Date: Dec 2010
Location: UK
Posts: 17,659
Thanks: 1,593
Thanked 2,007 Times in 1,575 Posts
Rep Power:
100
Welcome to the forum! Fantastic intro, and I'm all with you on your methods. I have used the exact same methods (especially giving flight or at least encouraging it) to train completely hands off birds and it works as a charm. Sadly, not that many people care to put that amount of effort in so I take my hat off to you (or would if I was wearing one!). We'd love some photos!
Join Date: Dec 2013
Location: USA
Posts: 31
Thanks: 0
Thanked 14 Times in 13 Posts
Rep Power:
0
Hi, Wayne and welcome to the forum! I'm looking forward to hearing more about Oscar.
Join Date: Aug 2013
Location: Texas
Posts: 501
Thanks: 372
Thanked 343 Times in 223 Posts
Rep Power:
8
I could be biased, but I think sennies are awesome! Thanks for sharing your story.

Sent from my Nexus 5
---
Senegals - Sammie & Sydney
Linnies - Pippin & Buttercup
Join Date: Sep 2013
Location: SF Bay area California
Posts: 686
Thanks: 843
Thanked 420 Times in 280 Posts
Rep Power:
8
Hello, welcome and
a first time bird owner what an impressive accomplishment with a re-homed parrot. Welcome to the forum, hoping for pictures soon!
---
owned by linnies:
Levi,
Skyler
Karma, and
Bindi