Join Date: Dec 2013
Posts: 1
Thanks: 0
Thanked 0 Times in 0 Posts
Rep Power:
0
Rosie, African Grey in Connecticut
---
Hi folks! I'm Lara and proud owner of Gloria & Fabio- cockatiels. Last week We expanded our flock and brought in Rosie. Rosie is a 5 mth old Timneh African Grey. She's super sweet & we love her. I'm new to parrots- she's a big girl and hope to learn from all of you. Rosie spends lots of "out of cage" time and loves fruit & veggies. We practice "Step up" and I want to do everything right to keep her a happy girl. (She certainly could be a boy)
Hi and welcome, we do have quite a few Grey slave on the forums, so you should get some good advise. Congrats on your new fid!!
Join Date: Dec 2010
Location: UK
Posts: 17,653
Thanks: 1,593
Thanked 2,007 Times in 1,575 Posts
Rep Power:
100
Welcome to the forum! I absolutely love TAGs, but don't tell the Congo's that
Pictures please
How long have you had your cockatiels for?
Join Date: Mar 2011
Location: UK
Posts: 2,115
Thanks: 275
Thanked 407 Times in 256 Posts
Rep Power:
25
Hello and welcome
---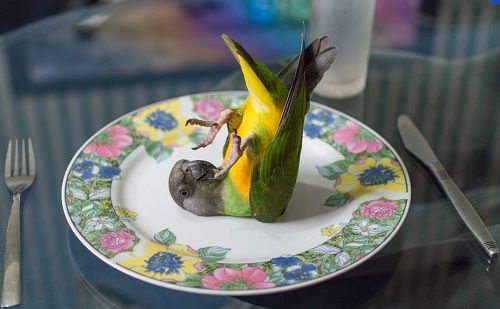 Join Date: Jun 2013
Location: Germany
Posts: 1,647
Thanks: 1,255
Thanked 933 Times in 718 Posts
Rep Power:
13
Welcome to our forum, Lara!
We'd love to see pictures of your little flock.
Join Date: Sep 2013
Location: SF Bay area California
Posts: 686
Thanks: 843
Thanked 420 Times in 280 Posts
Rep Power:
8
to our forum Lara. I use to be on the lineolated parakeet forum but flew over here when that forum was ended. Learning about so many different birds hope you enjoy it as much as I do. And yes pictures please!!
---
owned by linnies:
Levi,
Skyler
Karma, and
Bindi
Join Date: Nov 2011
Location: Edmonton
Posts: 3,259
Thanks: 22
Thanked 362 Times in 298 Posts
Rep Power:
25
Join Date: Dec 2010
Location: Ohio, USA
Posts: 5,750
Thanks: 734
Thanked 474 Times in 379 Posts
Rep Power:
43
Welcome to Talk Parrots!
I love all greys, but I'm a Congo person.
---
DIGBY
4-year-old male Congo African Grey