Join Date: Dec 2013
Posts: 2
Thanks: 0
Thanked 2 Times in 1 Post
Rep Power:
0
mamas buddy
---
Hello my name is Pat and I'm new to this forum,
here are some pictures of my sweet little buddy.
He is the sweetest little bird. I'm new at this so
I'll be cutting this message short.
---
Last edited by mamas buddy; 12-21-2013 at

01:58 AM

.
Join Date: Mar 2011
Location: UK
Posts: 2,115
Thanks: 275
Thanked 407 Times in 256 Posts
Rep Power:
25
Aww, that is cute with your parrotlet on his back
. Welcome to the forum
---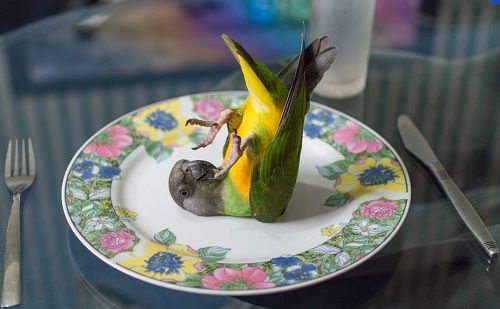 Join Date: Dec 2010
Location: UK
Posts: 17,659
Thanks: 1,593
Thanked 2,007 Times in 1,575 Posts
Rep Power:
100
Welcome to the forum! Your parrotlet is adorable
Sent from
Petguide.com Free App
---
- Alexandrine parakeets Kona, Peaches, George (missing), Holly (RIP), &
Orange winged Amazon parrot Paulie
Join Date: Dec 2013
Posts: 2
Thanks: 0
Thanked 2 Times in 1 Post
Rep Power:
0
Thank You, I'm glad you like the picture, he is a sweetheart.
Join Date: Dec 2013
Posts: 24
Thanks: 19
Thanked 11 Times in 7 Posts
Rep Power:
0
Awww, what a little cutie! Love the footies up in the air like that LOL!
Hi and welcome, what a sweetie.. I couldn't do that to my 'let without losing bodily parts...lol
Join Date: Nov 2011
Location: Edmonton
Posts: 3,259
Thanks: 22
Thanked 362 Times in 298 Posts
Rep Power:
25
Join Date: Jun 2013
Location: Germany
Posts: 1,647
Thanks: 1,255
Thanked 933 Times in 718 Posts
Rep Power:
13
Welcome to our forum, Pat!
You have such a pretty and adorable parrotlet.
Awww what a cutie pie. Welcome to the world of parrot owner ship.
---
Yuki my budgie.
Pixie budgie. Blue IRN Goose
Join Date: Dec 2010
Location: Ohio, USA
Posts: 5,750
Thanks: 734
Thanked 474 Times in 379 Posts
Rep Power:
43
Hello, Pat, and welcome to Talk Parrots! So glad you decided to join us!
Your parrotlet is so cute! What is his name? And when did you get him? I've never had a parrotlet myself, but I've heard good things about them.
I see you've already figured out how to post your introduction, but here are some links you may find useful.
Please read the rules and guidelines here. It is extremely important that you abide by them at all times.
https://www.talkparrots.com/showthread.php?t=7674
Our contests take place here. Feel free to join in!
https://www.talkparrots.com/forumdisplay.php?f=26
If you have any questions, comments, or concerns, feel free to post here.
https://www.talkparrots.com/forumdisplay.php?f=7
Our moderators are
Abby
,
KTyne
,
Jenny
and
catalinadee
. Feel free to contact us at any time.
I hope you have a wonderful time here at Talk Parrots! Looking forward to seeing you around the forums.
---
DIGBY
4-year-old male Congo African Grey
Join Date: Sep 2013
Location: SF Bay area California
Posts: 686
Thanks: 843
Thanked 420 Times in 280 Posts
Rep Power:
8
Hello Pat welcome to the forum. My parrotlet Jelly Bean has been with me for 8 yrs now. I've been very happy with her. Although when I first adopted the bird as a baby I was told by the breeder and the vet JB was a male. After all this time the secret came out, she laid an egg for me a few months ago!!! A real shocker
---
owned by linnies:
Levi,
Skyler
Karma, and
Bindi
Join Date: Aug 2013
Location: California
Posts: 1,616
Thanks: 1,109
Thanked 903 Times in 591 Posts
Rep Power:
17
Hi and welcome! I am also owned by a parrotlet named Oliver who is going on four years old in 2014. He is also a real cuddle bug, super smart, and a real lovey little guy, but can also be a bit challenging at times, lol. But he truly is a great bird. I love him so much. There are a lot of pros about be owned by a parrotlet
. I find them to be the most similar to many larger parrots (in comparison to other birds their size-ish) in temperament and intelligence but less messy, noisy, destructive, small poops, etc. I also own a linnie and a budgie but my plet is the most bonded to me and the most like a larger parrot in my opinion.
---
"Until one has loved an animal, a part of one's soul remains unawakened." ~Anatole France
Owned by & slave to:
Oliver,
Gemma,
Cozette, & the English Budgie Crew