hello from Taiwan:)
---
my name is Helen,Brawny is the name of my lovebirds.Recently,my couple birds gave birth to 3 cute chicks
and i have thousands of questions about that.i wish i can get lots experience from the forums because the pet birds informations are not enough at all in my country
thank u
Join Date: Feb 2011
Location: Oshawa, Ontario
Age: 28
Posts: 914
Thanks: 2
Thanked 1 Time in 1 Post
Rep Power:
16
Welcome to the forum Helen!
---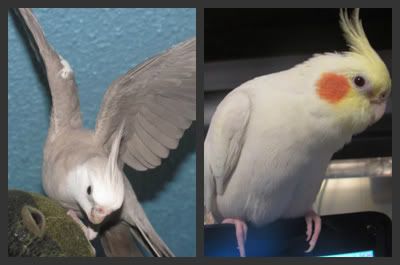 My Tiels
Cupid-Male Whiteface Cinnamon
Aero- Female Cinnamon Lutino
Welcome, Brawny!!! Share pics of your babies if you can!!! I'm sure you can find some help here too!
Join Date: Dec 2010
Location: UK
Posts: 17,666
Thanks: 1,593
Thanked 2,010 Times in 1,578 Posts
Rep Power:
101
Welcome to the forum, I don't think we have anybody else from Taiwan!
What questions do you have, I'll do my best
?
---
- Alexandrine parakeets Kona, Peaches, George (missing), Holly (RIP), &
- Orange winged Amazon parrot Paulie
- Black capped lory Charlie
- Red fronted kakariki Bilbo
Join Date: Nov 2010
Location: cape town south africa
Age: 24
Posts: 2,386
Thanks: 24
Thanked 85 Times in 69 Posts
Rep Power:
25
welcome to the fourum
i think daisy is right about you being the only one from Taiwan
sorry i have no history in breeding or love birds but there are many members who do
---
hey and welcome to the forums
---