Join Date: Feb 2015
Posts: 9
Thanks: 7
Thanked 2 Times in 2 Posts
Rep Power:
0
Hey from Canada!
---
Hey everyone, I'm Jill!
I own a wonderful four year old white-capped pionus named Tiki. I am excited to converse with other parrot owners and get some advice on some issues we have encountered! I am also hoping to connect with some pionus owners and ask them some specific question on this species, as I have checked the internet high and low for answers to some of his silly behaviors, and have not found much information.
I have attached pictures of Tiki and his best friend Luna, our rescue dog
Excited to meet all of you!
Join Date: Jan 2013
Location: Syracuse, NY
Posts: 921
Thanks: 12
Thanked 450 Times in 340 Posts
Rep Power:
9
Hello from another Jill!
Not many of us out there
Your bird and dog are beautiful! There are MANY helpful parrot owners on here ( I have little birds so I don't know if I could help much) I'm sure you will love it here!
Join Date: Feb 2015
Posts: 9
Thanks: 7
Thanked 2 Times in 2 Posts
Rep Power:
0
Nice to meet you, Jill!
Tiki is very cute. And welcome!
---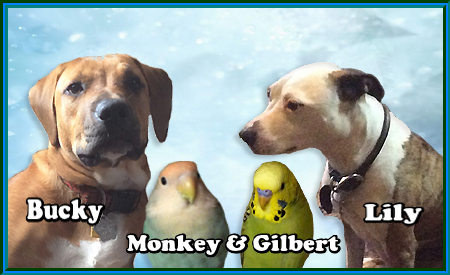 Thank you Mr. Peepers for the sig!
Join Date: Feb 2014
Location: Florida
Posts: 288
Thanks: 3
Thanked 92 Times in 73 Posts
Rep Power:
7
Your bird is SOO cute!I really want a white capped pionus myself.
Join Date: Feb 2015
Posts: 9
Thanks: 7
Thanked 2 Times in 2 Posts
Rep Power:
0
Thanks Haimovfids!
They really are a lot of fun. Mine is not a super playful outgoing bird, but she LOVES to cuddle and never bites. She is generally pretty quiet and doesn't need 100% of my attention all of the time. Very trusting and extremely hand tame. Highly recommend a pionus
you have some cuties yourself! My grandma owned a cockatiel named Pearl when I was younger. I have a soft spot for them
.
Join Date: Feb 2014
Location: Florida
Posts: 288
Thanks: 3
Thanked 92 Times in 73 Posts
Rep Power:
7
You actually made me google about other species of other parrots that can be mixed with cockatiels. I found some cute species that I might consider. Thanks
I hope you enjoy it here! It's a really nice and organized forum
| | |
| --- | --- |
| The Following User Says Thank You to CrazyConure For This Useful Post: | |
Join Date: Nov 2013
Location: Tasmania-Australia
Posts: 62
Thanks: 1
Thanked 20 Times in 17 Posts
Rep Power:
7
Hi Jill , from Australia .. Slave to a 58 Y/o Sulphur Crested Cockatoo & 2 great galahs