Join Date: Nov 2012
Posts: 1
Thanks: 0
Thanked 0 Times in 0 Posts
Rep Power:
0
Hello, New to forum, but not parrots
---
Hello all, I currently do not have any birds, but I am in the market to adopt. I have been raised with large and small parrots my whole life, my mother raised and hand fed, cockatoos(moluccan) as well as blue and gold macaws, all the way down to hand raised and fed cockatiel's. she has since gotten out of the bird breeding and raising. She has since sold all of her pairs, Only one left a male Moluccan who never ever paired. I always thought he was too attached to her and I.

So, after about 8 years I am in the market to adopt. really love Indian ring necks, but have since discovered a parrot I have never seen before, the princess parrot, these native to Australia....... cant seem to find any breeders in Texas...........

I am from Texas I am 32 years old and the age I have I built from the ground up, it is 4.5 foot long, 3 feet wide by 3.5 feet tall. Room for all sorts of fun things in there!

I work 6am-3pm, and have all evening to dedicate to fun out of cage time to the bird, as well as all weekend's for play time, training, and flock interaction.

Thanks for reading my post and Have a great day.......
Looking forward to your reply's.
Join Date: Jul 2012
Location: Michigan
Posts: 153
Thanks: 0
Thanked 19 Times in 15 Posts
Rep Power:
8
Join Date: Apr 2012
Location: Ontario, Canada
Posts: 537
Thanks: 0
Thanked 1 Time in 1 Post
Rep Power:
11
Welcome to the forum
---
Join Date: Dec 2010
Location: Ohio, USA
Posts: 5,750
Thanks: 734
Thanked 474 Times in 379 Posts
Rep Power:
43
Hi and welcome to the forum!
There are so many birds, what more specifically are you looking for? (Other than IRN's) And what are you not looking for?
---
DIGBY
4-year-old male Congo African Grey
Join Date: Feb 2011
Location: Oshawa, Ontario
Age: 28
Posts: 914
Thanks: 2
Thanked 1 Time in 1 Post
Rep Power:
16
Hi! Welcome to the forum
---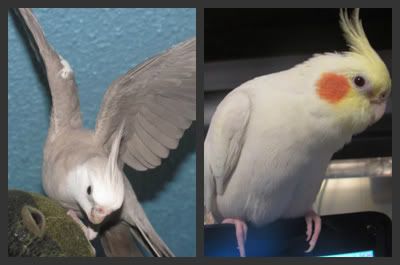 My Tiels
Cupid-Male Whiteface Cinnamon
Aero- Female Cinnamon Lutino
Join Date: Dec 2010
Location: UK
Posts: 17,661
Thanks: 1,593
Thanked 2,007 Times in 1,575 Posts
Rep Power:
100
Welcome to the forum. If you look on birdbreeders.com you can find somebody who could ship them to you
---
- Alexandrine parakeets Kona, Peaches, George (missing), Holly (RIP), &
Orange winged Amazon parrot Paulie