Hiya! Newbie here
---
Thought I'd say Hi, tell ya'll I have green cheek conure.
Charlotte was hatched in May, and she's been with us since August 23rd.
I am here to learn what's good for her, and what's not.
And of course, to have other crazy bird friends to chat with. ;0)
Join Date: Feb 2011
Location: Oshawa, Ontario
Age: 28
Posts: 914
Thanks: 2
Thanked 1 Time in 1 Post
Rep Power:
16
Hi! Welcome to the forum
---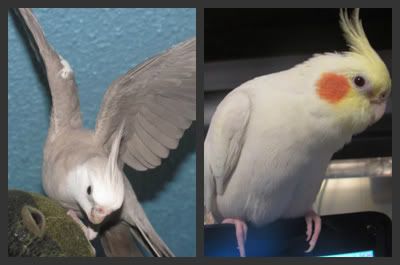 My Tiels
Cupid-Male Whiteface Cinnamon
Aero- Female Cinnamon Lutino
Thanks!
Hey,,,nice birds! ;0)
Join Date: Nov 2010
Location: cape town south africa
Age: 24
Posts: 2,386
Thanks: 24
Thanked 85 Times in 69 Posts
Rep Power:
24
welcome to the forum
---
Join Date: Apr 2012
Location: Ontario, Canada
Posts: 537
Thanks: 0
Thanked 1 Time in 1 Post
Rep Power:
10
Welcome to the forum
---
welcome to the forum
---
Welcome! You'll surely find lots of birdy friends here!
---
A bird doesn't sing because it has an answer, it sings because it has a song.
- Lou Holtz
Join Date: Dec 2010
Location: UK
Posts: 17,659
Thanks: 1,593
Thanked 2,007 Times in 1,575 Posts
Rep Power:
100
Welcome to the forum! I guess the reason I like this forum is because in the real world I don't know hardly anybody who actually keeps birds, and those who do don't keep them like I do. The only person I've met from here is Amelia, and she has an amazing flock! But for the likes of other people, like in my area, they just seem to whack their birds in a cage and leave them to it, or are just some cruddy breeders. I like being here though because I have many birdy friends!
---
- Alexandrine parakeets Kona, Peaches, George (missing), Holly (RIP), &
Orange winged Amazon parrot Paulie
Hi,
Thanks for the welcome!
I don't know any folks who have birds either. So, that makes US special! ;0)
I have owned a few birds over the years, a few budgies, cockateils,,and I fostered an African Grey for 9 months. THAT was fun!! But now, I have a Green Cheek Conure.
Today is her 6 month hatchday! Two nights ago, when I tucked Charlotte in, she said, "I love you"!!!!!!!!! Yes, I'm sure! ;0) She definetly does not sound like Sam, ( the Grey ), her voice is gravely, but cute.
I guess I'll take some time to fill out my profile, so I don't have to repeat myself.
Thanks again, it's great to have some birdy friends!
Juli
Join Date: Apr 2011
Location: Alberta,Canada
Age: 24
Posts: 2,188
Thanks: 81
Thanked 87 Times in 72 Posts
Rep Power:
24
Welcome
I too have a green cheek
They are the best !!!
---
Icicis- Green cheek conure
Shaylee- Bichon Frise