Join Date: Nov 2012
Location: Charlotte, NC
Posts: 1
Thanks: 0
Thanked 0 Times in 0 Posts
Rep Power:
0
Hello to Everyone!
---
Just wanted to say hi to all my new neighbors. My name is Jessica and I am married with two beautiful daughters. We have two amazing African Grey parrots named Millie & Heidi as well as our black lab Mosey and our cat Butler. I look forward to meeting and chatting with all of you.
Join Date: Feb 2011
Location: Oshawa, Ontario
Age: 28
Posts: 914
Thanks: 2
Thanked 1 Time in 1 Post
Rep Power:
16
Hi! Welcome to the forum
---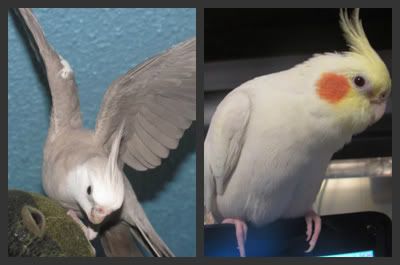 My Tiels
Cupid-Male Whiteface Cinnamon
Aero- Female Cinnamon Lutino
Join Date: Jul 2012
Location: Michigan
Posts: 153
Thanks: 0
Thanked 19 Times in 15 Posts
Rep Power:
8
Welcome from my flock here in beautiful British Columbia, Canada
---
A bird doesn't sing because it has an answer, it sings because it has a song.
- Lou Holtz
Welcome to TP sounds like you have your hands full lol
---
Join Date: Apr 2012
Location: Ontario, Canada
Posts: 537
Thanks: 0
Thanked 1 Time in 1 Post
Rep Power:
10
Welcome to the forum
---
Join Date: Dec 2010
Location: UK
Posts: 17,653
Thanks: 1,593
Thanked 2,007 Times in 1,575 Posts
Rep Power:
100
Welcome to the forum
---
- Alexandrine parakeets Kona, Peaches, George (missing), Holly (RIP), &
Orange winged Amazon parrot Paulie