Join Date: Dec 2012
Location: Witney, UK
Posts: 18
Thanks: 0
Thanked 0 Times in 0 Posts
Rep Power:
0
Hi
---
Hi,
Just joined up and saying hello. I have had many birds (bread doves, chickens and canaries. Have also kept pet budgies, kakariki a parrotlet and cockatiel; and I've looked after a friends ringneck too. I always dream of owning a larger parrot and can't quite pluck up the courage, especially as I have a two year old and another child on the way. Thought I'd come and nosy on here to learn from experienced owners.
Son
Join Date: Apr 2011
Location: Alberta,Canada
Age: 24
Posts: 2,188
Thanks: 81
Thanked 87 Times in 72 Posts
Rep Power:
24
Hi!! Welcome to the forum!!
---
Icicis- Green cheek conure
Shaylee- Bichon Frise
Join Date: Sep 2011
Location: south coast UK
Posts: 2,789
Thanks: 68
Thanked 107 Times in 93 Posts
Rep Power:
24
Welcome! You'll learn lots here
---
x2
x3
Please like me on Facebook
Kamelina-Kreations
Kamelinajewelery.wix.com/kamelina-kreations
welcome to TP
---
Join Date: Dec 2010
Location: UK
Posts: 17,659
Thanks: 1,593
Thanked 2,007 Times in 1,575 Posts
Rep Power:
100
Welcome to the forum
---
- Alexandrine parakeets Kona, Peaches, George (missing), Holly (RIP), &
Orange winged Amazon parrot Paulie
Join Date: Dec 2010
Location: Ohio, USA
Posts: 5,750
Thanks: 734
Thanked 474 Times in 379 Posts
Rep Power:
43
Welcome to TalkParrots! Glad you joined.




---
DIGBY
4-year-old male Congo African Grey
Join Date: Dec 2012
Location: Witney, UK
Posts: 18
Thanks: 0
Thanked 0 Times in 0 Posts
Rep Power:
0
Thanks everyone
Join Date: Feb 2011
Location: Oshawa, Ontario
Age: 28
Posts: 914
Thanks: 2
Thanked 1 Time in 1 Post
Rep Power:
16
Hi! Welcome to the forum
---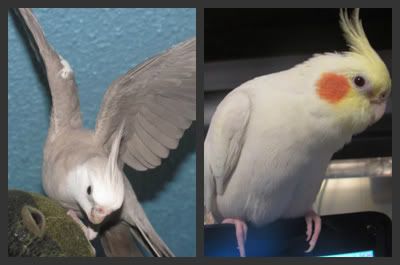 My Tiels
Cupid-Male Whiteface Cinnamon
Aero- Female Cinnamon Lutino